Hosting a backyard picnic or BBQ this week, well then here is a fabulously easy dessert that will not only wow your party goers, but leave them impressed with your cooking prowess.  Let me introduce Blueberry Sugar Cookie Stackers!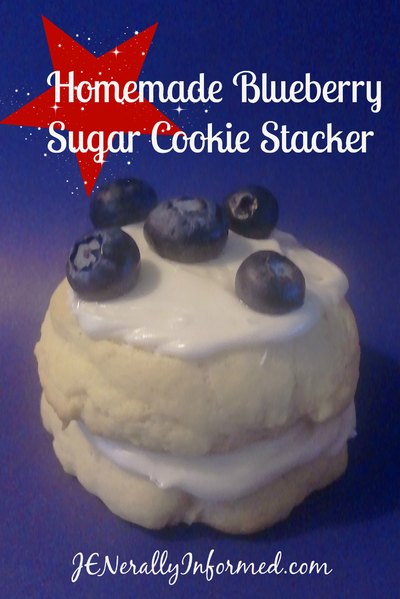 Here's How You Make It: Start with my homemade sugar cookie recipe. Then stack 2 cookies together with your favorite frosting and top with blueberries. Done! People will think you spent hours on this yummy and simple dessert. You don't have to let them in on how easy it was by the way. This week I will be turning 1 year older, which means I will be celebrating my 27th birthday for a solid decade now. At this point my only real birthday wishes involve healthy and happy family members and good memories so I will be gifting myself some "me" time.
In order to allow for some "me" time I have plans to keep you all JENerally Informed this week. On Monday the immensely talented Sarah of Ruffles and Rainboots will be guest posting a super cute craft.  Don't miss it! Tuesday I have a fun new giveaway! Then Jensguy will be covering posting duties with his Ask A Tech Series.  I know you have general technical and blogging how-to questions, because I see you asking them, so get your questions ready and shoot me an email (jen@practicallyperfectprincess.com) and he'll answer them.
Now for the best of the best, since it is my birthday, I believe I will be spending a lot of time in my "mommy' lounge-wear playing with the kids, crafting, reading books and chatting with all of you on social media this week.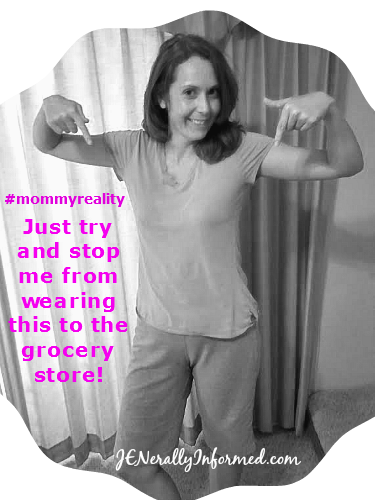 Do you have a similar outfit? I know you do! Come link it up in our Mommy Reality Challenge this week.
And yes, I will definitely be wearing this to the grocery store this week. Holes and all.
Stay Happy! Stay Informed!
Love,
Jen
Join The Mommy Reality Challenge!
Link up your comfy "mom-wear" photos here: