As a PR consultant and branding expert with over a decade's worth of experience, I know how vital it is to find great ways to grow your brand. If you have never used a blog before as a way to promote your brand or product it's time you do. Bloggers like myself are a direct line to a particular market you want to reach and most importantly, here on JENerally Informed I can launch a full campaign across multiple social media channels faster than an ad company can even begin to story board their ideas for your campaign. As a blogger I can do it faster, better and smarter.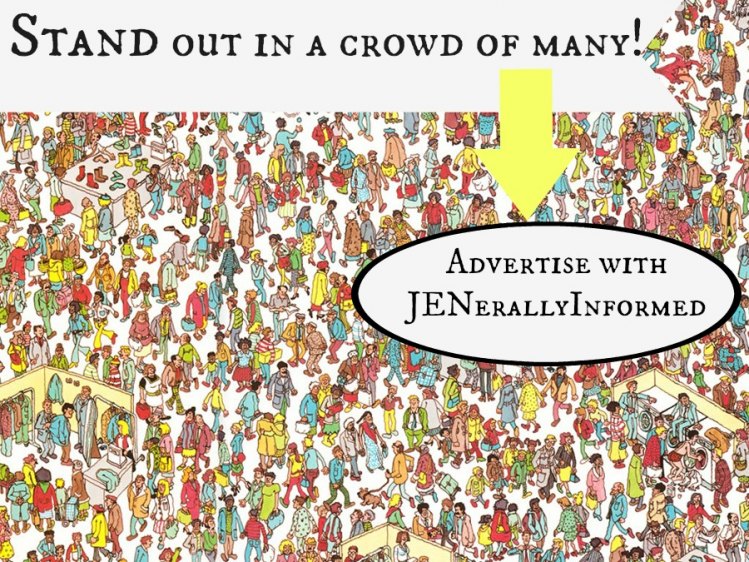 Who is reading?
Women, Mothers, Grandmothers, Men, Dads, Techies and Bloggers with opportunities in the lifestyle, beauty, family, cooking, do it yourself, technology as well as gaming areas. We cover it all here!
My STATS
JENerally Informed is rated by Alexa as one of the top 38,000 websites in the United States!
This means that of all of the websites and blogs people could choose, mine is one of the top ones that is consistently visited for news, info and more.
Total combined social media reach: 100K + followers across multiple social media channels and email subscribers.

What Services Do I Provide?
Sponsored Posts
With children in all ages and stages from toddlers to teens there are a large range of products we can cover here at JENerally Informed! Sponsored posts are a great way to bring awareness to your product and brand. Here at JENerally Informed I have worked hard to create the kind of reputation that my readers will trust both the content and brands represented here.
Here are a few examples of my sponsored post work:
Review and Giveaway Post
Would you like to have your product featured on JENerally Informed? Have me do a review and giveaway for you! This is a great way to gain exposure and receive new followers on your social media pages. We will require 2 samples, one for the giveaway and one for the review.
Here is an example for what a review and giveaway would look like:
Email me jen@practicallyperfectprincess.com so we can work out an appropriate timeline.
Giveaway only
This is a great way to promote your brand or product. I will announce and set-up the giveaway and open entries to my readers on my social media accounts. Once a winner has been selected I will notify the winner and send an address for product delivery to you.
Review only
I would love to review your product! I will need one copy of your product. If asked to review a product, please note that I will give my 100% honest opinion. However, whenever applicable, I will still offer suggestions as to the types of people whom I feel might enjoy the things I haven't.
Have a book or product launch you would like to announce? Do it here! Contact me jen@practicallyperfectprincess.com and we can make sure to maximize your launch!
Banner and Sidebar Advertising



Here at JENerally Informed I have worked hard to create a visually enticing blog and would love to feature your family friendly ad on my site. Contact me so we can get your ad running today here on JENerally Informed!
Social Media Consulting
Do you feel lost in the maze of G+, Twiiter, Instgram, Facebook and want to know how to market your brand effectively? I can help you easily understand and maximize both your time using social media and help you to increase your brand awareness. Shoot me an email and we can talk about how best to help you.
If you have any questions or would like to talk further about advertising opportunities here on JENerally Informed please email me at jen@practicallyperfectprincess.com
I look forward to working with you!