This week you have openly given access to your laundry closets, basements, patios and rooms. We have seen clothes piled high and the detritus that surrounds a life well lived. Bravo fellow Moms for your willingness to show that we will not be "hampered" by the laundry in our life!
The Mommy Reality Challenge is all about moms being honest and proud of their daily lives and encouraging others to do the same. Please don't forget to spread the word about our challenge to your fellow moms and mom bloggers! Remember, moms without blogs can join in the fun by using #mommyreality on social media.
And now, without further delay, the winner of last week's, "Airing Your Dirty Laundry" Mommy Reality Challenge #5 is…
Melissa McClain of the Longhorn Farmwife shared this picture via twitter, self titled "her worst room… that she doesn't let anyone see" The Mommy Reality team was impressed by the fine art of canning on display here in this picture. Well done Melissa!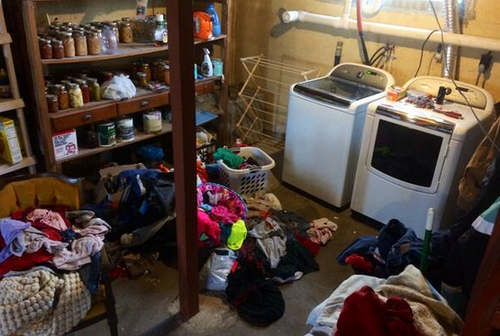 Honorable mention needs to be given to Adventures of Amy Lou for her laundry room with all of her "incriminating" exhibits included. If you didn't read her post this week, go do it now. It is hilarious!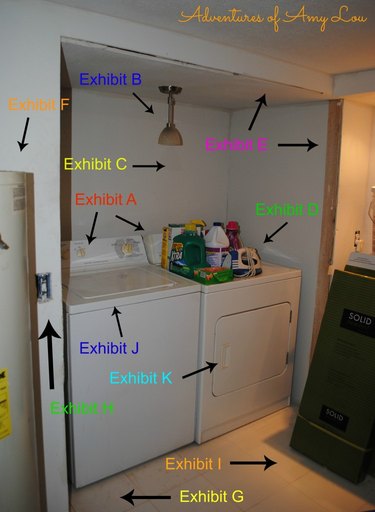 So feel free to grab a copy of the meme and share away!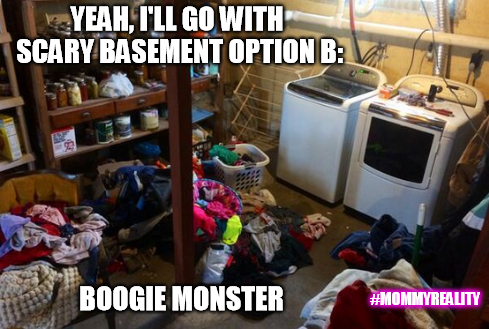 Are you all on pins and needles waiting to hear what the new Mommy Reality challenge is? Get ready!
Mommy Reality Challenge #6  It's time for "What Not Wear" Mommy Reality Style: Your REAL Mom lounge-wear!

What?
Celeste and Carolyn turned Jen loose with "surprise us!" so she's cranking this up to 11. Sorry ladies.
All of us have those particular outfits that we wear when in the comfort of our own home, when the doors are locked and all recording devices have been safely disabled. Those articles of clothing that fit like a summer evening after a light rain storm but look like the spare tire in your trunk that you pray you will never actually have to use. Perhaps this is the outfit our significant other may have suggested needs to be thrown out (or burned) and secretly we might just agree with them….
Your go-to outfit might be your favorite pair of yoga pants, a holey shirt, sweat pants, paint splattered leggings or the jersey that you stole from your husband that he now doesn't ever want back. It's now time to Cowgirl Up and show the world that our "lounge wear" is good enough, and although it may not be runway ready, it is part of who we are.
So snap a pic of your favorite Mommy comfy clothes and link it up by clicking below. Then make sure to visit some of the other Mommy Reality links and show solidarity for the other brave moms willing to show the real in their lives. We can't wait to see the submissions on the link up below! Oh, and don't forget to grab our button: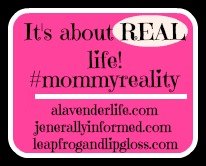 *The Mommy Reality team is VERY active on social media and in participating your post/photo will be pinned, posted, linked and shared on all of our social media accounts. So make sure to follow us so we can find your #mommyreality posts.
Instagram (Carolyn/Jen/Celeste)
Facebook (Carolyn/Jen/Celeste)
Link up your comfy "mom-wear" photos here:
P.S. Here's my personal favorite "mommy" outfit. Show no fear ladies!!!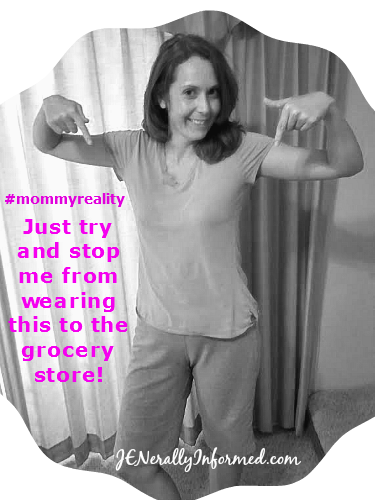 Stay Happy! Stay Informed!
Love,
Jen