It's all about the mermaids over here these days in JENerally Informed land, and it's kind of fun. I know just how fast that time of magic and wonder passes.
This week my daughter asked me what mermaids eat because she thought seaweed would get old and she felt that they really couldn't eat their fishy friends! And so I told her that I bet they eat mermaid sugar cookie bars, because who doesn't love those things?!
And that discussion is what brings us to this post today.
I can't show her a real-life mermaid, but I can PROVE to her that mermaid sugar cookie bars are a real thing (even if it is a recipe I just made up) and that they are delicious too!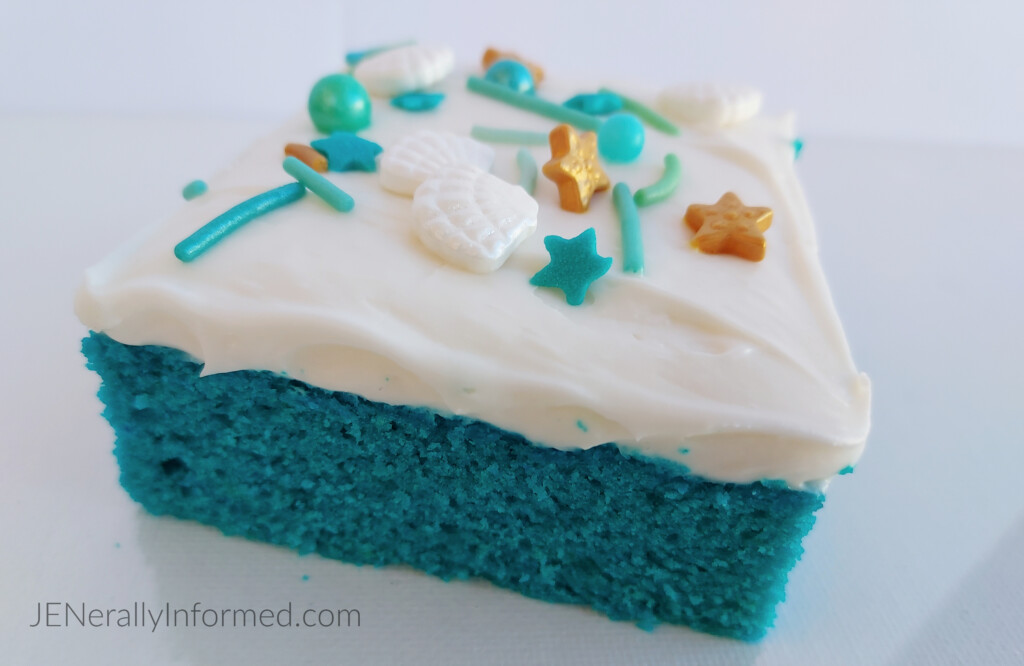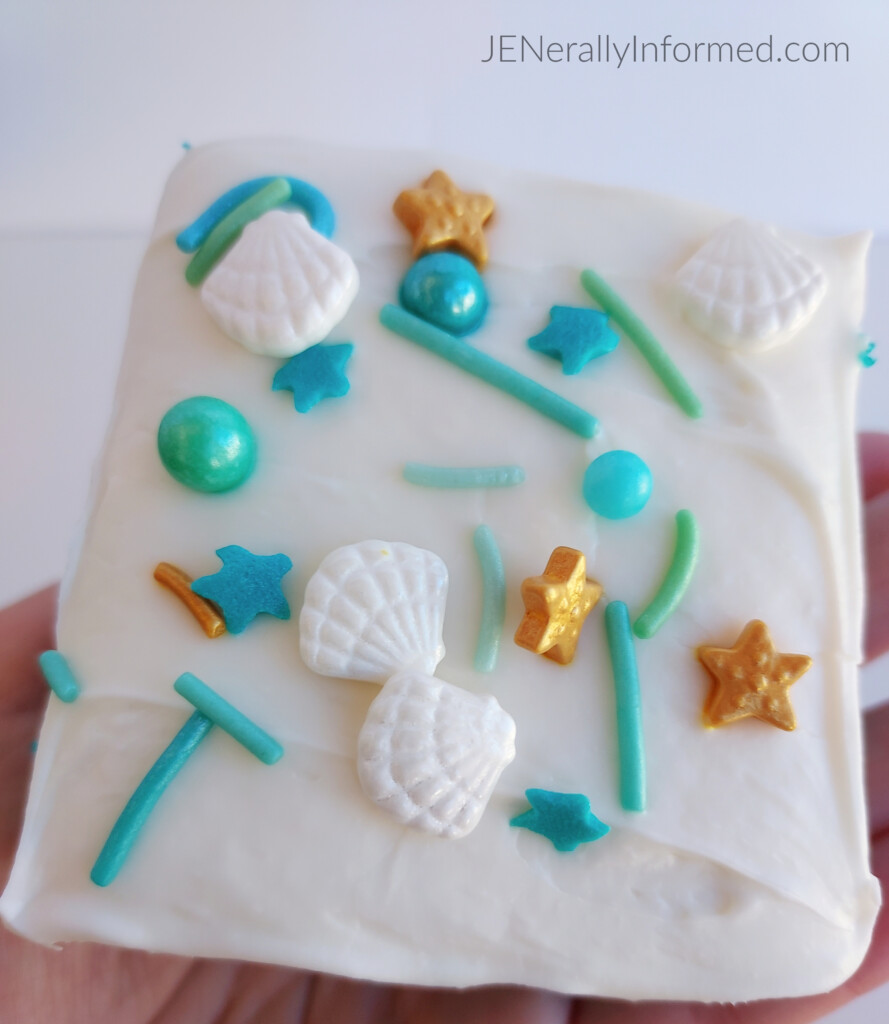 After one bite, she said that if she were a mermaid she would eat that every day too, even if it meant coming on land to get it! I agreed with her and then we decided that we really should post about this recipe here just in case, you know, any mermaids need a little help with it.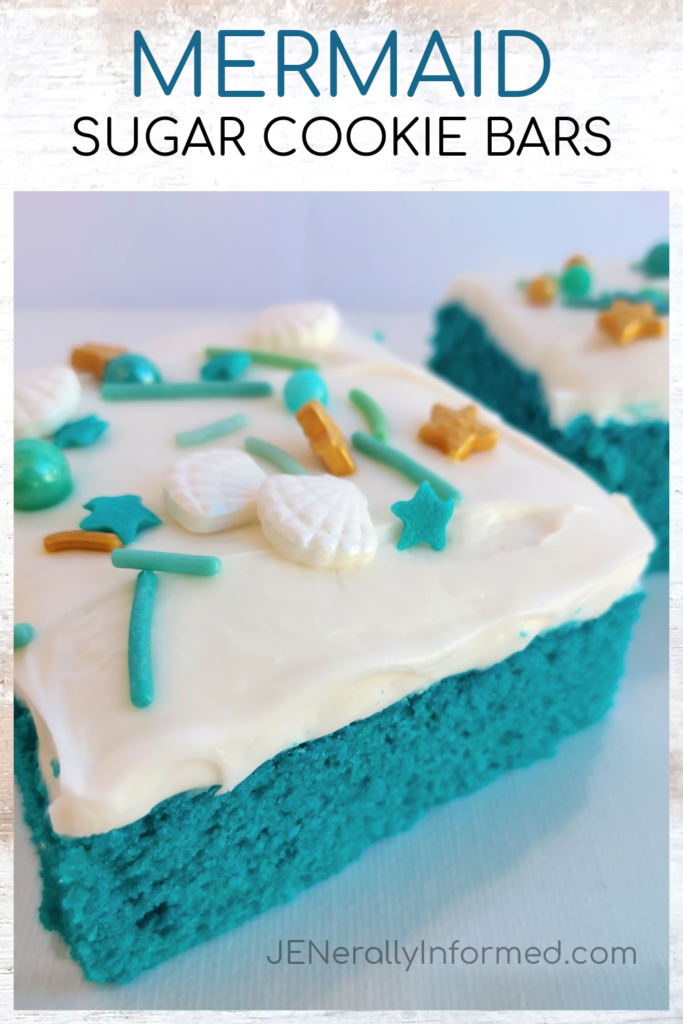 Are you ready to learn how to make them?
Cookie Bar Batter
1 cup butter, room temperature
1 1/2 cups sugar
2 eggs
2 tsp vanilla
2 1/2 cups flour
3/4 tsp salt
1/4 tsp baking powder
To color the cookies: You will need about 10 drops of blue food coloring.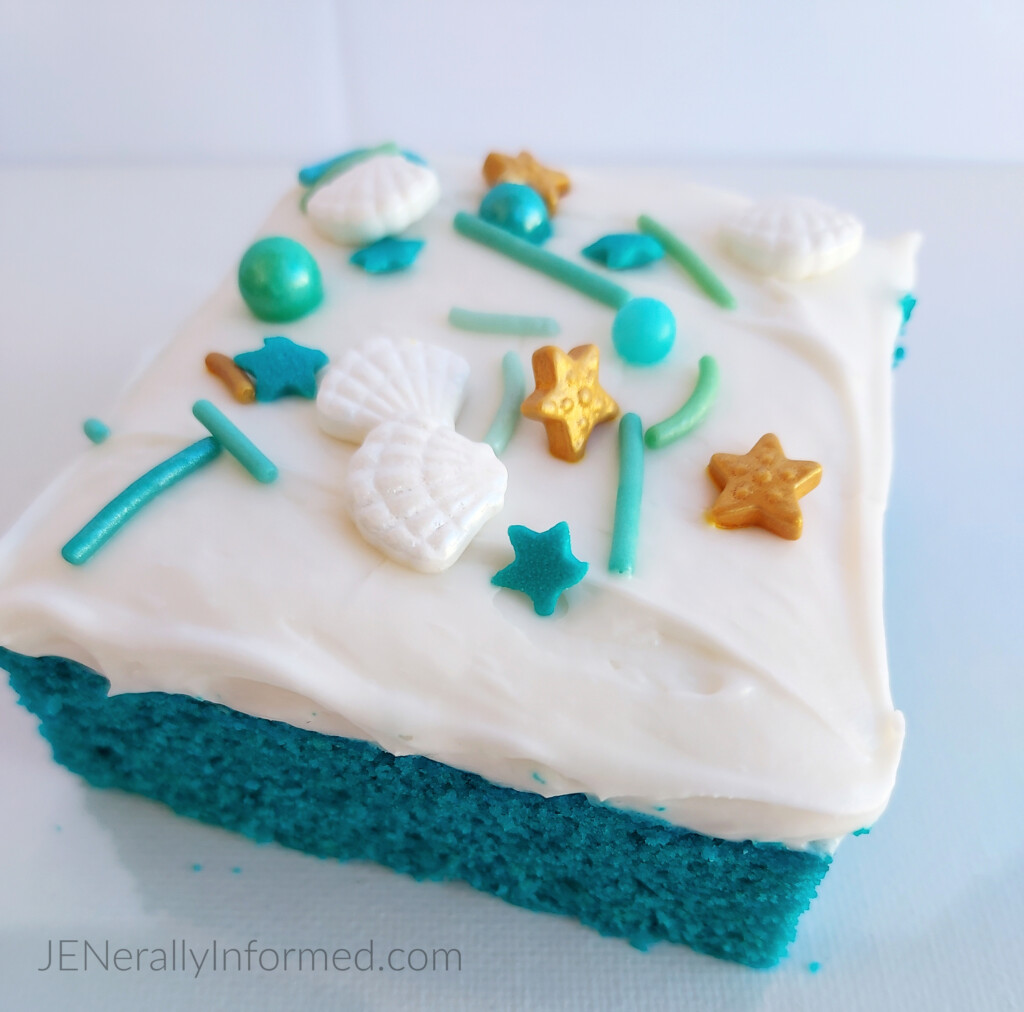 Frosting and Decorations
You can use this recipe for buttercream frosting or you can use any container of storebought white frosting. Easy, right?!
I picked these sea and beach-themed sprinkles up in the baking aisle of my local craft store. But, the internet is amazing, and you can probably purchase them right on your phone this very minute!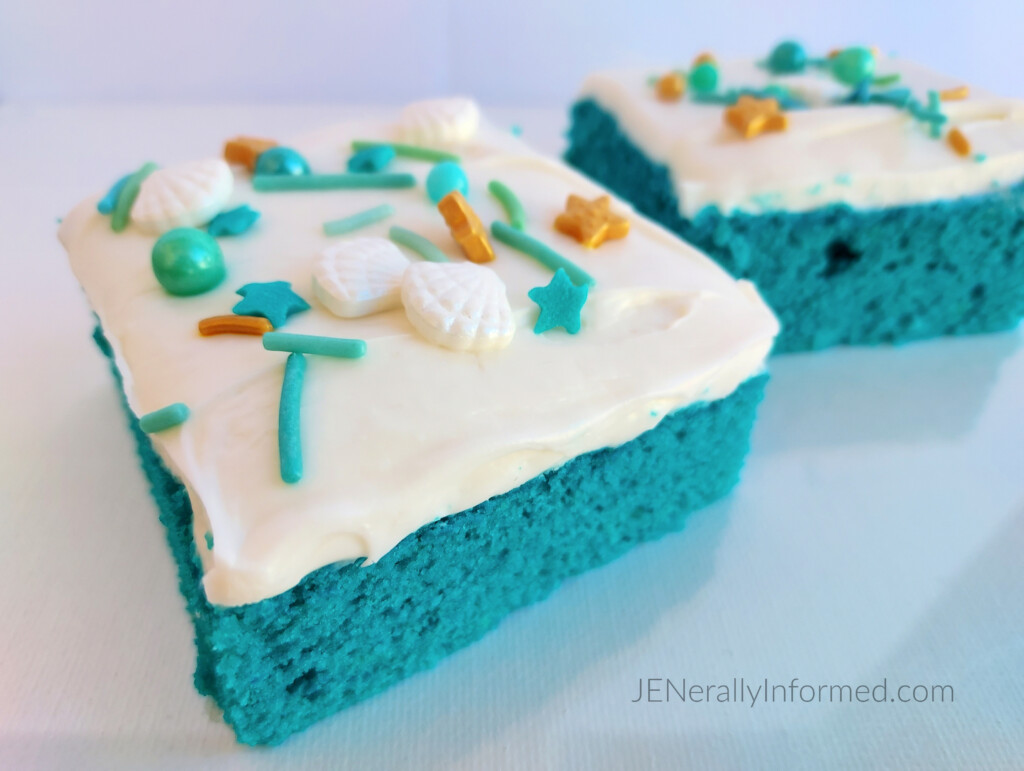 Directions
Preheat the oven to 350ºF. Line a 9 x 13 baking sheet with parchment paper. Mix together the flour, salt, and baking powder in a small bowl. Set aside.
In a large mixing bowl, cream together butter and sugar. Add the eggs and vanilla. Mix until combined. Add the dry ingredients to the wet ingredients and stir again until combined.
Press the dough using into a prepared baking sheet. You might have to even the dough out with a large flat spoon. Don't worry if there are lumps on the top though, because you will frost the top part. You just want it to be evenly spread out on top of your parchment paper from corner to corner so that you don't have overly thick cookies on one end and then thin cookies on the other.
Bake for 15-20 minutes or until a toothpick comes out clean. Cool completely.
I frost the whole batch right on top of the parchment paper once they have cooled and then cut them into 12 squares after frosting. My little artist likes to then personally sprinkle-fy each of the cookie bars. So that each one is special.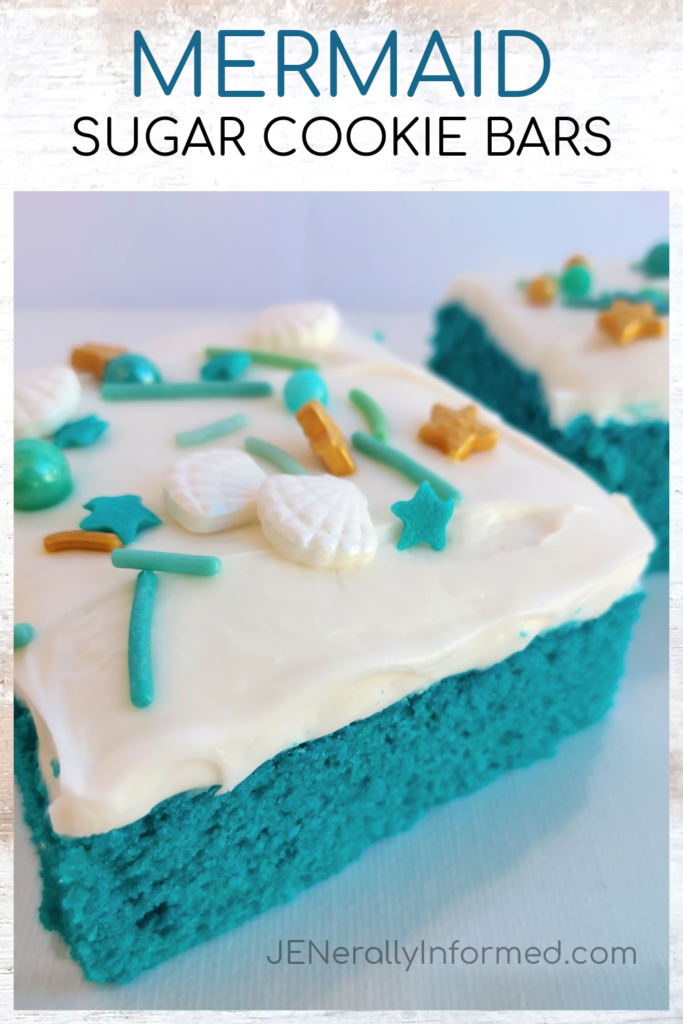 BTW, My daughter asked me to tell all of the mermaids reading this right now that she promises to do her part to keep the ocean clean and hopes someday to meet you "for real". Me too!
If you liked this recipe, you might want to check this one out too. You might recognize the sprinkles, they are the gift that keeps on giving I tell you!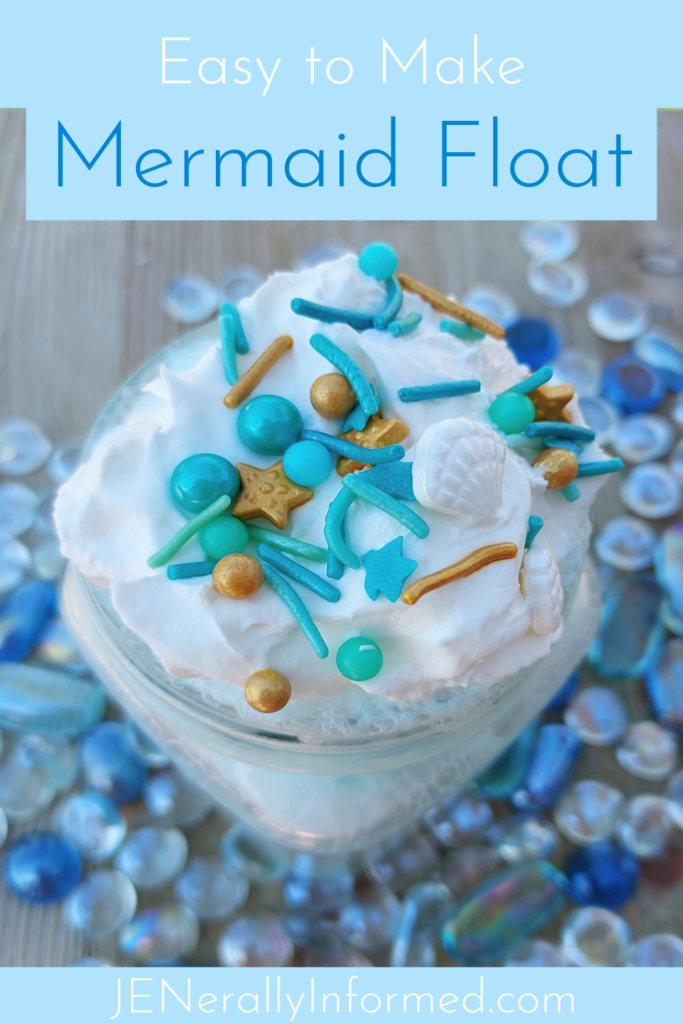 Thanks for stopping in and happy swimming!



Love,
Jen

Go ahead and share this post, you know you want to!