If you are new to JENerally Informed, welcome! If not, you probably already know that Jen's Guy (my husband) and I like to do lists. Now these aren't your standard kind of lists, but range in topics like The What No One Wants For Valentines Day list or Five Christmas Songs That Need To be Retired or the original What No One Wants For Christmas Gift List that is now inspiring this post and round #2. Because, we are all about being helpful over here at JENerally Informed or at least I try to be. Jen's Guy, well… anyways here is a listing of probably some of the worst gifts we think you could give someone.
In a desire to be transparent and all, we would like to mention that this post contains affiliate links just in case you decide to ignore our advice and instead use it to find "delightful" items that are just perfect for that special "giftee" in your life……
So let's get this party started!
First off, here's a gift that we think might be the worst one you could give your child's teacher. Although it might just work as a means for helping to get the attention of all of the children in the class. Or perhaps a lawsuit inducing injury. You be the judge.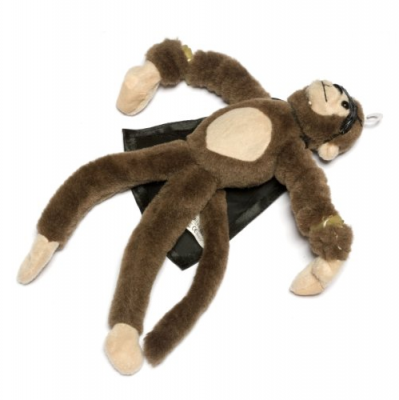 This monkey can be launched like a slingshot by holding it's stretchy arms, then pulling back the feet and tail. It will fly over 50 feet and by banging it's chest the Flying Monkey lets out a 'Tarzan' like screaming sound to add to the effect as it flies. And that's not all folks, this cute monkey is covered in soft brown fur and wears a black cape and an eye mask.
Perfect! Right?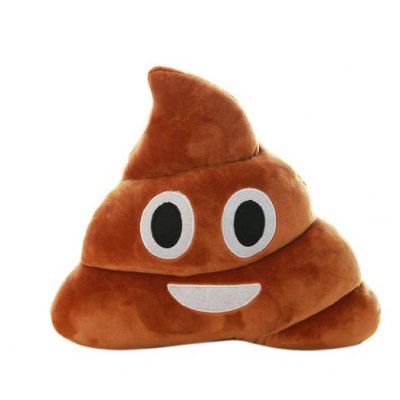 Because nothing says you love someone like gifting them a little extra throw pillow comfort……
Jen: Plus that smiling face is just irresistible!
Jen's Guy: Scenting the toy before gifting is completely optional. Unfortunately it does not scream and fly. . .

Now for the political aficionados on your list here are some great options!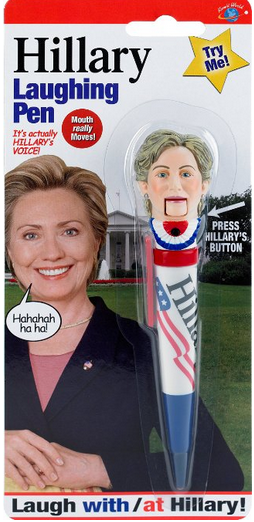 This year give the gift of laughter with this pen that not only looks amazingly 'life-like" but also has a rather sturdy collection of Hillary Clinton laughs digitally recorded from real TV interviews, so that you can pick your favorite! Plus the mouth really moves in sync to the laughing! Wowee!!
Jen's Guy: Here's a little sneak peak so you know exactly what you are purchasing. You are welcome.
Jen: Oh and don't forget that this pen comes with replaceable batteries so that the laughs can just keep on coming.
Jen's Guy: If this isn't your shtick, perhaps you would like to gift the opportunity for someone on your list to take a "Dump with Trump"!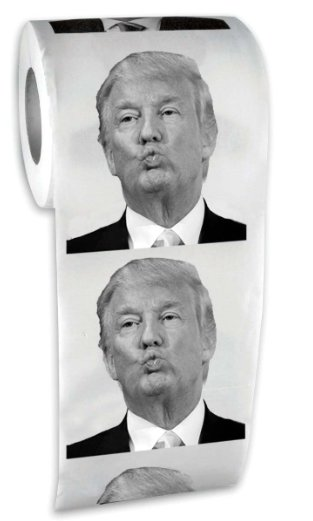 This TP boasts the following selling points:
His face is on EVERY single sheet!
Each roll is shrink wrapped and unopened.
Won't smear or smudge (This is important, because no one wants to be left over with an unfortunate picture placement on their derriere.)
The only roll that's Made in the USA (or possibly Mexico – but probably the USA… but maybe Mexico… Just kidding! It's definitely the USA)!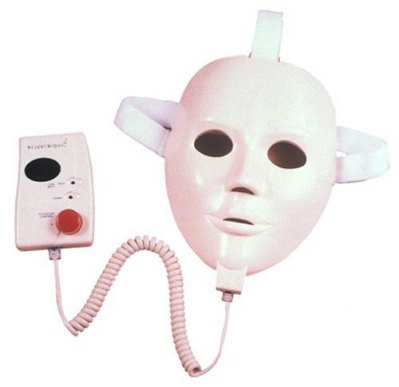 With all of the powerful backing a 9 volt battery can offer, this mask delivers pulsating contact to your face through 26 gold plated contact points! Helping to rejuvenate and tone your skin, making it look years younger.
Jen: Wow I am impressed, gold plated pulsating contact points! Gold plating is kind of fancy….
Jen's Guy: It seems fairly evident that something this creepy, that shocks the face quite near the brain could be the first 10 minutes of a great Halloween slasher flick. Pair it with that grandma nightgown you like to wear and wield a sharpened, portable curling iron, and BAM! instant nightmare action.
Jen: Also, a non-subtle way of saying "Not tonight, Dear. . ."
Jen's Guy: And with the shock therapy aspect, the husband would have the satisfaction of knowing you really mean it.
And of course, for the win, are the Q & A comments about this mask.
Question:
Does the patient need to be strapped to a gurney when using this? And is screaming a problem?
Answer:
Gurney required, but screaming is only an issue if the patient has not been gagged. Gag sold separately.

Although coloring books for adults are quite the thing these days, we thought this one might possibly be the worst one we have ever seen.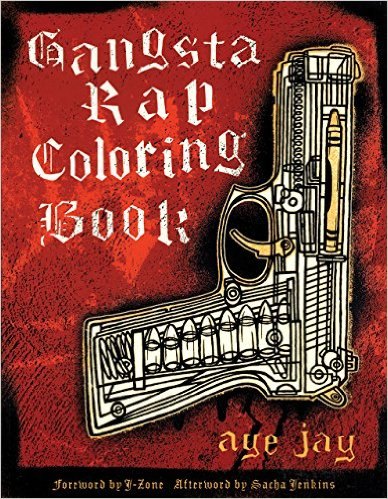 The Gangsta Rap coloring book is 48 pages of line drawings of "Gangsta" rappers, done with the thick black line we all remember from the coloring books of our youth. The juxtaposition of the outlaw image of the rappers with the childlike innocence of a coloring book is sure to bring out the inner Gangsta in each of us.
Jen's Guy: Um, I grew up in a rural farming community, so I am not sure there is any inner Gangsta I would be able to channel.
Jen: Yeah you are right. The closest you could get to a rapper would probably be Vanilla Ice and that is not really very Gangsta.
Jen's Guy: On the other hand, I have redneck cool like Daryl from the "Walking Dead." That is pretty hot right now. . .
Jen: OH MY GOSH!! This just showed up as a related item to the Gangsta Rap coloring book! WE NEED TO BUY THIS!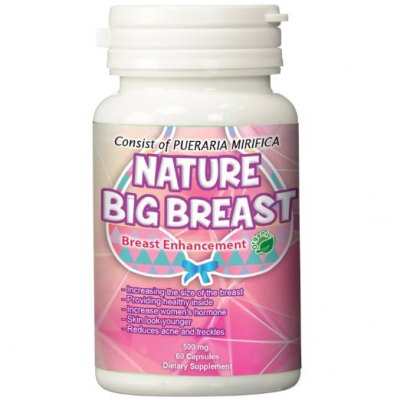 It can be the next Jen's Pinterest Challenge. Can't you just see the image?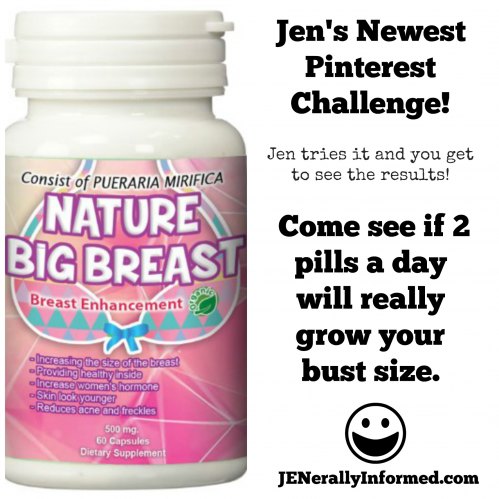 Jen's Guy: At the very least, the weekly updates could triple your Periscope audience. I'm not sure it would draw out the demographic you are looking for though. . .

And finally,
Zombie Killer Assisted Open Pistol Revolver Pocket Knife with Case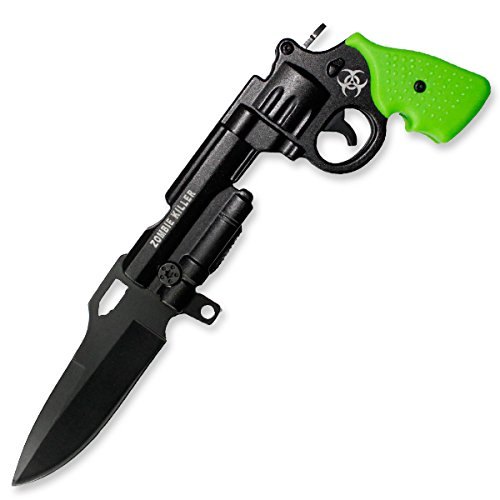 Jensguy: Just assuming that this was actual and not some replica party gag, fussing around with things like this would actually get you killed in a real Zombie Apocalypse. Putting a bayonet on the end of a pistol is like putting a speed spoiler on the back of your station wagon: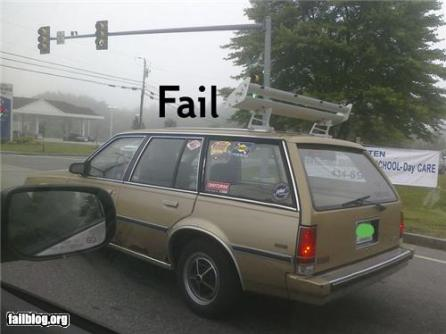 If you are going to be effective, you would need to have your bayonet on the end of a real rifle, preferably with enough power to dislodge a Zombie you have impaled.
Jen: That is secretly terrifying. [Mental note] contact Amazon and have them stop shipment on the Zombie Killer Assisted Open Pistol Revolver Pocket Knife with Case.
Merry Christmas and Happy Shopping!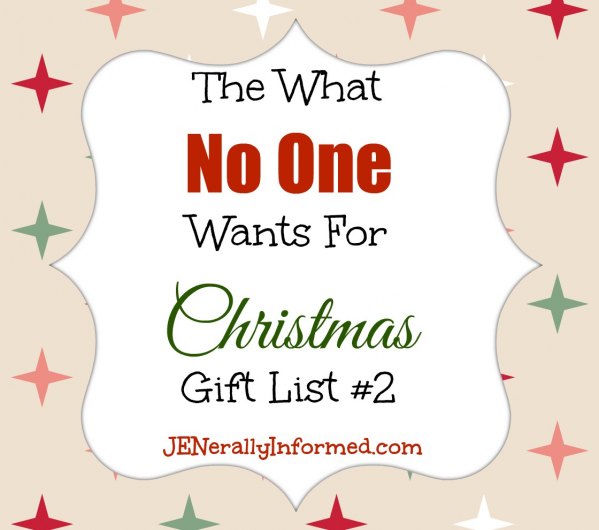 Visit here to tee the original What No One Wants For Christmas list!
Stay Happy! Stay Informed!
Love,
Jen

Go ahead and share this post, you know you want to!