This post contains affiliate links. By clicking and purchasing from them I receive a small commission. Thanks!
I am having a hard time wrapping my head around the fact that it is May already. This month is going to be jam packed. It's the last month of school and the kick-off for summer for us folks living in Southern Arizona. And what a kick-off it's going to be with a little adventure to France and Italy in the works for my oldest daughter Sam and I. More coming on that in a few days, but for now how about we kick off the month where we start to celebrate all things red, white and blue here in the States with a new little JENerally Informed creation!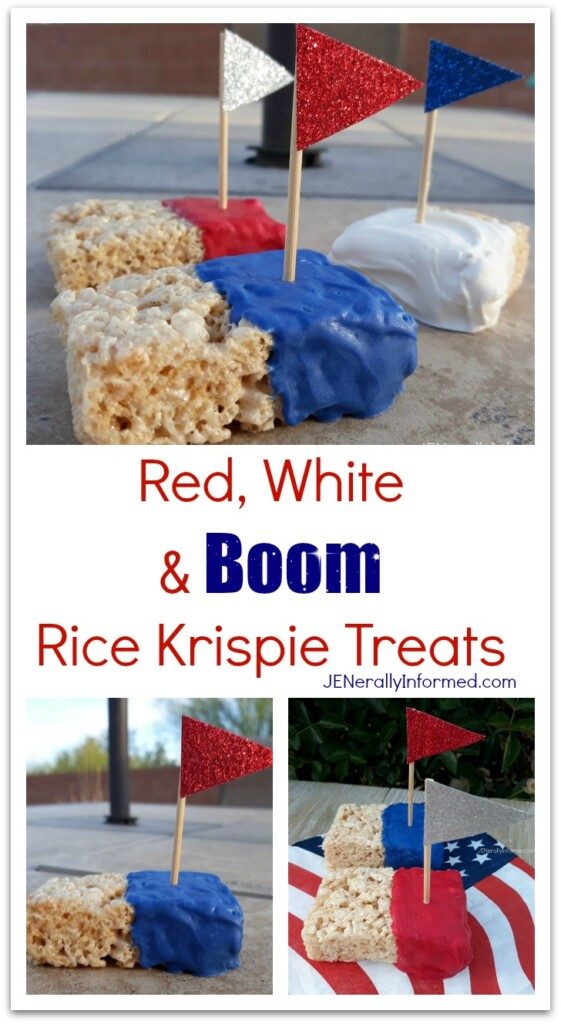 I am not sure how it happened, but somehow I have become the holiday purveyor of Rice Krispie treats. Which is alright with me, because making these bad boys is about the easiest thing eve. But because I add a few little extra touches people son't know that and think I have spent hours and hours slaving away on them.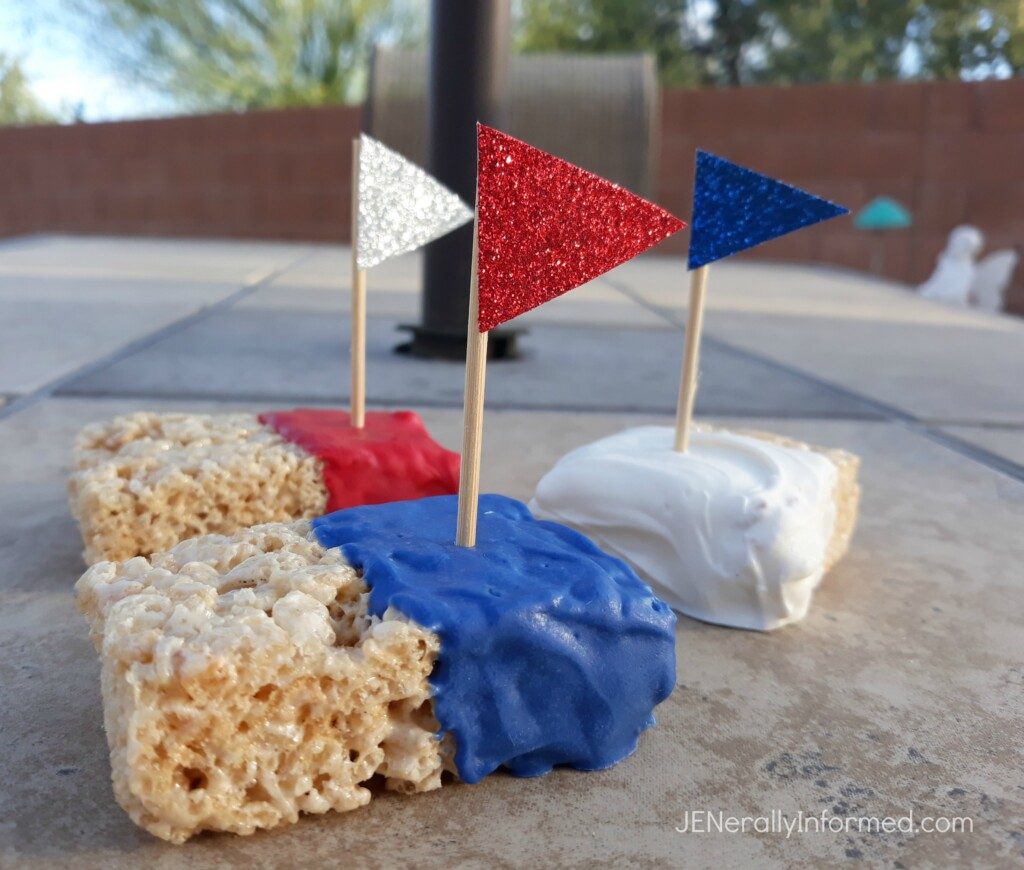 They really are the most simple to make, because of two little cooking secrets I use. First, I buy the Rice Krispie bars all ready to go at my local Dollar Tree and then working with colored chocolate candy melts is really super easy. As long as you follow a few rules. Here is the kind of chocolate I use.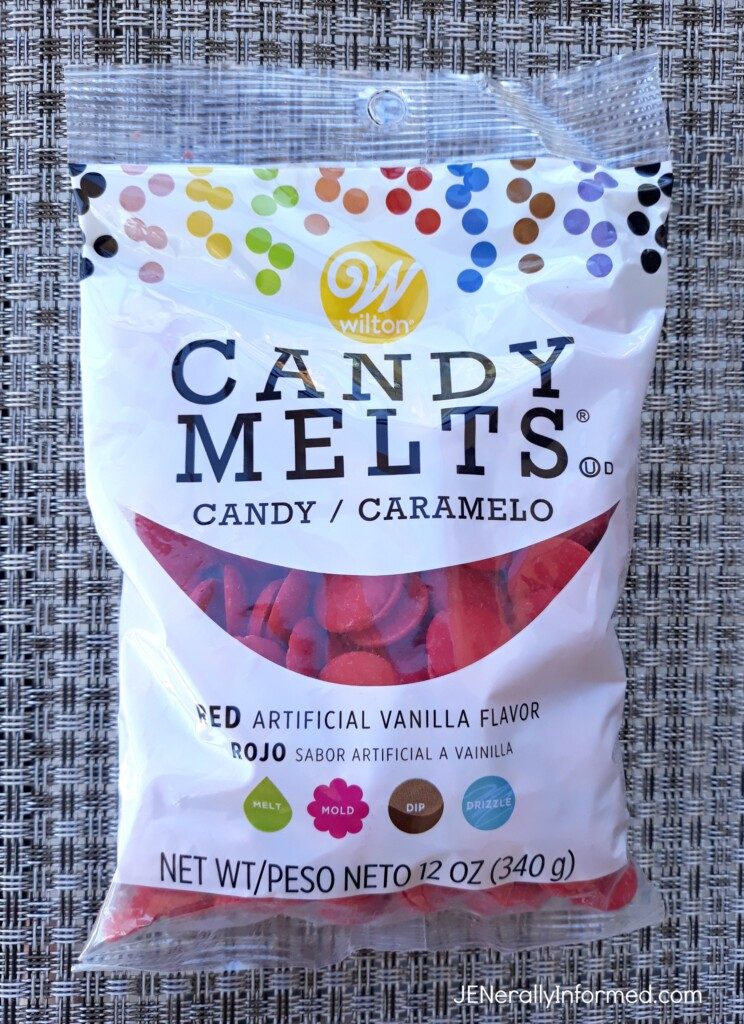 For this particular recipe I used red, white and blue candy melts. You can grab them at any of your big box grocery or craft stores, and also HERE
on Amazon.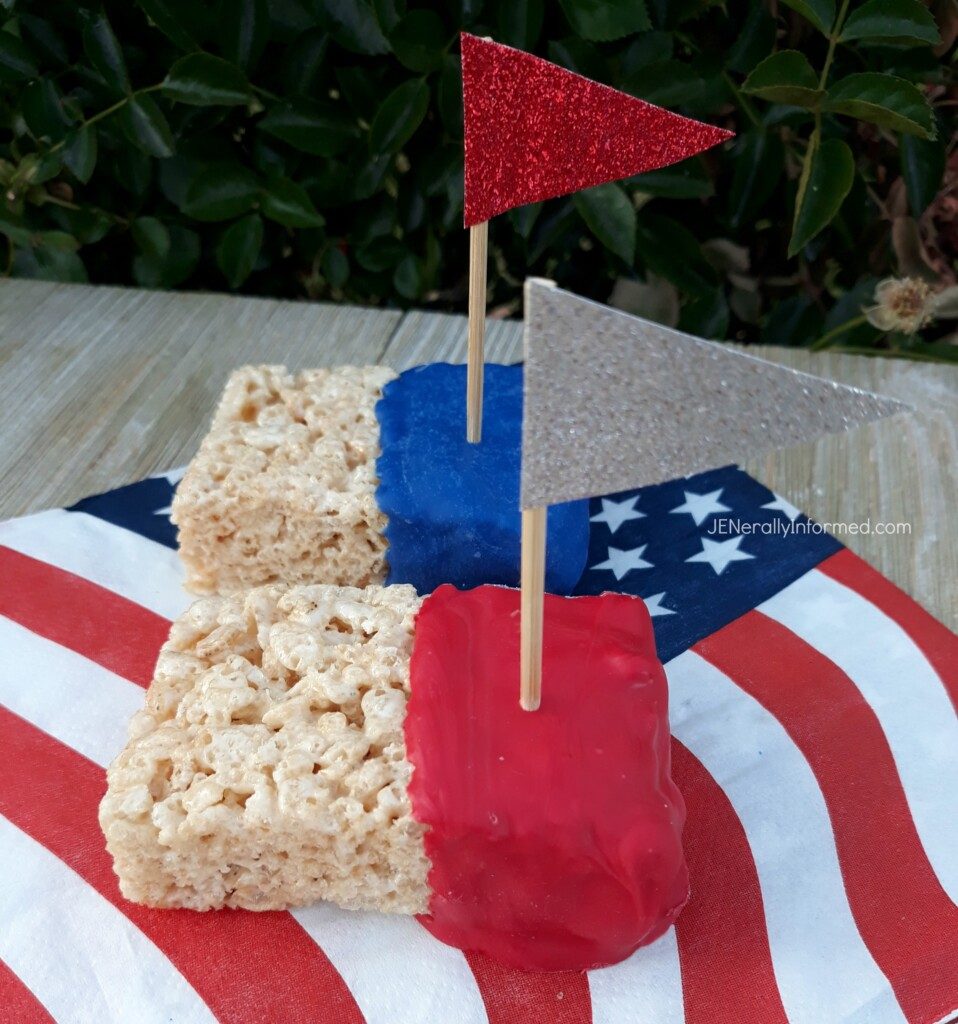 Special Note: To melt the chocolate requires just a little bit of patience. It's not hard, but if you rush it you will burn your chocolate and then, blech!
For this recipe you will need about a cup of each color. Plan on working with each color individually and then moving onto the next. Measure out about a cup of each of the colored melts in a microwave safe bowl. And then microwave the melts for 30 seconds. Take it out and give the melts a good stir. Then put it back in the microwave for another 30 seconds. Mix again and voila, you have melted chocolate!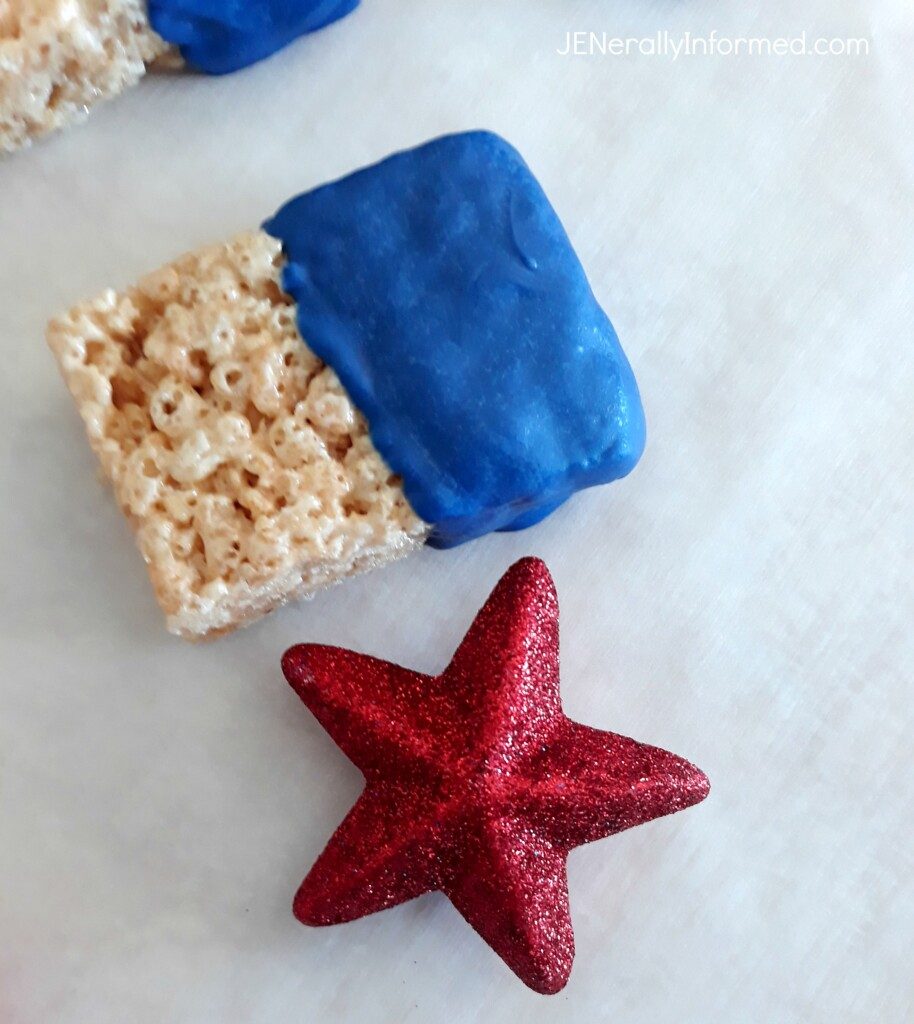 You could of course make your own Rice Krispie Treats, but since I bought mine, those guys get cut into three pieces, dipped in the chocolate, and then left to dry for about 30 minutes.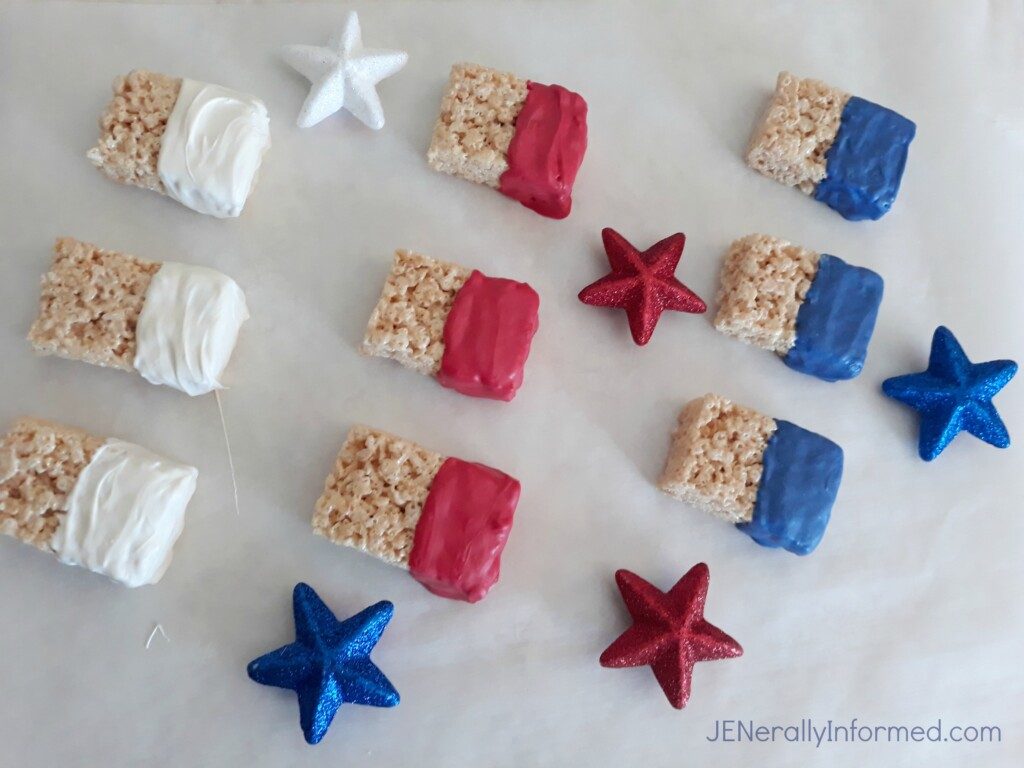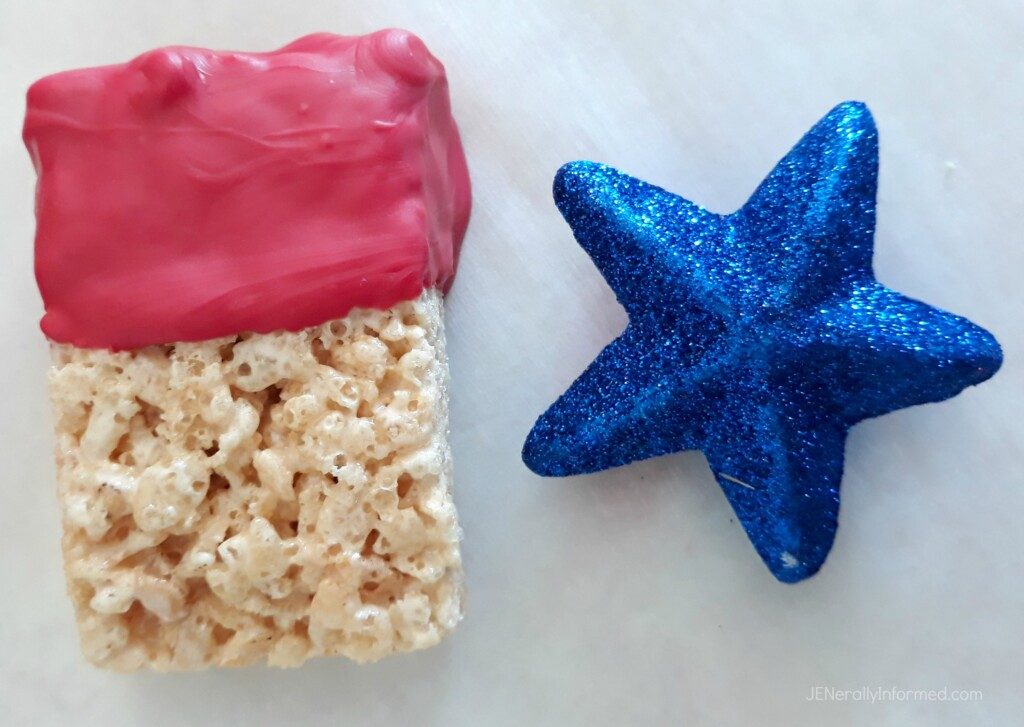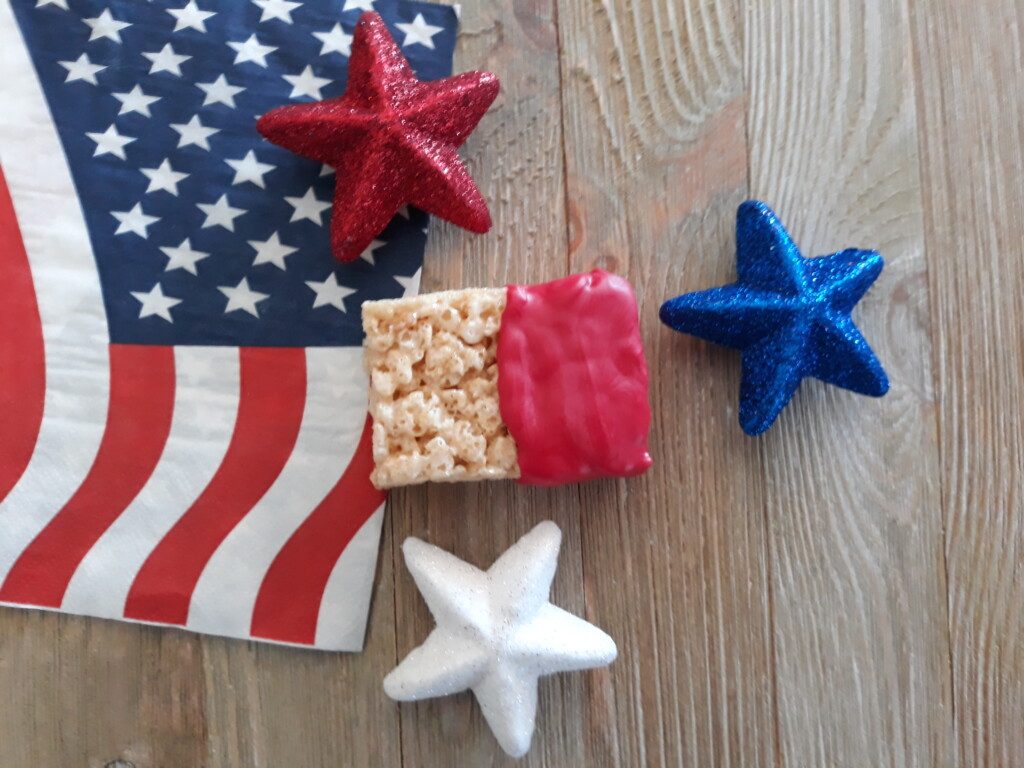 Once the chocolate is dry, go ahead and garnish the treats with something cute like these little flags. You can grab them here.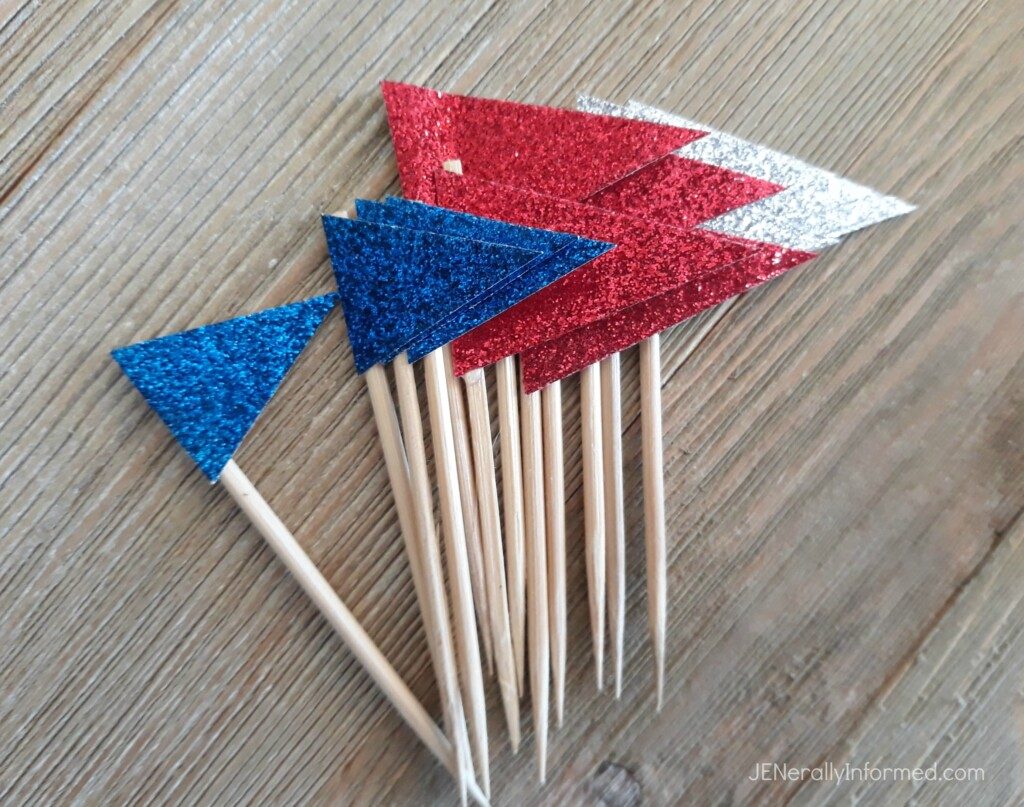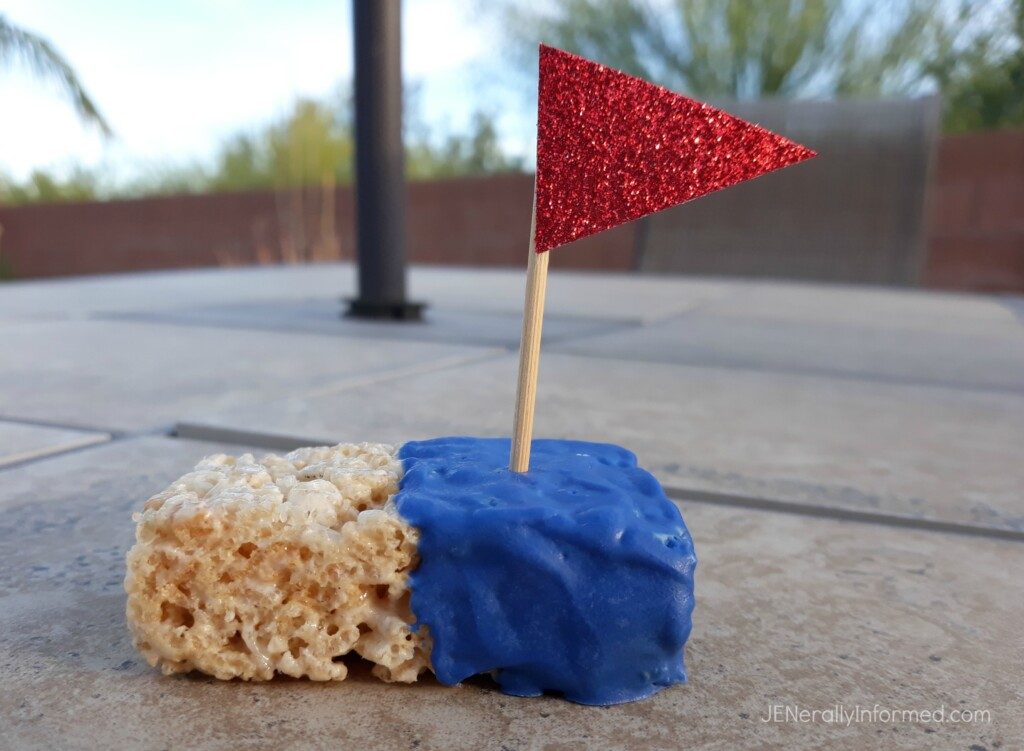 And that's it folks! In about 30 or so minutes you too could be serving up these fun treats for your Memorial day picnic! Here is a printable recipe so you can be ready for that!
Red, White & Boom Rice Krispie Treats
Ingredients
3 Rice Krispie Bars
1 cup each of red, white and blue chocolate candy melts
Glitter treat toppers
Instructions
Measure out each color of candy melts into a microwave safe bowl.
Work with only one color at a time and cook each colored melt individually for 30 seconds.
Give the melts a good stir and put back into the microwave for an additional 30 seconds.
Mix all of the chocolate in the bowl one final time and begin dipping.
Dip one half of the treat into the melted chocolate.
You may have to smooth the chocolate with a spoon.
Let dipped treat dry on top of parchment paper for approx. 30 minutes.
Garnish, sprinkle and enjoy!
https://jenerallyinformed.com/red-white-boom-rice-krispie-treats/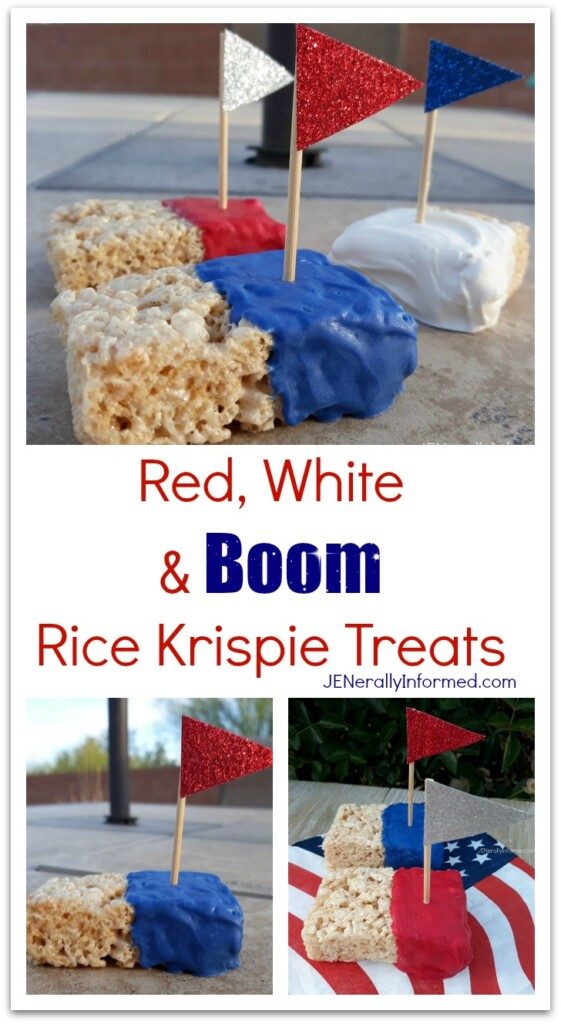 Alright May here I come! Thanks for popping in and if you liked this recipe, then you might want to check these out!
Unicorn Rice Krispie Treat Pops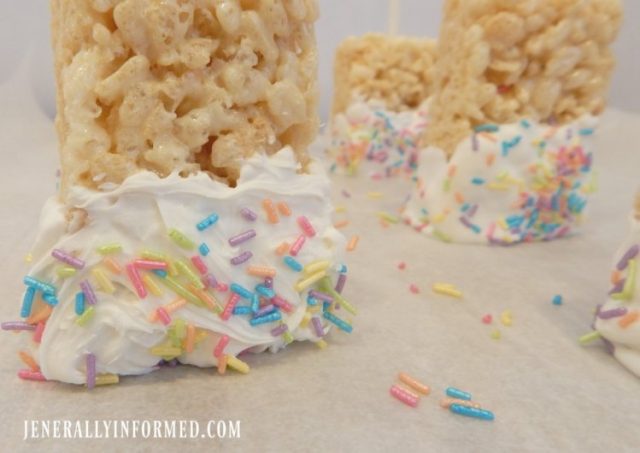 Monster Rice Krispie Treats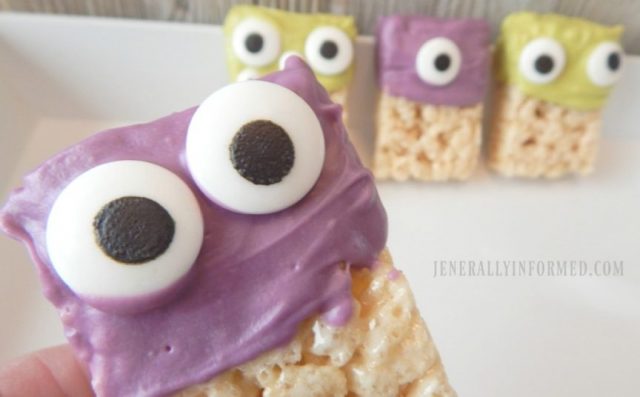 Love,
Jen

Go ahead and share this post, you know you want to!