Enter stage left my beautiful, and seriously amazing, daughter Samantha. She is smart, kind, and beautiful inside and out.

She is also a serious reader and is always on the search for fun books which she devours relentlessly.

Since I have various stages of readers in my family and I know how I am ALWAYS searching for appropriate aged books for each of them, I thought I would start a series focused on what we are reading in the hopes of helping my friends find some good books for their own families. We would love any suggestions you have on books and we will continue posting some of the favorites my children come across.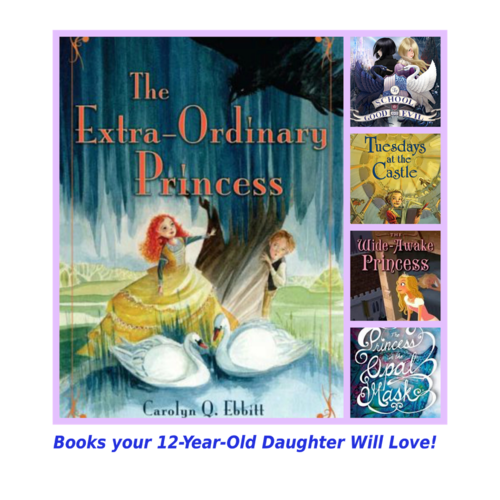 Samantha started with her favorite genre, fantasy. The books are listed below by how much she liked them:

1. The Wide Awake Princess– Samantha loved this book it is a favorite for sure. Princess Annie the heroine is immune to magic and when her castle falls under a spell, she has no choice but to travel throughout fantasy land in order to come up with a solution!

2. The Extraordinary Princess– Samantha wants this one to become a movie. The book follows the story of Princess Amelia the youngest and least likely of 4 sisters to become Queen of the land of Gossling. A terrible plague hits the land and tragedy strikes her family and she is forced to find out just how extraordinary she is.

3. School of Good and Evil– The sequel to this book comes out in May and Samantha already has it pre-ordered. In the book we meet Agatha and Sophie who are best friends. The girls enter into the magical School of Good and Evil. Sophie is sure she will join the ranks of Princesses like Rapunzel and Cinderella. Agatha leans more toward darkness and her wicked black cat. Then they enter the school and are placed in the opposite schools from what they were expecting. But what if the "mistake" is actually the first clue to discovering who Sophie and Agatha really are . . . ?

4. Tuesdays at the Castle – Magic and intrigue, Samantha says, "What more could a girl want!" Princess Celia lives in a magical castle and every Tuesday the castle adds on a new wing, a new turret, etc. Until one fateful Tuesday when she finds her family and home in peril. It is up to Celia to use her knowledge to save her family and her people.

5. Princess In the Opal Mask– I know it's a good book when I have to go in and take away the flashlight at 10 p.m. on a school night. Samantha loved this book. Two girls, two lands: sixteen year old orphan Elara has been forced to work for a spiteful family whereas Princess Wilha has been forced to wear a mask her whole life. When the two girls come face-to-face and switch lives, secrets are exposed that will affect the fate of both of their Kingdoms.
Stay Happy! Stay Informed!
Love,
Jen