It's time to pucker up for peaches!
Guess what time it is right now? It's peach season!
One of my most favorite things to do in the summer is to make jam out of all of the delicious fruits that are so readily available during this time of year. Because during the winter months these fruits become much more scarce and expensive.
So today I am going to share with you my sure-fire, you absolutely cannot fail recipe for peach jam. If you have never made homemade jam before, don't be scared. It' s easy! You just need to give yourself a little time to make it and make sure to follow my recipe.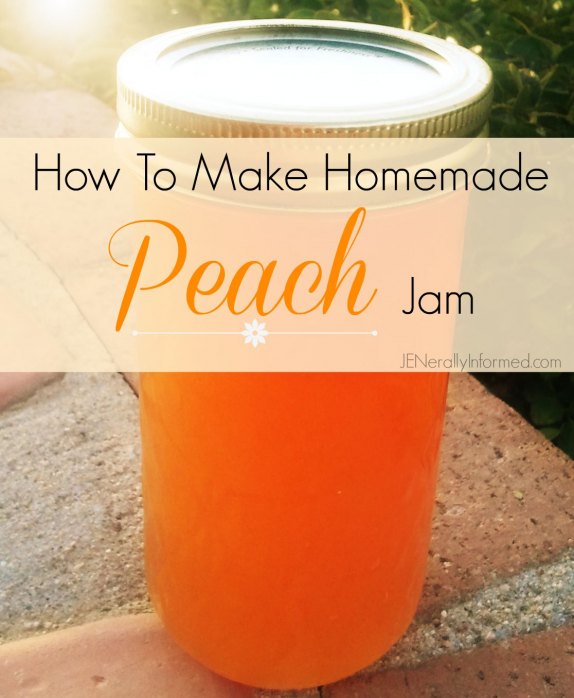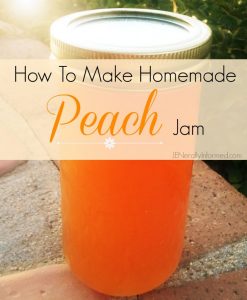 Pucker Up Peach Jam
2015-08-04 13:09:19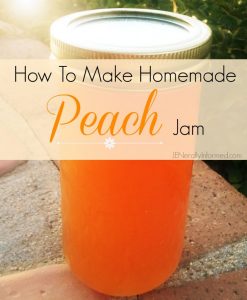 A deliciously sweet whole fruit peach jam recipe!
Nutrition Facts
Amount Per Serving
Total Carbohydrates
1206
g
* Percent Daily Values are based on a 2,000 calorie diet. Your Daily Values may be higher or lower depending on your calorie needs.
Ingredients
4 c. cut peaches
2 tbsp. lemon juice
5 1/2 c. sugar
1 box Sure Jell or other fruit pectin
1 tsp. butter
Instructions
Boil your mason jars and lids in order to sanitize them. You can leave them in the water until you are ready to use them.*
Peel and pit peaches.
Measure 4 cups and put the fruit into a large pot.
Mash or mix the peaches in the pot. It's easier that way. I use a little hand mixer and I like to have a little more chunky jam, so I don't completely puree the fruit.
Mix peaches, lemon juice with fruit pectin in 6-8 quart saucepan.
Place on high heat and stir until mixture comes to a full and rolling boil.
Add sugar all at once and mix.
Add butter and bring to a full rolling boil, stirring constantly.
Remove from heat, skim off foam with a metal spoon.
Ladle into hot sterilized jars, leaving a half inch at top, put the lid on.
Set aside on a counter or heat safe surface.
After a few minutes you should hear a kind of popping sound that lets you know your seal is good.
Let the jam cool and put in the freezer to be brought out all year long!
Notes
* I use a large pot on the stove to sterilize my jars and lids and have that going before I start peeling.
* You can substitute sugar for whatever sweetening agent you prefer.
Jenerally Informed https://jenerallyinformed.com/
The great thing about this recipe is that you can freeze the jars and bring them out as you need them. Our family has found quite a few uses for my jam as well. Put a spoonful on top of ice cream or throw a dash of it in to sweeten up a smoothie. Once you try the homemade jam route it is really hard to go back to the regular store bought jams and jellies.
If you liked my recipe for peach jam, then make sure to check out my recipe for Strawberry Jam!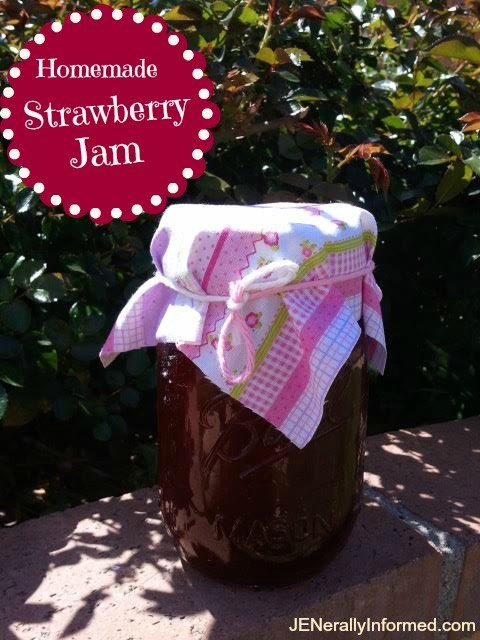 Before you go make sure to sign up for my email list to receive my newest recipes!
Love,
Jen

Go ahead and share this post, you know you want to!