My oldest daughter was born on September 10, 2001. Only one short day later, I sat in my hospital bed holding her and like the rest of the world watched in horror as the world changed and the World Trade Center crashed to the ground. This was my intro to parenting. It was a tough one.
Because we live in a world that is constantly changing, as parents we have to walk the fine line of deciding how best to inform our children of these natural and man made disasters and most troubling how to inform them about events in our own lives in which they will be affected.
Personally, I have had to inform my children several times of the death of a loved one. My husband and I have also had to decide which news stories we felt that they should be aware of. As they have grown older, some of the decision for which stories to share have been taken out of our hands as over eager extended family members and friends at school have informed them of some events we had not yet shared with them. The first time this happened to one of my children and I realized that the information they had received was incorrect, I decided I needed to come up with a game plan for dealing with this.
I understand that not every child is the same and as parents we may need to alter our approach when sharing difficult news, but here are some suggestions I have used over the years for sharing difficult news with children.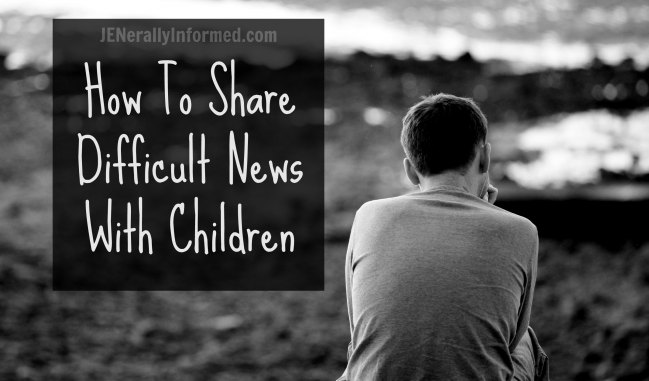 1. Be Honest
As a child I did not like when people told me things were "OK" when I could clearly tell they were not. Even very young children will pick up on your stress. Your denial will only frighten them more and lead them to imagine their own worst case scenario for what they think is happening.
2. Be Specific in What You Share
Although there have been events that my husband and I felt our children needed to know about, we did not feel they needed to know all of the grizzly and sad details. We share the facts with our children and answer any questions they may have.
3. Let Them Lead the Discussion
After sharing the facts, this is the part where you as a parent stop directing the conversation and let your child ask questions. Sometimes they may have a lot of questions. Sometimes they may have very few, but this will allow you to understand the specific concerns they have. It may be something totally different than what you anticipated might concern them.
4. Foster An Environment of Open Communication
In our family we have worked very hard to allow our children the freedom to respectfully discuss difficult personal situations and global and national news. Because we have different ages from teens to toddlers I have asked my older children to be aware of what they share around their younger siblings, but that either my husband or myself are ALWAYS available to talk about anything they want to discuss. Last week it warmed my heart to see my husband and teen daughter sitting on her bed discussing something that she was worried about. It was a long discussion, with some tears and hugs, but I was grateful that she knew talking to her Dad would help.
5. Stay Up To Date
Just like most parents, my time is limited and I don't know everything that is happening at all times in the rest of the world. I do however look at headlines and try to stay aware of big news stories. I am not ashamed to say that my children have begun discussions with me on something I knew nothing about. In this case, I ask them to tell me what they know. I then let them know I will do some research on the subject to help answer any questions they may have. I try to follow up on these discussions in a timely manner.
6. Reduce The Scary With Love
Our family has had some scary situations. Ones for which we had no control over. Although we couldn't determine the outcome of any given situation or predetermine whether the loved one we were praying for would live or die, my husband and I knew we could comfort our children with our love. As a team my husband and I have worked hard to expand our family's circle of love so that our children have many people who they know love them and have an interest in them. Sometimes just knowing that no matter what, we have someone who loves us makes all of the difference.
Stay Happy! Stay Informed!
Love,
Jen

Go ahead and share this post, you know you want to!