Hi everybody! I am back with the 2nd installment of my recent mother-daughter trip to Paris. You can read all about our first day here, but today's post is all about the Chateau De Versailles!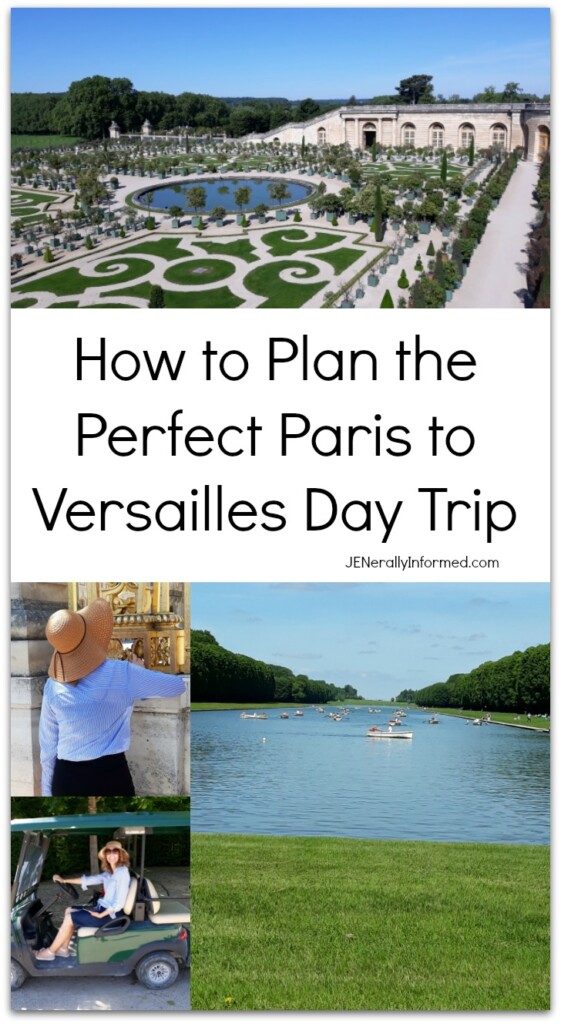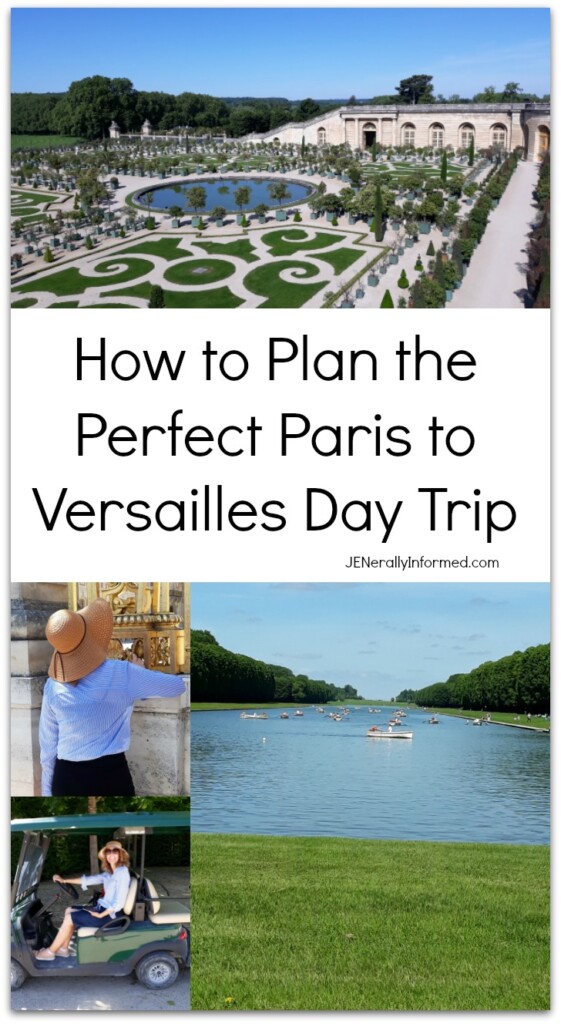 For a little history, the Palace of Versailles was the principal royal residence of France from 1682, under Louis XIV, until the start of the French Revolution in 1789, under Louis XVI. It is located about 30 miles southwest of the centre of Paris.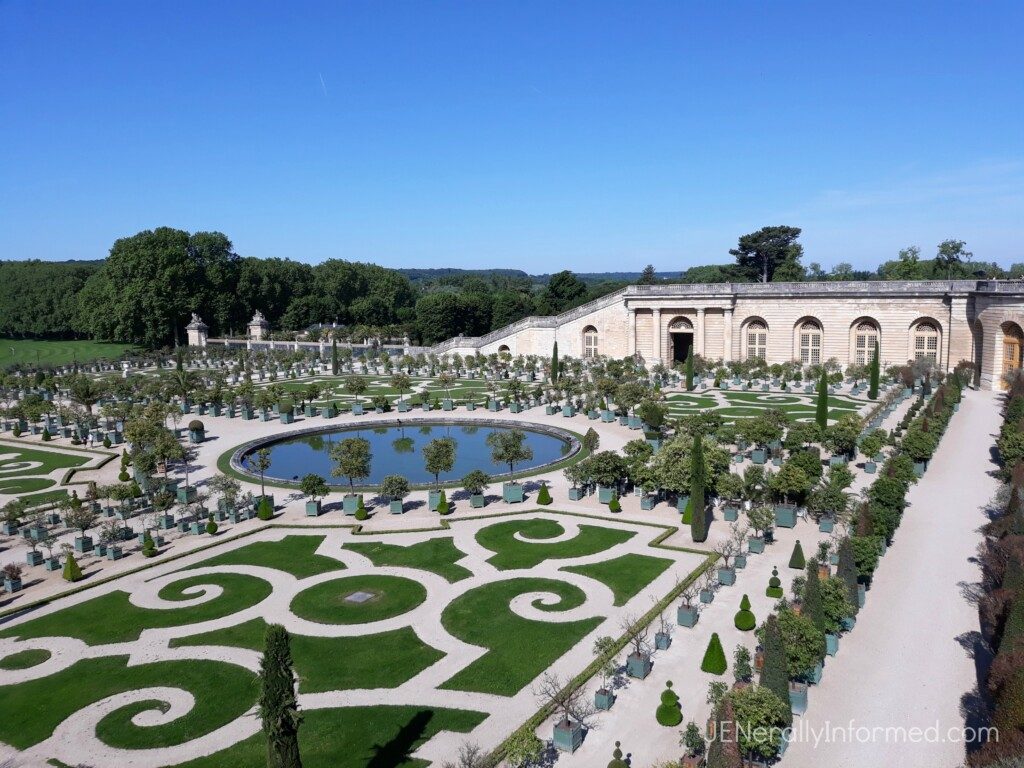 Getting there is a little tricky. My daughter and I are members of the Church of Jesus Christ of Latter Day Saints and had planned on visiting the Temple located just a few miles outside of Versailles, so to get there I opted for an Uber ride from the handy dandy app on my phone that would get us straight to the Temple from our hotel in Paris. The cost for both of us to travel was about $30 US dollars, which really was nothing, and made the planning details and fears of getting lost greatly reduced.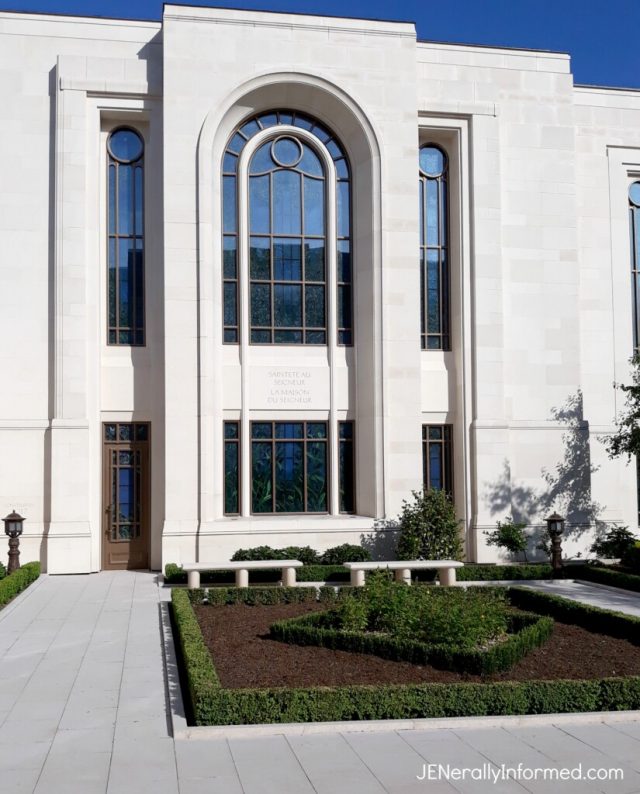 For all of my friends who are members of the Church, the Paris Temple is beautiful and even includes a Patron House for members to stay at as they travel from all over France to attend.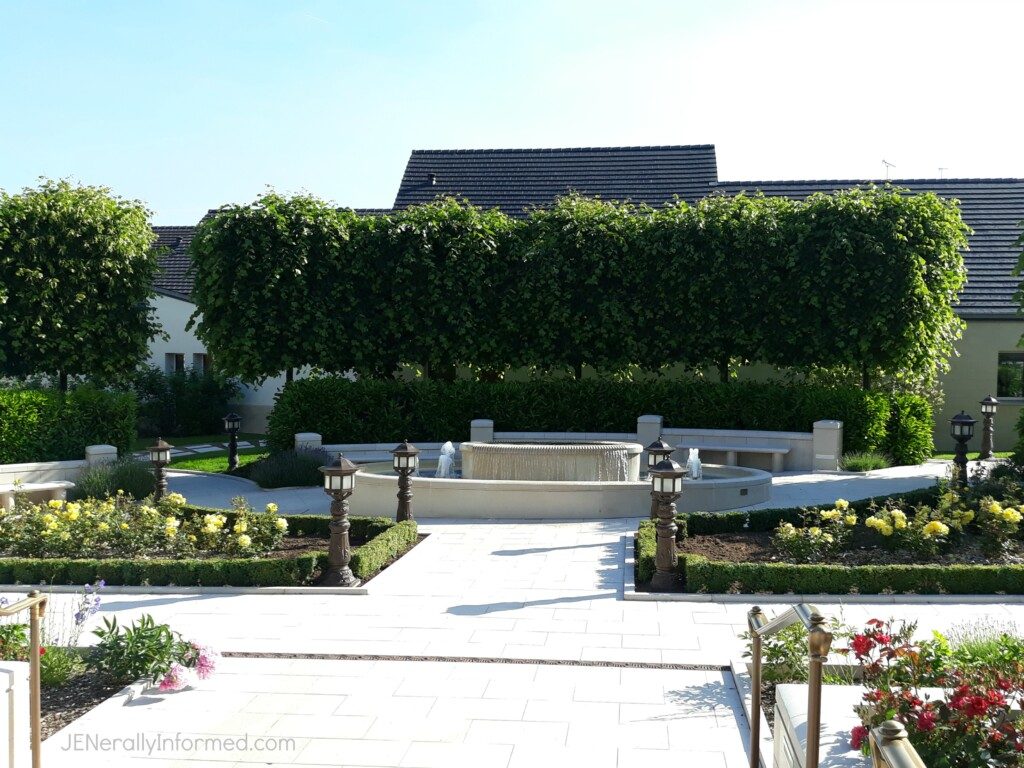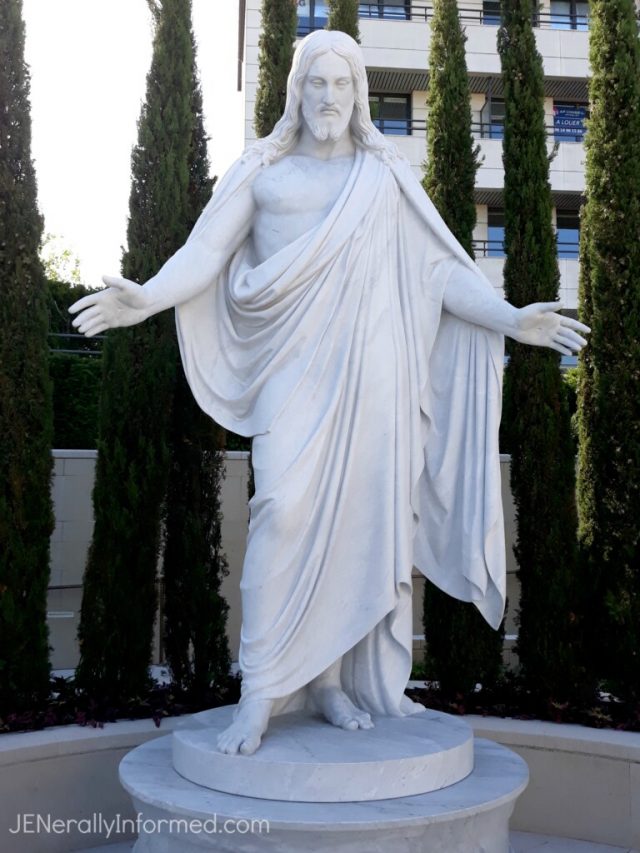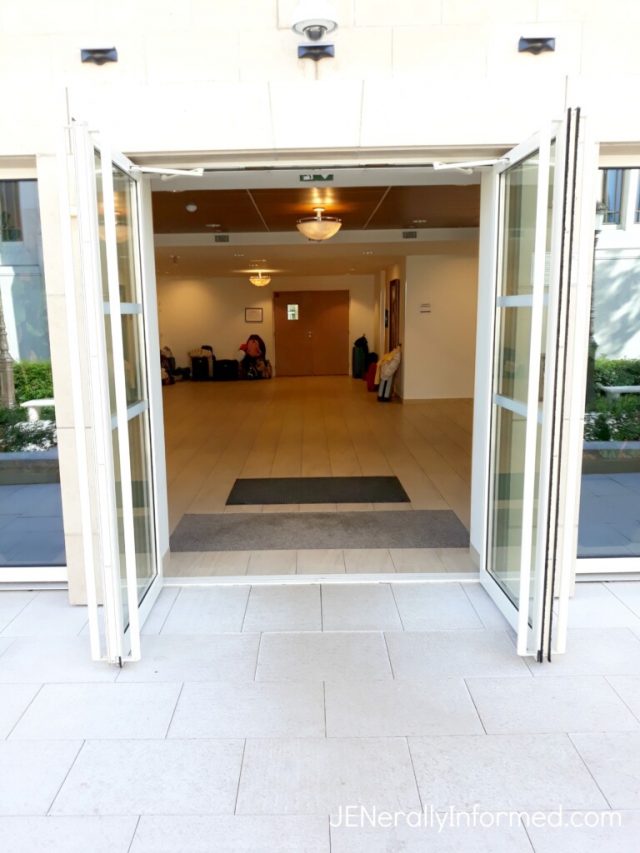 We ran into these cute Sister Missionaries who were finishing a run as we got out of our Uber. One was from Ghana and the other was from Canada. It was so nice to see friendly faces that I just had to hug them and take pictures with them!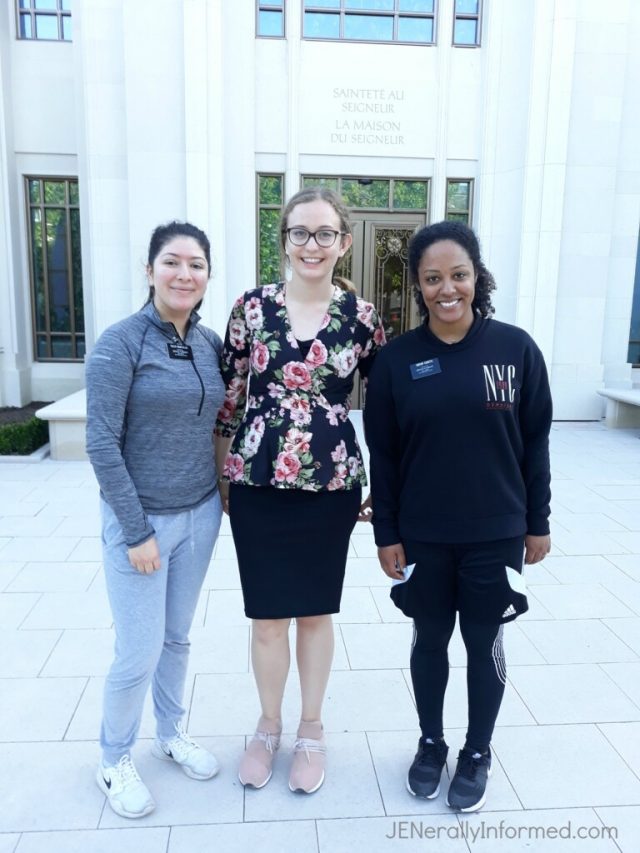 Anyways, the Temple was a lovely and early part of the morning for us. Afterwards we grabbed another Uber at a cost of about $5 US dollars and headed the 6 to 7 minutes away and Versailles.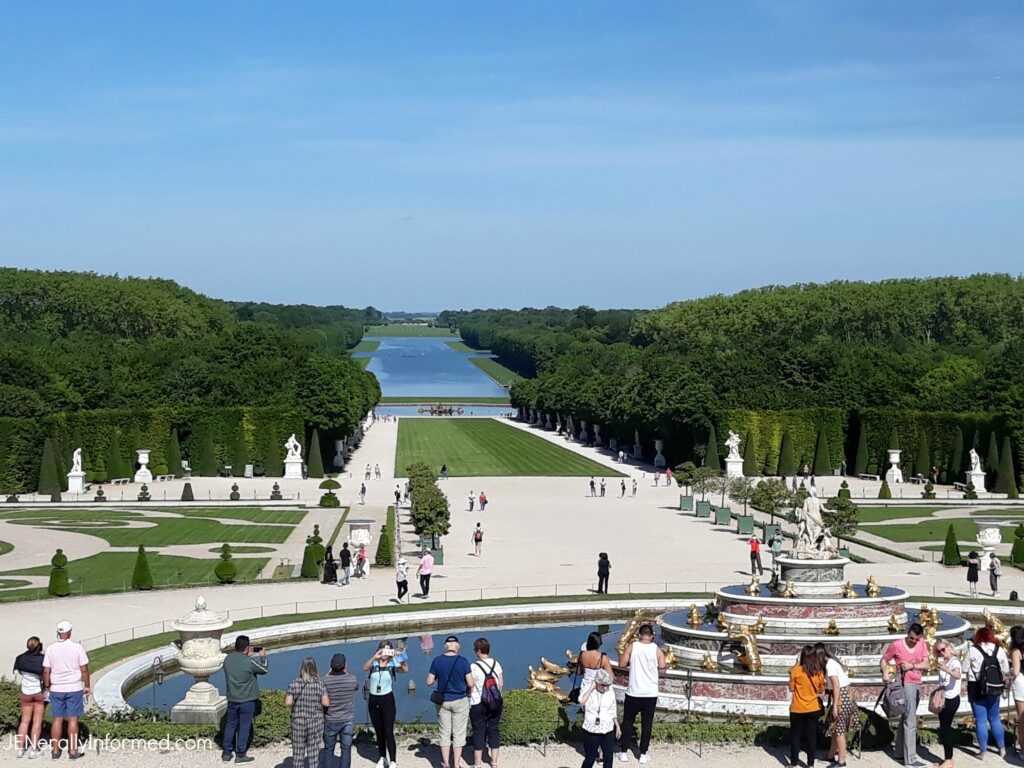 Millions of people visit Versailles yearly and there is always a crowd, especially in the spring and summer.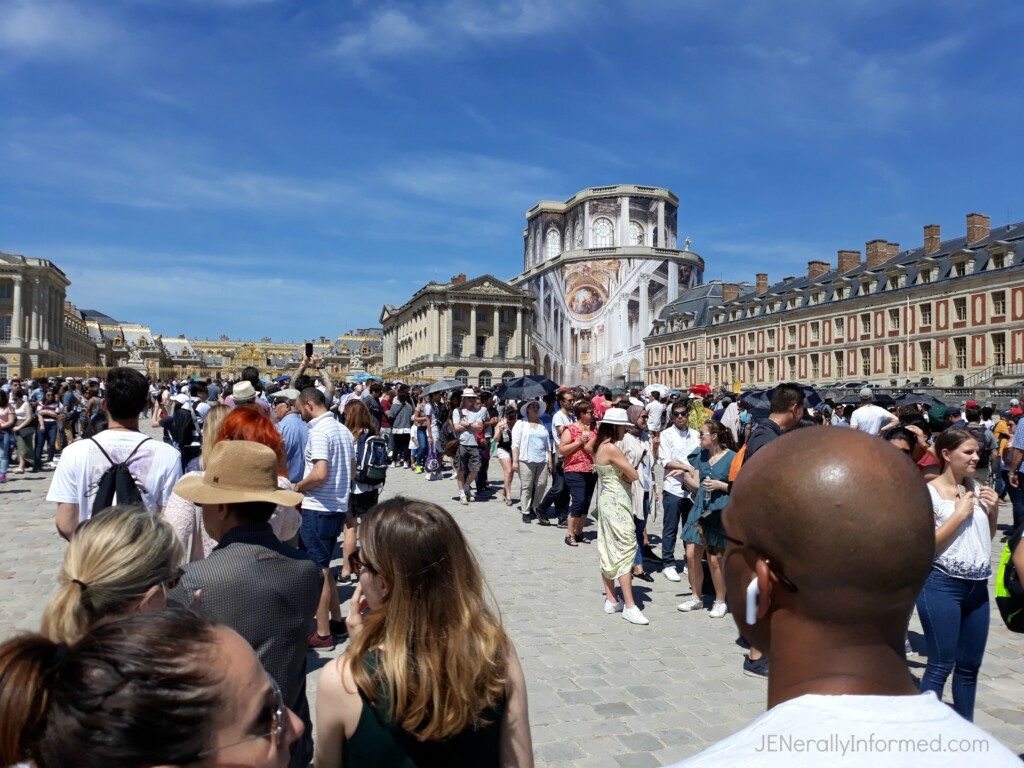 Since we had opted to not be part of a group tour there was no way to avoid the lines. I purchased the Passport ticket, which includes admission to the whole Estate of Versailles and Trianon. Since Sam is a student her entrance to the Palace and Estate was free when we showed her passport. We just had to pay the 9 Euro for her entrance to the gardens.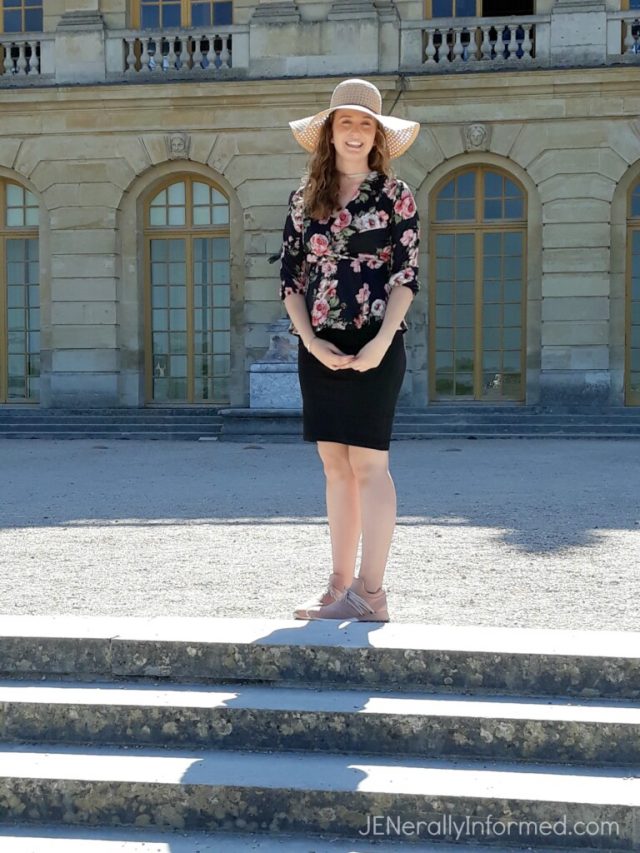 We knew it was going to be a hot day and there was no line for the gardens in the morning, and so we opted to hit there first. Through serendipity that seems to follow Sam, we found out that renting a golf cart right as you enter the gardens was about the same price as Sam's ticket would have been, so here's a picture of me tooling around in the gardens of Versailles in my golf cart and very fetching hat!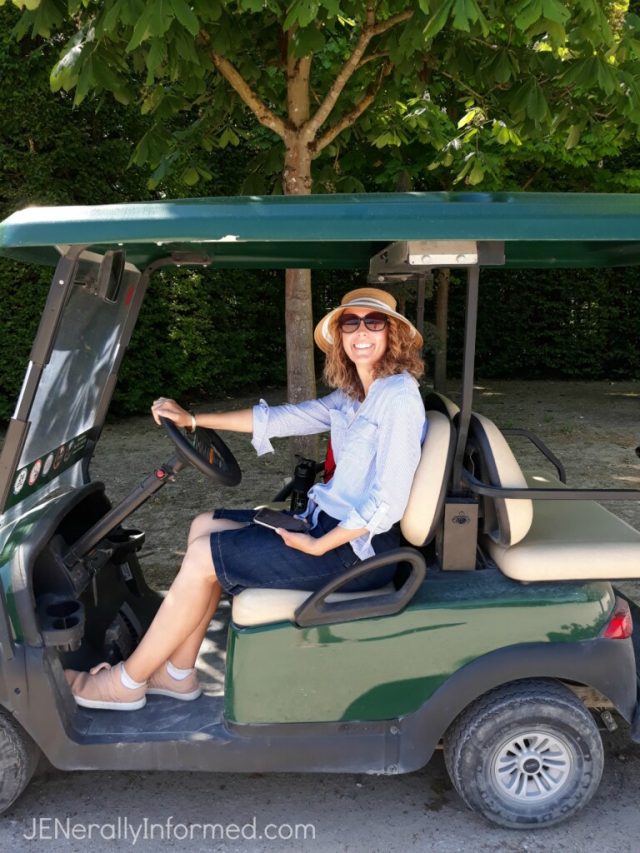 How many people can say they drove around the gardens at Versailles in a golf cart? It was totally worth it too! You really could spend days in the gardens as it is a lot of walking. The golf cart made our passage a lot easier. Here are some of the things we saw.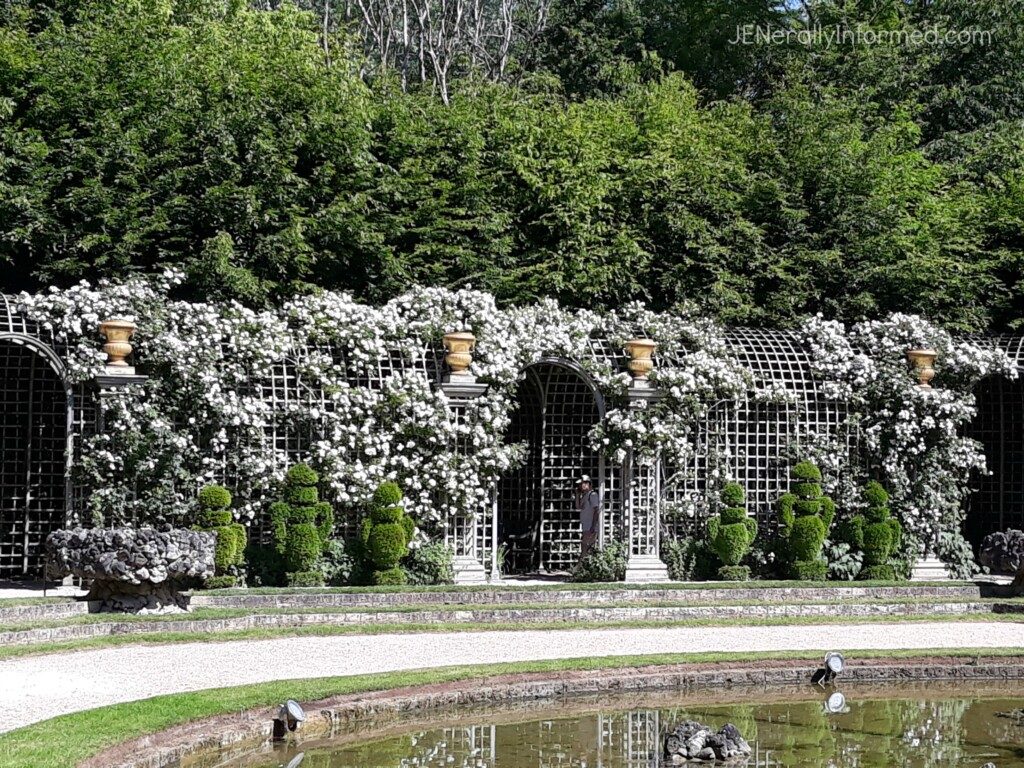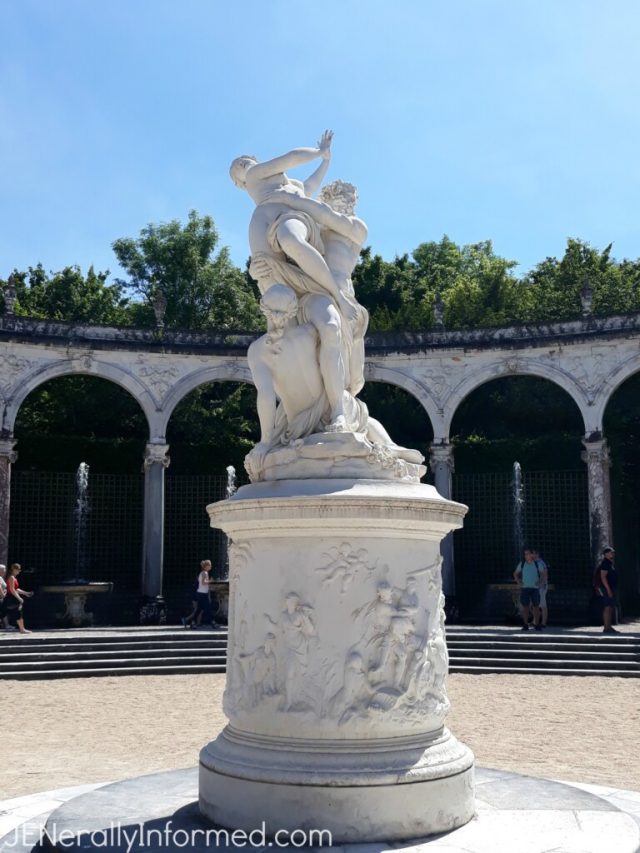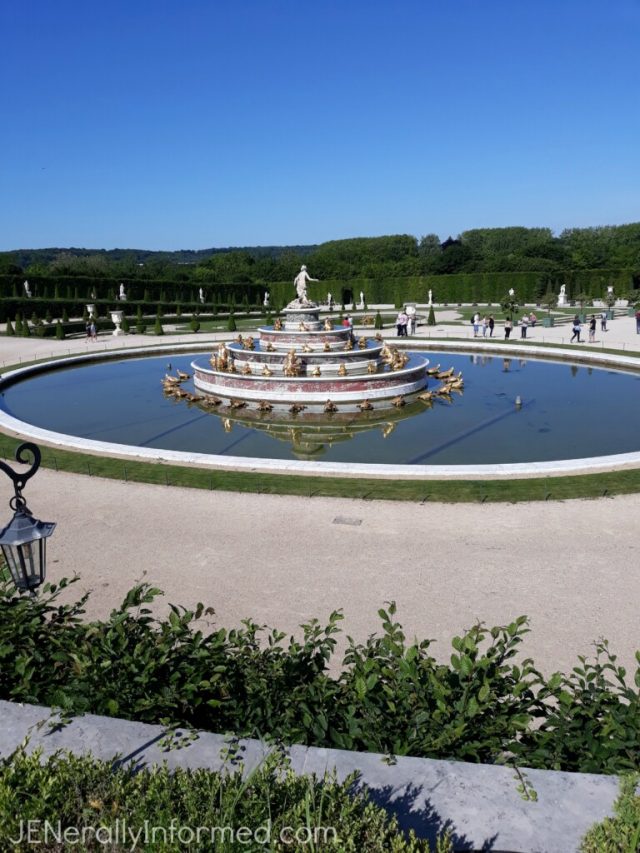 As you walk through the gardens and grounds at Versailles and see both the opulence and beauty of the place, it really makes history come alive.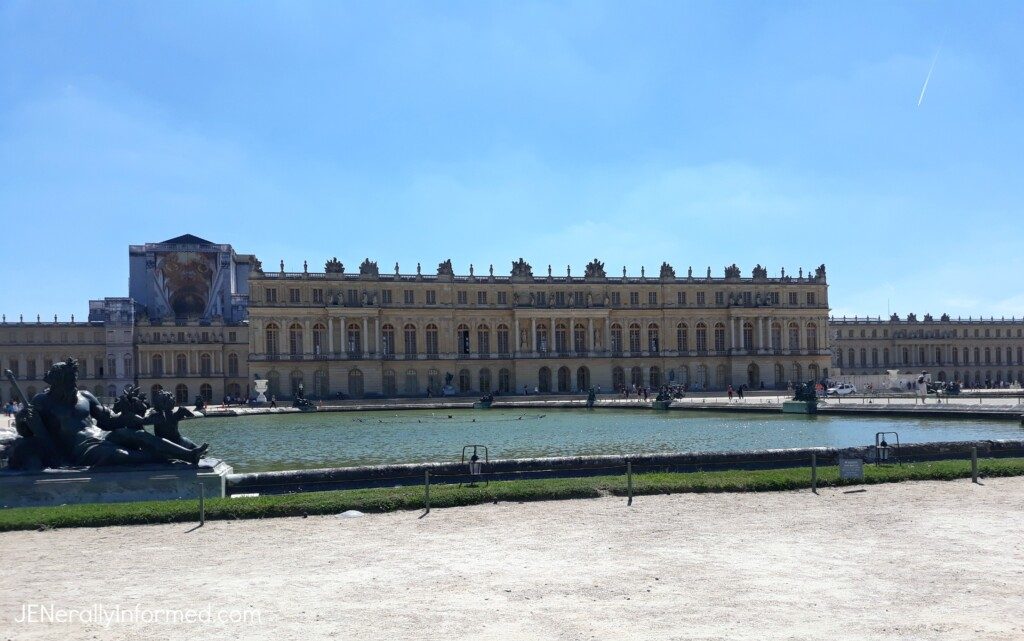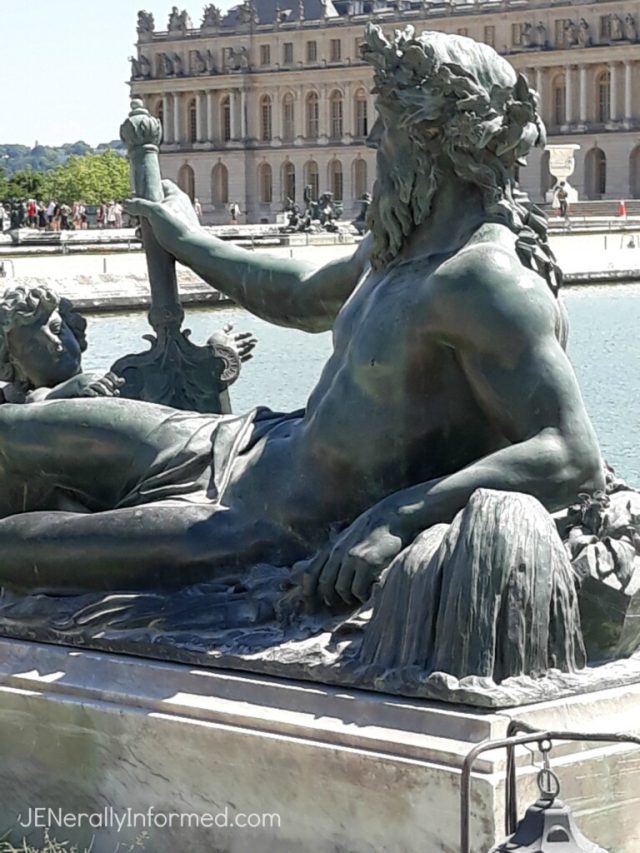 Like I mentioned, you could spend 4 days here wandering through each little area and seeing the statuary and gardens, but it still wouldn't be enough!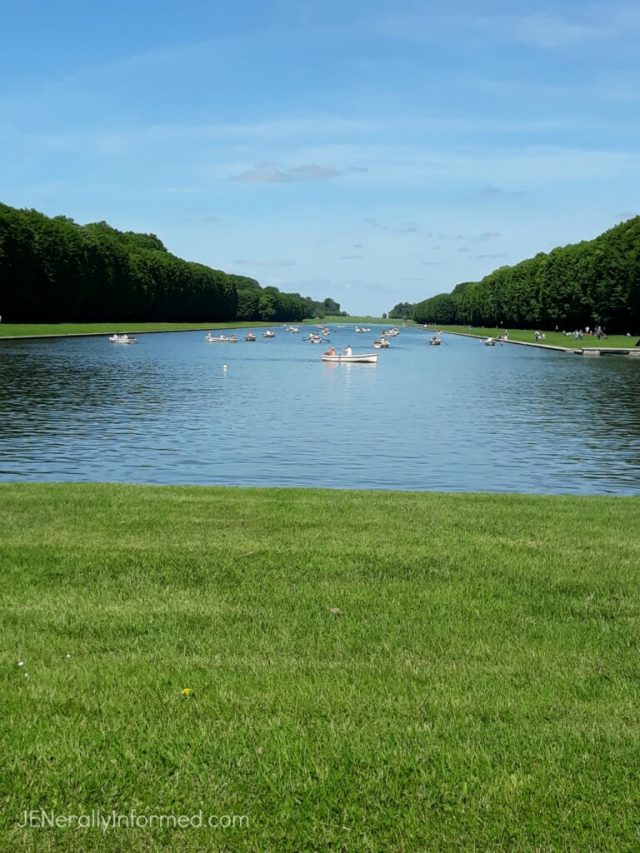 After we had spent the rest of the morning in the gardens, we headed to the lines and the main Palace.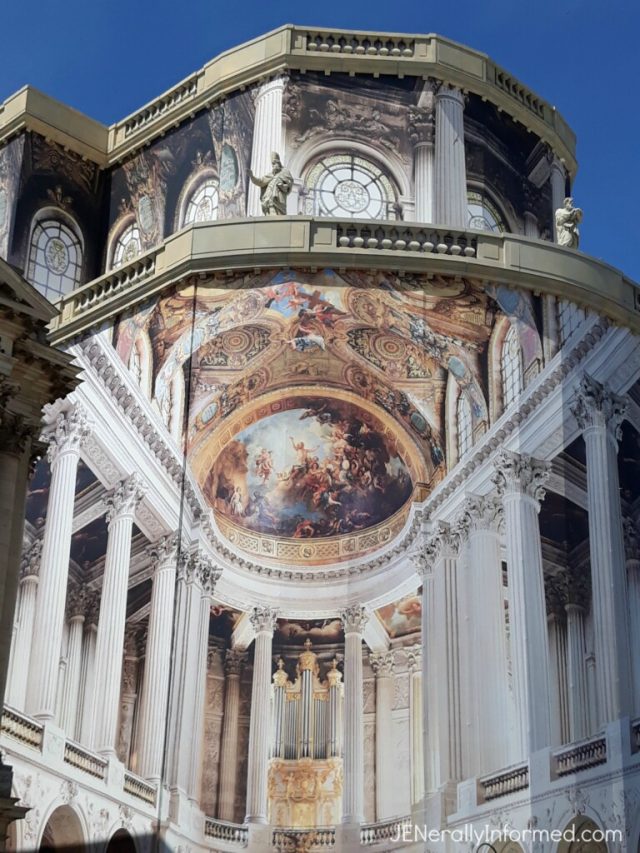 Luckily, there were so many people to talk to from all over the world. Plus they had this water sprayer set-up for kids to run through and my Sam of course, who will always be a big kid at heart, had a really good time making friends with children the world over and running through the sprinklers with them. Here is her gazing up at the Palace gates with a wet back to prove how much fun she had!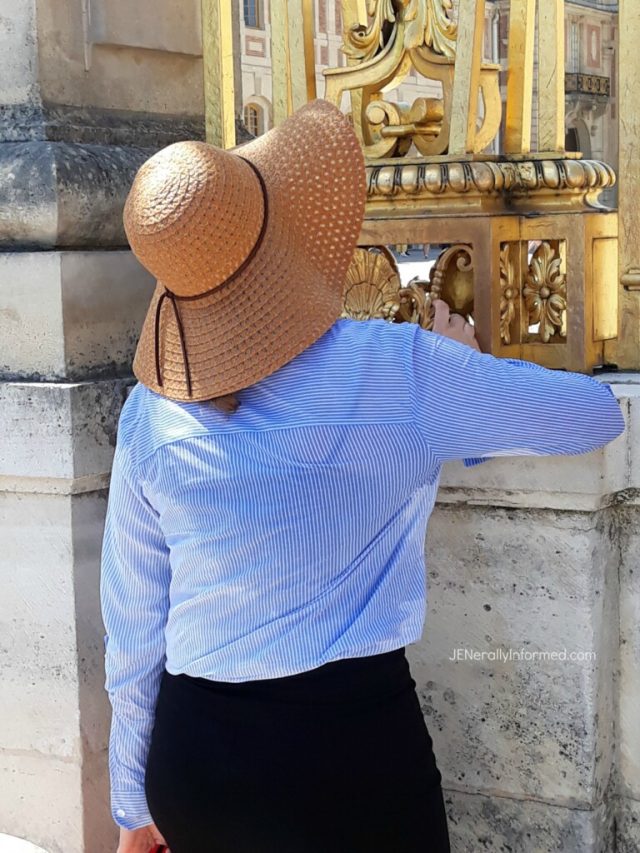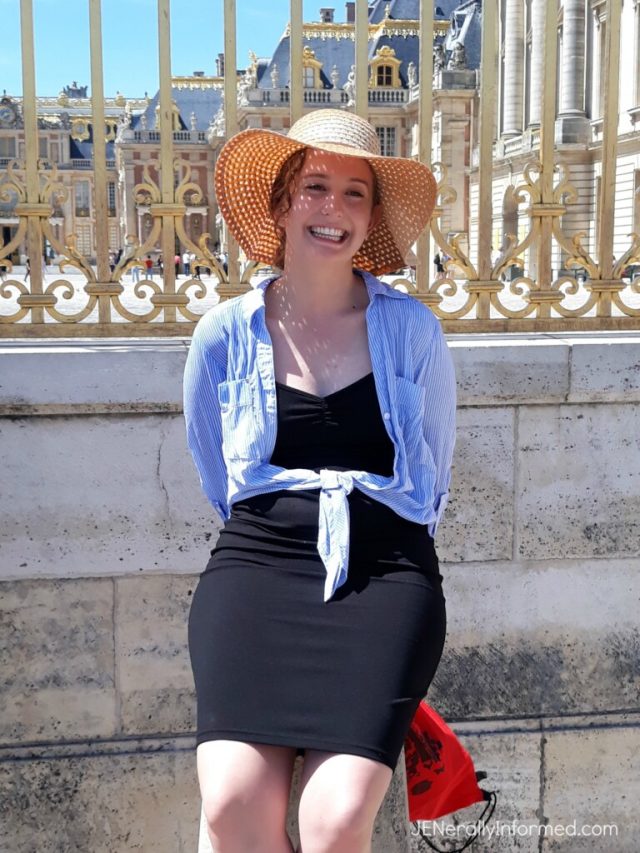 The inside of the Palace during the busy season is crowded, so be prepared! Hang onto your bags, as pickpockets have been known to pilfer unsuspecting guests items. We opted first to tour Louis XV's daughters' Apartments.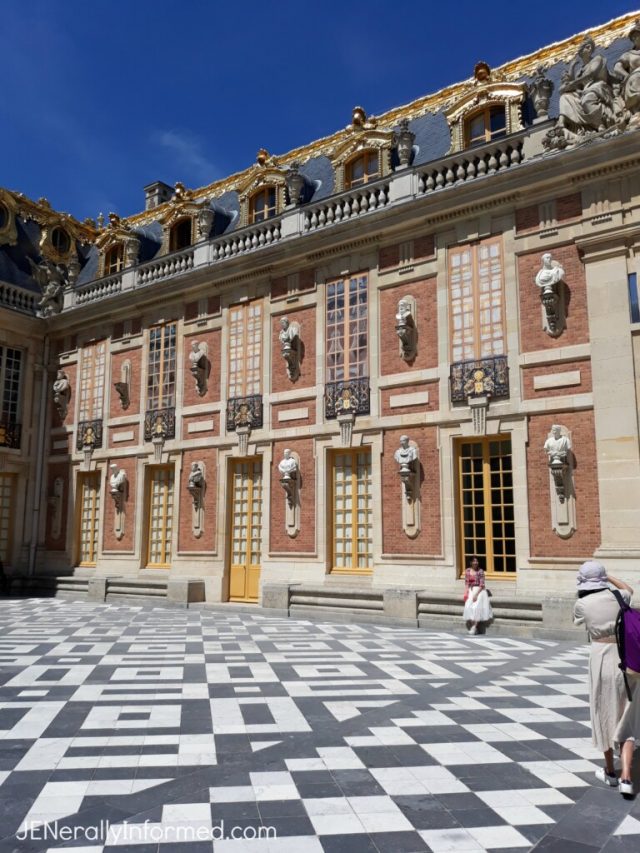 Louis XV had 6 daughters. Only two of them, Adélaïde and Victoire, remained until the Revolution, since neither princess married and both lived to an old age.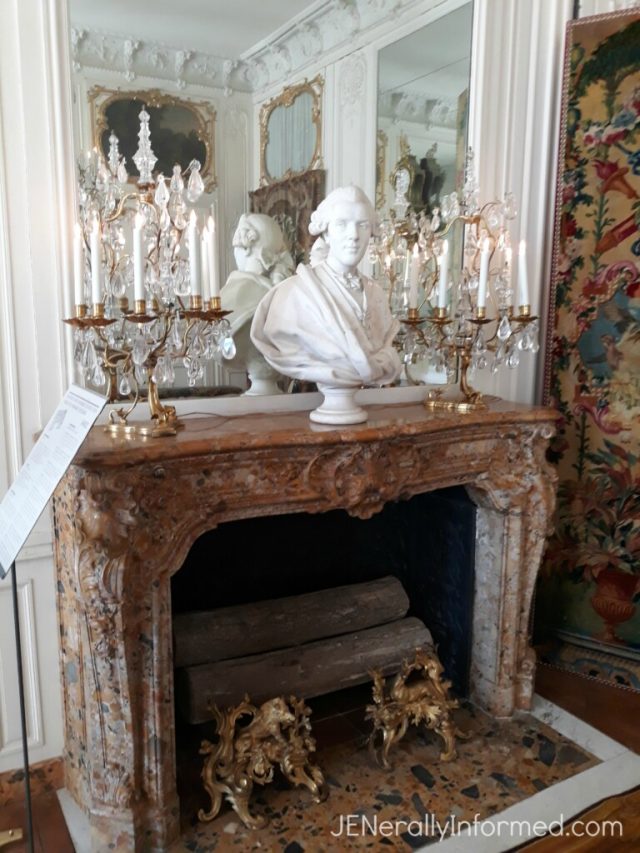 Touring these rooms is relatively easy and the crowds were small.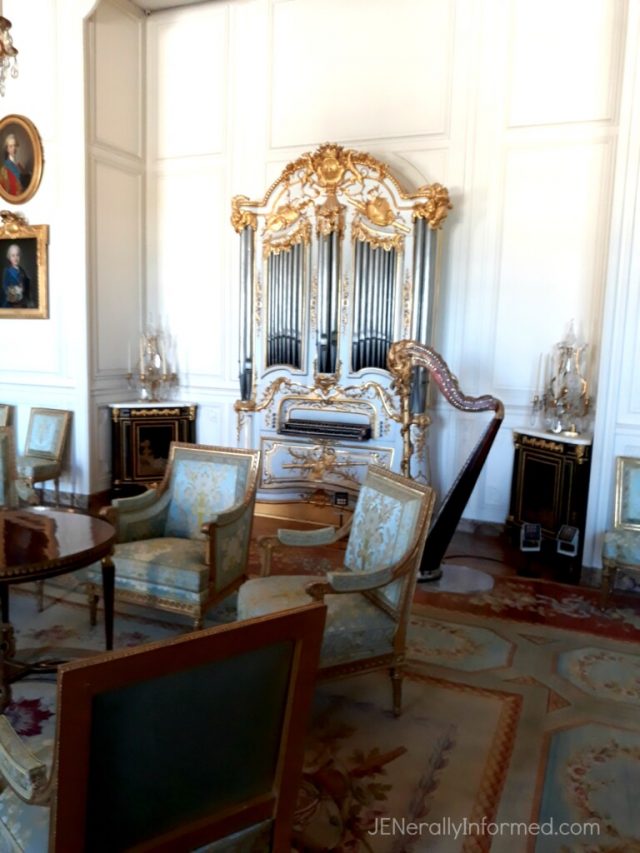 Next we headed for the rest of the Palace and the crowds in the Hall of Mirrors. The Hall of Mirrors, the most famous room in the Palace, was built to replace a large terrace, which opened onto the garden. The whole length of the Hall of Mirrors (73m) pays tribute to the political, economic and artistic success of France. It really is stunning.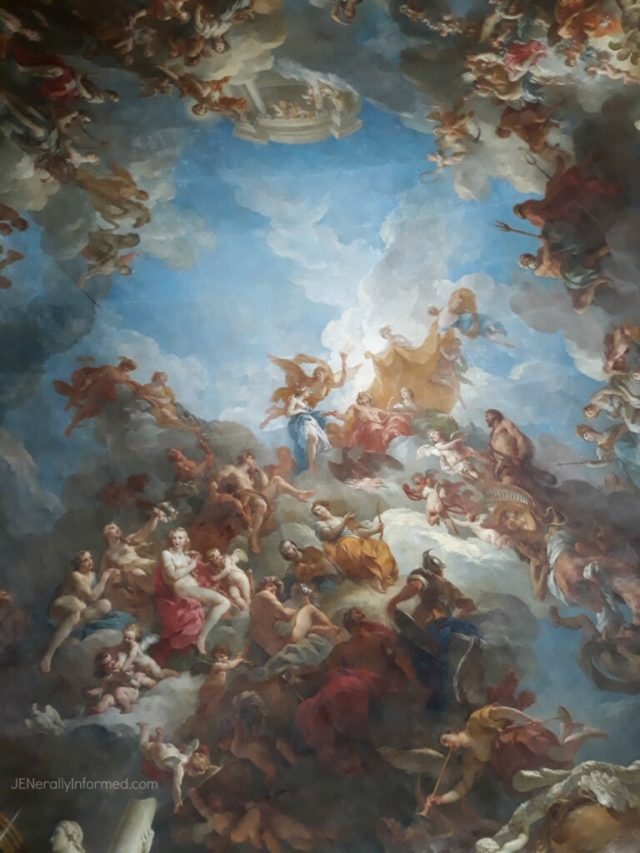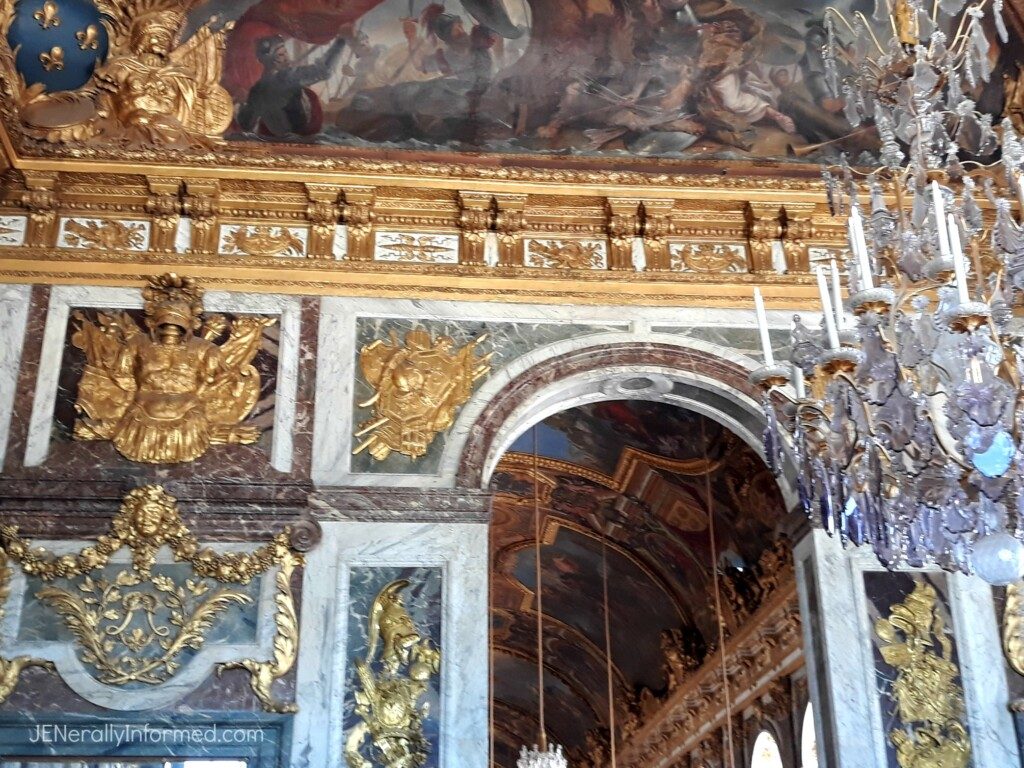 Economic prosperity is revealed in the number and size of the 357 mirrors bedecking the 17 arches opposite the windows that look out onto the fantastic gardens.
We of course had to stop on our way out and take a selfie.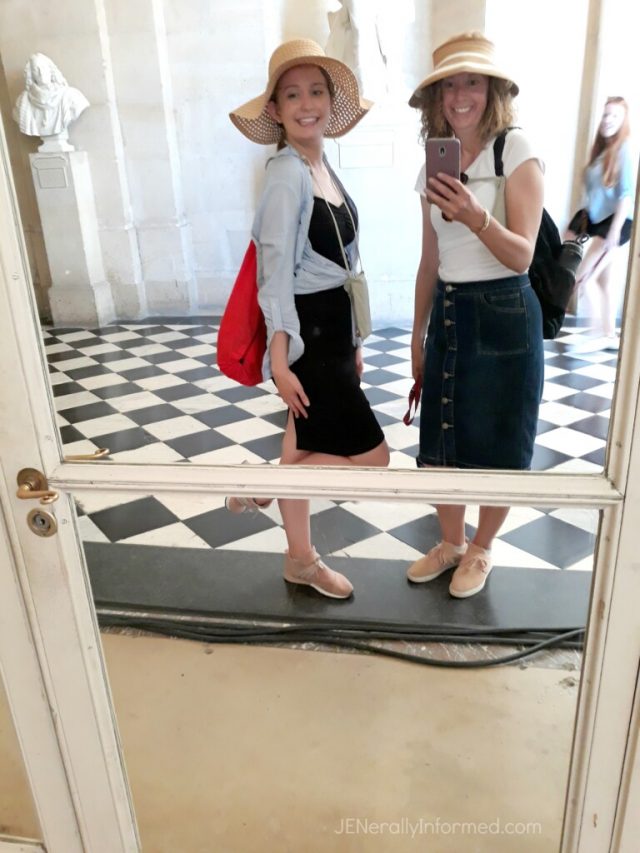 If you are wanting to visit Versailles, make sure to become familiar with the official website as it has a wealth of information available to help you plan your trip. Here are just a few last tips. If you are visiting in the spring or summer make sure to bring hats, water bottles and such for your day at Versailles. We Arizonans know how to weather the sun, but we saw plenty of people looking pretty haggard as the sun's FULL effects took their toll on them.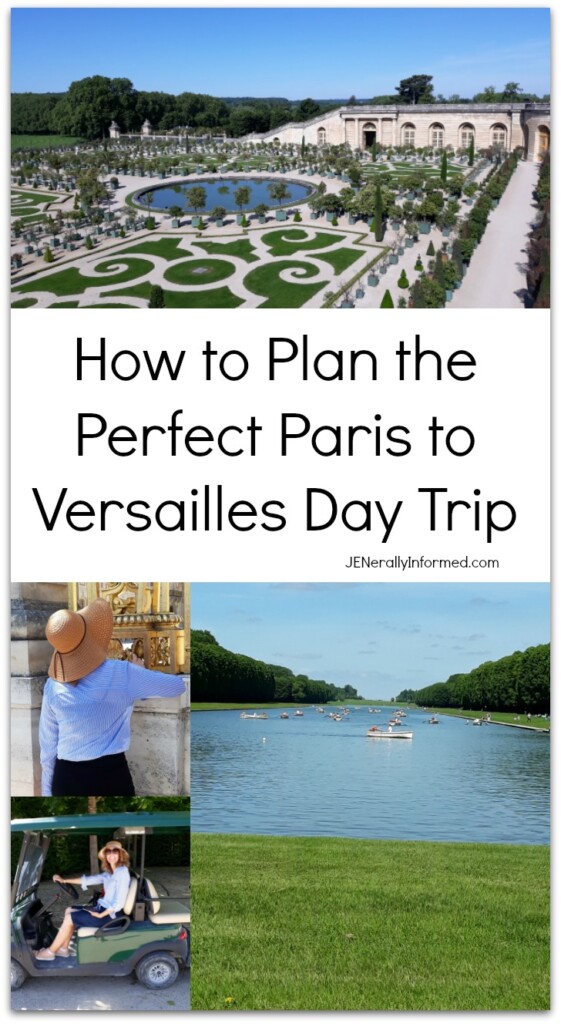 After all of this Sam and I were pretty worn out and hailed an Uber (seriously get the app when traveling in Europe- unless you are in Italy where it is outlawed!) and within thirty minutes without any changeovers, we had been picked up and delivered to the front door of our hotel. That's winning for me!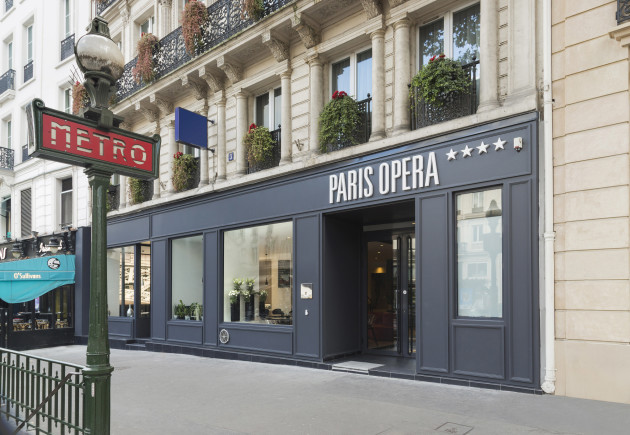 That night she and I opted for a Paris tradition for dinner, a waffle on a stick. Look at this cheesecake waffle deliciousness! It even had a little bow. Tres bien! I am so going to try and make one of these someday. I will share the results with all of you. Well… as long as it turns out alright, it might just be the magic of Paris that makes it this pretty!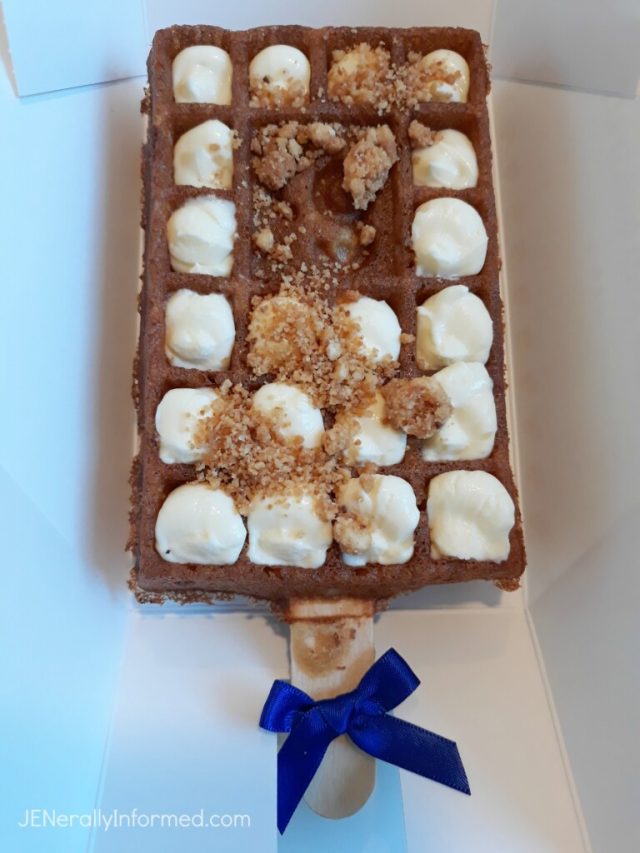 Thanks for following along on my trip. Next up is our adventure at the Louvre!




Love,
Jen

Go ahead and share this post, you know you want to!