I have been a very good girl and waited patiently for the opportunity to start, pinning, sharing and blogging about all things Fall. I love this time of year and I really, really love pumpkin!
The JENerally Informed family will be baking, crafting and whipping up pumpkin themed items like crazy and just wait until you see the masterful pumpkin carving skills of Jensguy. He has big plans for this year's Jack-O'-Lantern!
It's time for the GREAT Pumpkin Palooza! Right here, right now is your one stop primer for all things pumpkin! How exciting yes! No need to thank me. Just continue cooking and sharing all things pumpkin and we will be even.
First off let's start with my own little creation, Jack-O'- Lantern Pudding Cups!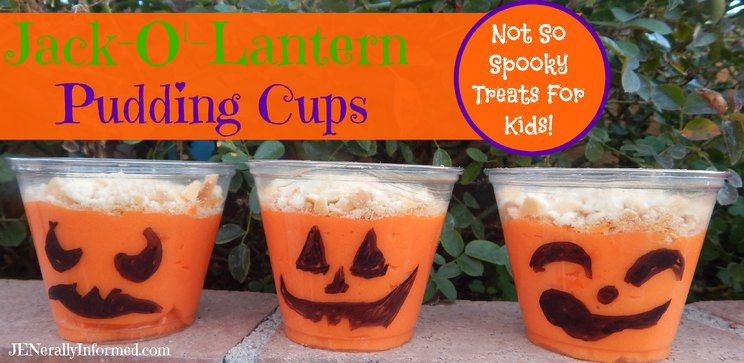 This is the easiest thing to make, so make sure to bring the kiddos on into the kitchen!
Jack-O'- Lantern Pudding Cup Directions
Using a Sharpie draw Jack-O'-Lantern faces onto small clear plastic punch cups. Put to the side.
Make one to two packages of your favorite brand of instant vanilla pudding. I used three because my family is so large!
Add yellow and red food coloring to the pudding and mix until you find the color of orange you like!
Pour pudding into your cups with the faces.
Top with crushed graham crackers or Vanilla wafers.
Voila you have created your own Jack-O'-Lantern pudding cups!
Now here is your Pumpkin Palooza Primer!
I included a little bit of pumpkin love for all tastes and diets!
* All links are original sources, but you can also check out my Pumpkin Palooza Pinterest Board where I will be adding tons of new items! Do you have a pumpkin recipe? Well then make sure to send it my way!

Pumpkin Bread With Butter Cream
Cream Cheese Filled Pumpkin Bread
Pumpkin Monkey Bread With Brown Sugar Glaze
Pumpkin Bread From My Friend The Reflective Mama
Honey Butter Pumpkin Dinner Rolls
Grand's Ready Made Rolls Pumpkin Doughnuts

Make sure to check out my sugar cookie recipe! Grab a pumpkin-shaped cookie cutter, whip up some orange frosting, and VOILA you have created a pumpkin-shaped sugar cookie masterpiece!
Pumpkin Cookies With Cream Cheese Frosting
Pumpkin Chocolate Chip Cookies
Easy No Bake Pumpkin Cheesecake
Pumpkin Cream Cheese Filled Brownies

Here's my personal favorite pumpkin pie filling recipe from Betty Crocker.
No Bake Triple Layer Pumpkin Pie

Pumpkin Stew Recipe From My Friend Tamara Like Camera
Roast Pumpkin, Herb and Walnut Pasta Bake
Creamy Pumpkin and Spinach Pasta
Healthy Bacon and Pumpkin Pasta

Pumpkin- Apple Breakfast Smoothie

Clean Living Pumpkin Ice Cream
Pumpkin Cheesecake Ice cream (egg-less)
Frozen Yogurt Pumpkin Pie Bites
Salted Caramel Pumpkin Parfaits

The Easiest Way To Clean And Roast Pumpkin Seeds
Happy Fall everyone!
Stay Happy! Stay informed!
Love,
Jen





Go ahead and share this post, you know you want to!