When I was a little girl my mother would make homemade freezer jam. She worked out of the home, had a whole passel of kids and had very limited time, but she knew how much her family liked it and so she found time to make it.
When I grew up I wanted to be a fabulous cook just like she was. I remember when I made my very first batch of jam. I made it with my daughter and all of the warm memories of cooking in the kitchen with my mother as a little girl returned. I don't think I am as good a cook as my mother, but there is still hope.
*There is a BIG secret though to making jam, as taught to me by my mother and this dictates when I make jam. Only make jam with berries that are on sale. Otherwise it is way too expensive. This last week strawberries were on "ganga" sale for .99 cents a package and that meant it was time to start canning and filling the freezer!
I wanted to share with all of you how easy it really is to make jam.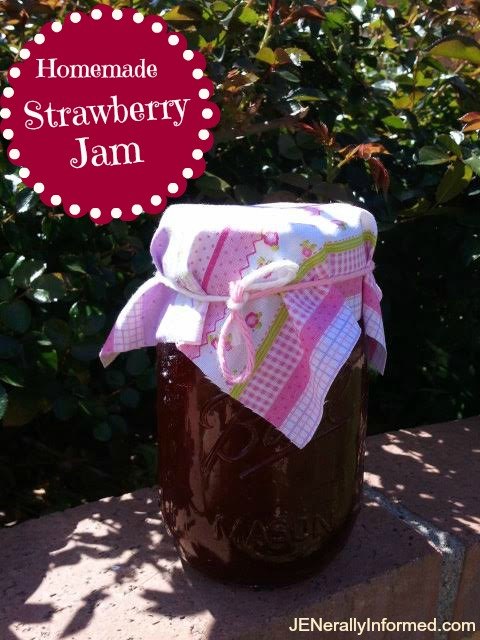 How To Make Strawberry Jam
1. Boil your mason jars and lids in order to sanitize them. You can leave them in the water until you are ready to use them.
2. Cut and wash berries. It takes 5 cups of strawberries to make one batch.
3. Put berries into a pot and smush them. I use a little hand mixer. You don't want them pureed just mushed and a little liquefied.
4. Measure out 7 cups of sugar (heart attack I know) and put to the side.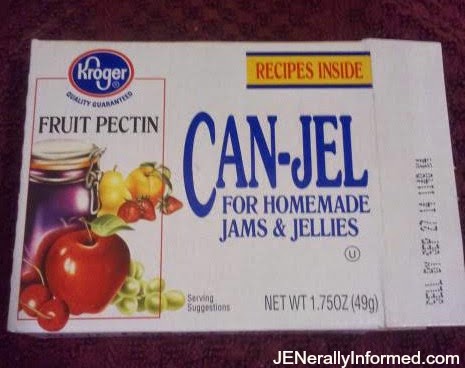 5. Turn heat on berries in the pot and add 1 teaspoon margarine and 1 container of fruit pectin. I used this kind because it was on sale. Bring mixture to a roiling boil, mixing frequently.
6. Add sugar all at once and bring back to a roiling boil.
7. There will be some foam on the top of the jam, just skim it off the top.
8. Take out a sanitized jar with tongs and pour in jam. put lid on tightly and let settle and cool on your counter for 24 hours.
9. Put in your freezer and bring out all throughout the year to enjoy!
See I told you it was easy.
Here is a picture of my cooking buddy. She even wore her Strawberry Shortcake apron especially for this project!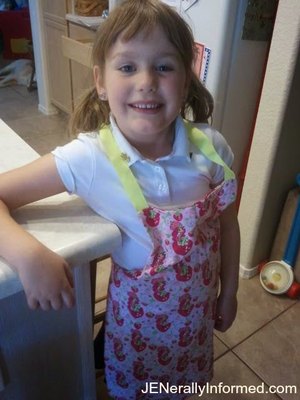 If you enjoyed this recipe, then make sure to check out my other recipe for homemade peach jam!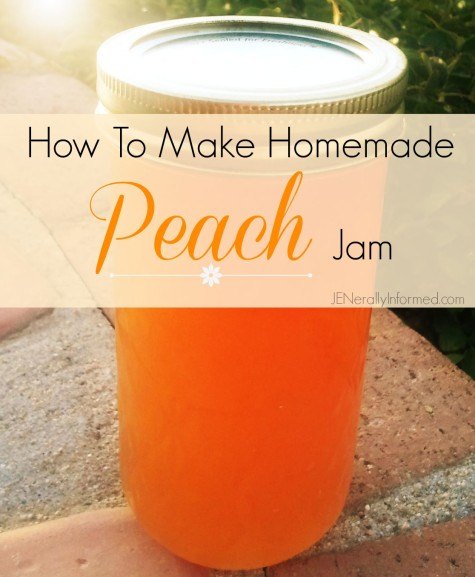 Love,
Jen

Go ahead and share this post, you know you want to!