This week I was invited to guest post a family fun activity over with the amazing people of Mom It Forward. It felt like that moment when you did something back in school that was worthy enough to get you the nod of approval from the "cool kids".
I think we have well established my love of simplicity, and how Pinterest projects for me range from a severe challenge at best all the way to borderline science fiction at the far end. So I was left with a conundrum. What could I safely pull off that would not make me look like the most boring/untalented person alive?
Then my awesome husband, seriously he is the best, reminded me of something we used to do when we were little and Voila! an idea for a post was born. I hope you take a minute and check it out, my kids and I had a great time and all you really need to replicate this activity for your own family is one, count it, ONE ingredient!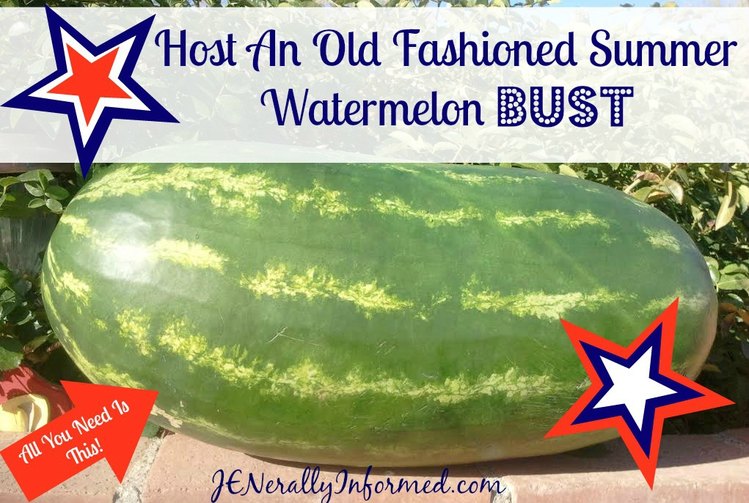 When I was young, watermelons had seeds. The seeds were not a nuisance, but rather something that was synonymous with summer and even summer fun. I have told my children stories about the games my friends and family used to play with watermelon seeds, but they just did not understand. They seemed to think that living with seeds in your watermelon was akin to living with bread before it was sliced.
So, I decided it was time to host my very own backyard watermelon bust party to show my kids just what fun they had been missing!
Most watermelons these days are seedless so I made a visit to my local Farmers Market in order to find a seeded one. Something that many may have forgotten is that the seeded watermelons tend to taste better. They are also oblong, which makes for superior slices.
The beauty of a watermelon bust is that other than the watermelon (make sure it is chilled) there is not much else needed in order to create a memorable and fun activity with your children. For maximum fun, cut the watermelon into two inch wide slices cut in half for the classic semi-circle look. Leave the melon-baller and paring knife at home.
Here are some of the games you can play:
Have a seed spitting contest- See who can spit their seeds the farthest. We used sidewalk chalk to mark which seed belonged to which child.
Spit the seeds into a cup- The person with the most seeds in their cup wins. My oldest won with a whopping 16 in her cup!
Don't cross the line- Draw 2 lines with sidewalk chalk. Stand on one line and see if you can spit your seed as close as you can in front of, but not over, the other line.
Here are a few pictures of our fun, notice the dripping watermelon juice all over their faces? Who let's their kids play and get messy with their food? Me!
BTW: You might notice one extra kiddunk in the photos, this is my nephew Nick. The picture of him is so cute we had to include him in the recap.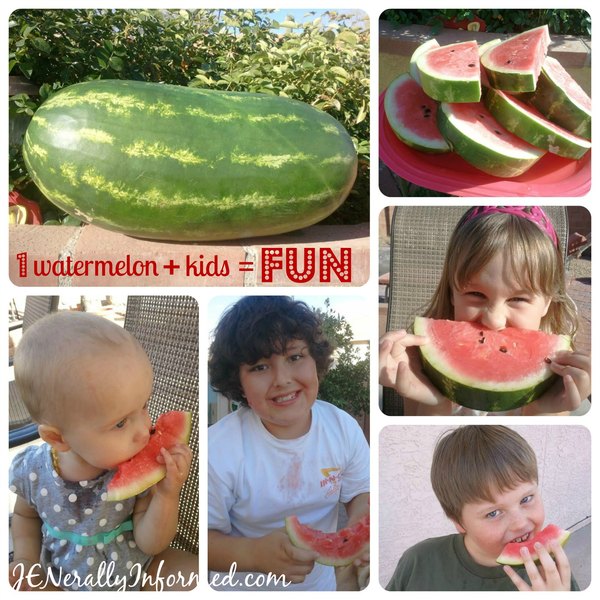 In addition to all of the heaping slices of watermelon I made watermelon lemonade. I wanted to make it as easy and fun for the kids as possible so no fancy stuff here.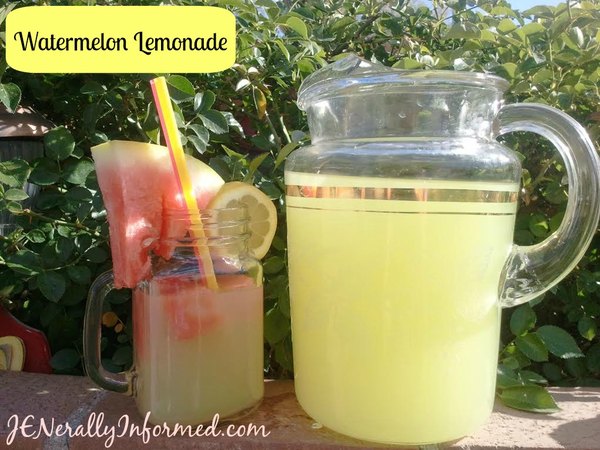 To make it you need:
Your favorite powdered or frozen lemonade. Make as directed.
Cut up chunks of watermelon and put into your serving glass.
Crushed ice cubes inside the glass.
Slivers of watermelon and lemon and a couple fancy straws for garnish.
My children had so much fun doing the watermelon bust and even asked when we could do it again. That's a win for this Mom!
Stay Happy! Stay Informed!
Love,
Jen


Go ahead and share this post, you know you want to!