In August 2014 I was part of a group of bloggers who launched and carried out the first ever Blog Staycation! Today I am excited to announce the dates for the next Staycation!
September 10th through September 14th, 2015!
If you are ready to join you can sign up for Staycation updates HERE! If you want to learn a little more, then keep on reading.

The idea behind the Blog Staycation is to allow bloggers a set time frame to dedicate towards their blog to work on simple or large updates, connect with other bloggers, share blogging resources, and tackle their blogging to do lists. Since the first Staycation the number of bloggers who participate has more than doubled and bloggers around the world continue to use this time to grow their blogs.
Here is what bloggers are saying about the Blog Staycation:
"It's always great to have some accountability on reaching goals you set for yourself and your blog. The Blog Staycation provided this for me; plus gave me a window into other blogger's goals and methods. I always enjoy the opportunity to get together with other bloggers, to find new ones to read, new people to meet, and new ideas to explore." Ann from Ann About Town
"Where can you talk about hot men, wine, and all things blogging? The Blog Staycation! Join a bunch of awesome bloggers sharing their wisdom, victories, and lots of laughs." Kristen from Maniac Mom
"Dedicating time to the BlogStaycation is dedicating some time to your blog to make it better. Participating in it has helped me to better understand so many aspects of blogging, from networking, coding, SEO, and monetization, to learning what I should be focusing on for growth." Sarah from Ruffles and Rain Boots
"I learned so much from the chats!" Candace from Candace Creates
Here is a little more information to help you understand how the Staycation works:
Who Can Join?
ANY blogger! It doesn't matter where you live or what kind of blog you have!
When Is It?
Thursday September 10th through Sunday September 14th, 2015!
The Blog Staycation launches with a fast paced and fun Twitter party on Thursday September 10th at 6:30PST/8:30CST/9:30EST. Then the fun keeps coming all weekend long and here's the great thing…you can do as much or as little as you want!
What Happens At The Staycation?
Make sure to sign up for our Staycation updates HERE, so that you can know the schedule of events! Besides our regular daily group Facebook chats, this time we have added in some amazing chats with specific blogging experts who will hold free online chats that are going to knock your socks off!
To make sure you don't miss anything during the Staycation, we will send out a daily email alerting you to all of the activities happening that day. You are welcome to join any of the chats on twitter (#BlogStaycation) or on Facebook.
You can also visit my other Staycation co-hosts blogs to get support and ideas for some of the things on your own to do list. We will let you know what we have cooking over on our blogs during the Staycation as well with our daily Staycation email updates.
Julie- Girl On The Move
Trish- The Trish List
The great thing about the Staycation is that you can choose how much time you would like to contribute and which events to participate in!
Don't Forget The Loot!

Yes! There are some fabulous giveaway this time! Woo-hoo! So you are really not going to want to miss this Staycation!
Would you like to earn a highly coveted spot in the upcoming fall session of Pinning Perfect? We've got you covered, just join the Staycation and refer your blogging friends! And that is NOT all! Keep referring those friends for a chance to win an Amazon gift card!
Join the Facebook group HERE!
Sign up for email updates HERE!
Besides these 2 fabulous giveaways, we will also be having a few other surprise giveaways we aren't going to tell you about yet….. but they are good!
Anything Else?
If you have a product or service that is relevant to bloggers, please contact me as we have accepted a few sponsors this time around. Space is limited, so don't delay!
And don't forget the great link-up and closing Twitter chat that happens for all those who participated at the end of the Staycation! It is pretty EPIC!

I hope you are as excited as I am about this newest Staycation and the opportunity to grow your blog.
Don't forget to grab a Staycation button for your site before you go!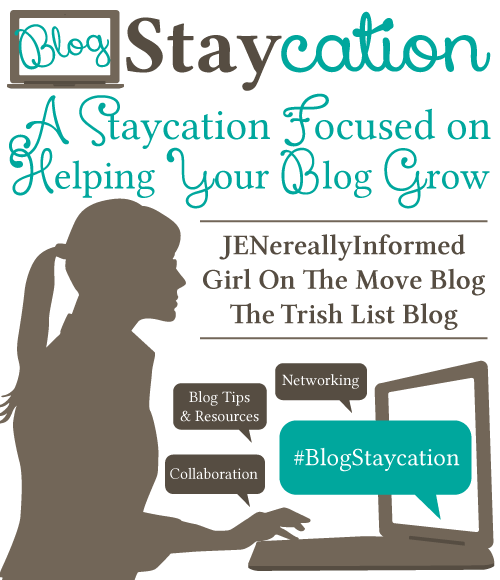 Stay Happy! Stay Informed!
Love,
Jen


Go ahead and share this post, you know you want to!