I have shared with you before how much I love the SITS Girls. Not only have I been lucky enough to attend one of their Bloggy Boot Camps, but every Saturday they hold a #sitsblogging chat on twitter. I have made many great friends and connections through these Saturday morning chats. One Saturday about 2 months ago a few of us began discussing the list of things we would like to accomplish and work on for our blogs, aside from just posting and writing. With further chatting an idea for an event focused on helping us tackle our to-do blogging lists was born!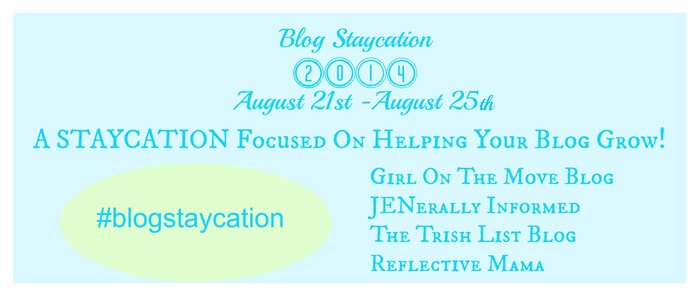 Here are the important details that you need to know:
Who Can Join?
ANY bloggers…doesn't matter where you live or what kind of blog you have!
When Is It?
The Blog Staycation will launch with a Twitter party on August 21st at 6:30PST/8:30CST/9:30EST. Then the fun continues all weekend long and here's the great thing…you can do as much or as little as you want!
What Will Happen?
We'll kick the party off with the Twitter chat and then from there you can decide how you want to participate. You can stay in your house all weekend and just work to your hearts content on your blog. You can join in a few Facebook chats over the week or visit some of our blogs to get support and ideas for some of the things on your to do list.
I will be posting a few helpful articles up here that I hope will work to get some creative goodness flowing for your blog and mine as will the other Blog Staycation hosts!
You can choose to just set aside one hour a day during the weekend and work on your blog. Do what works best for YOU!
Anything Else?
Don't forget to Join the Blog Staycation Facebook Group before you go!
We can't tell you everything, because there needs to be a few surprises!
Feel free to grab the Blog Staycation button and share the Staycation with your blogging friends, You can use #blogstaycation on social media when you share this post!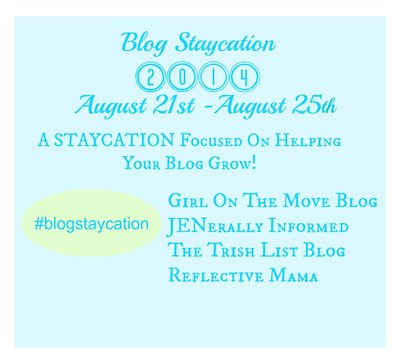 Are you convinced you need to join us for this awesome time?
Then sign up HERE to be a part of the Staycation!
Feel free to check out the rest of the Blog Staycation crew:
I am excited and ready to tackle my own to do lists.
Stay Happy! Stay Informed!
Love,
Jen