My oldest daughter had an autoimmune flare-up this summer, and we had to cut out most meats for a while. That meant we needed to figure out ways to add protein to the diet in new and creative ways. Turkey was one of the things she could still eat, but we wanted to expand a little farther. My husband researched options and learned about Farro. He found out that Farro is a fabulous source of protein and was a main staple of many ancient diets. I had never eaten Farro before this summer, but boy does it taste great, and it is super easy to make!
If you haven't tasted Farro before, it is a whole grain and closely similar to brown rice. You can pick it up at Trader Joe's and in most beans and rice sections of your local grocery store.
I am excited to share this fun and simple recipe with you today! It takes only a few minutes to make and it complements any meal or can be a meal by itself.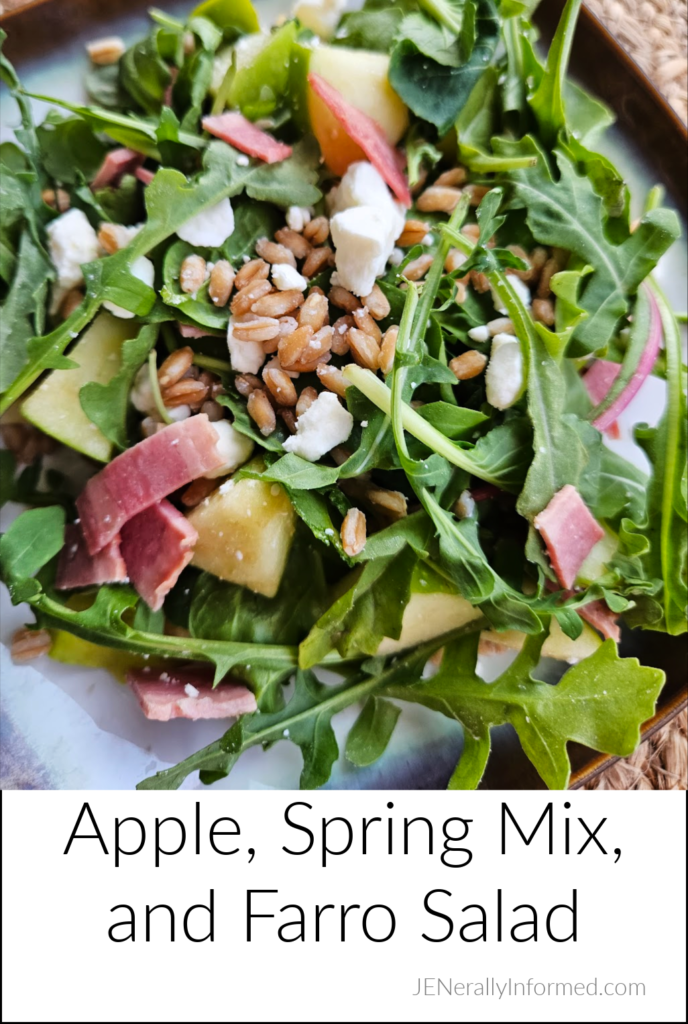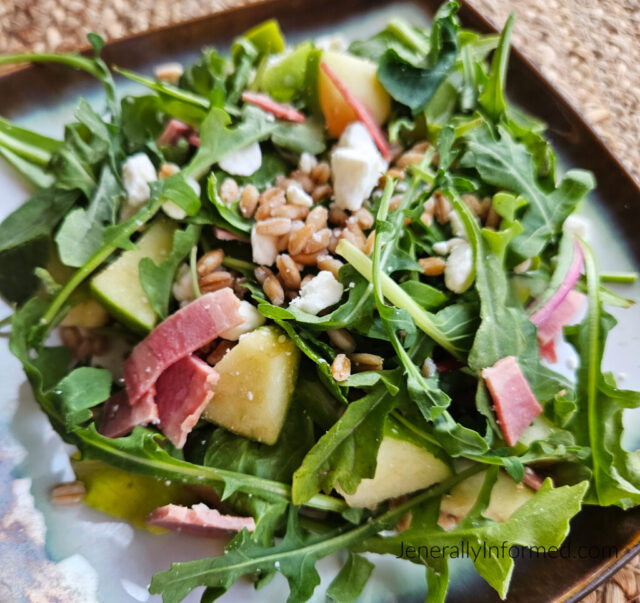 You will need the following ingredients to make it:
1 package spring mix salad
7 strips of cooked turkey bacon (I cook this in the microwave on a paper towel for a few minutes)
2 green apples
1 cup of cooked Farro (cook according to the directions on the bag, similar to cooking rice)
1 cup feta cheese
1 bottle salad dressing- With this salad, we prefer using a poppyseed flavor. It is soooo good!
And that is it! Such simple and easy ingredients.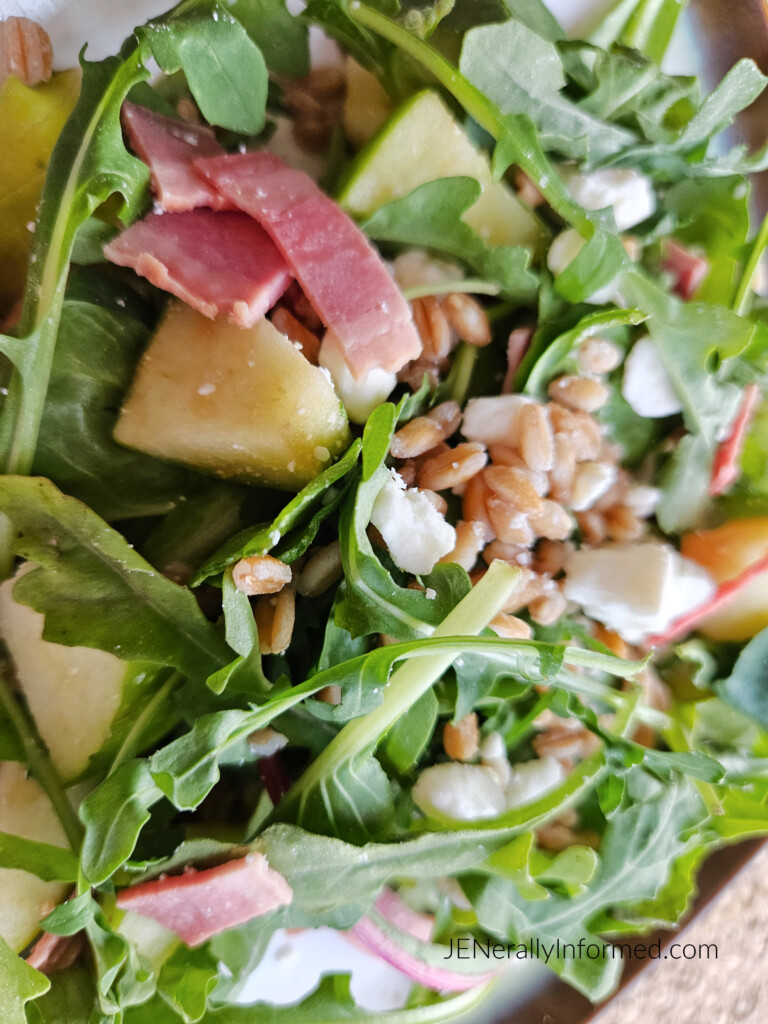 Putting it all together:
To make your salad, you first need to cook the Farro and bacon. I cook my bacon in the microwave and the Farro in a pot. It cooks really fast.
Let the turkey bacon sit for a few minutes to cool. Drain and cool the Farro and then you can start putting everything together by adding the spring mix, chopped apple cubes, and cheese. Add in cut and cubed pieces of turkey bacon and the Farro and give it a good mix.
I would recommend letting people pour on the salad dressing as they serve it so that it doesn't get soggy. This salad can stay in the fridge and be served up for quite a few days after it is first made, making it a perfect leftover, no-cook meal!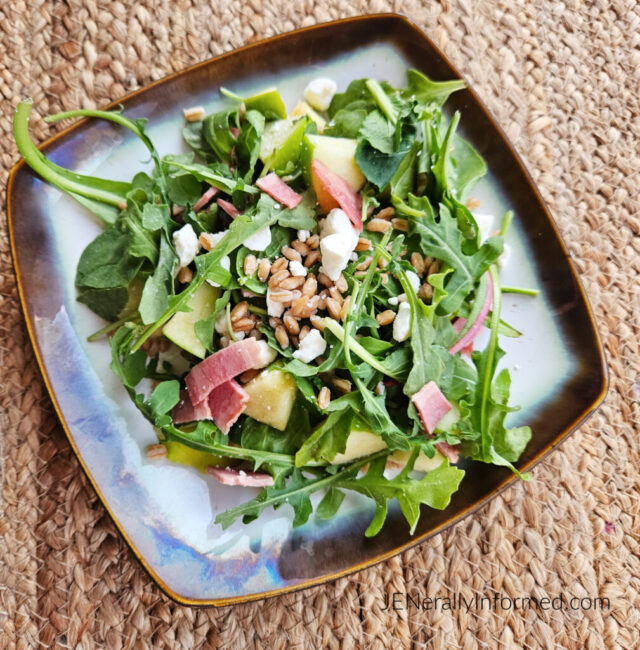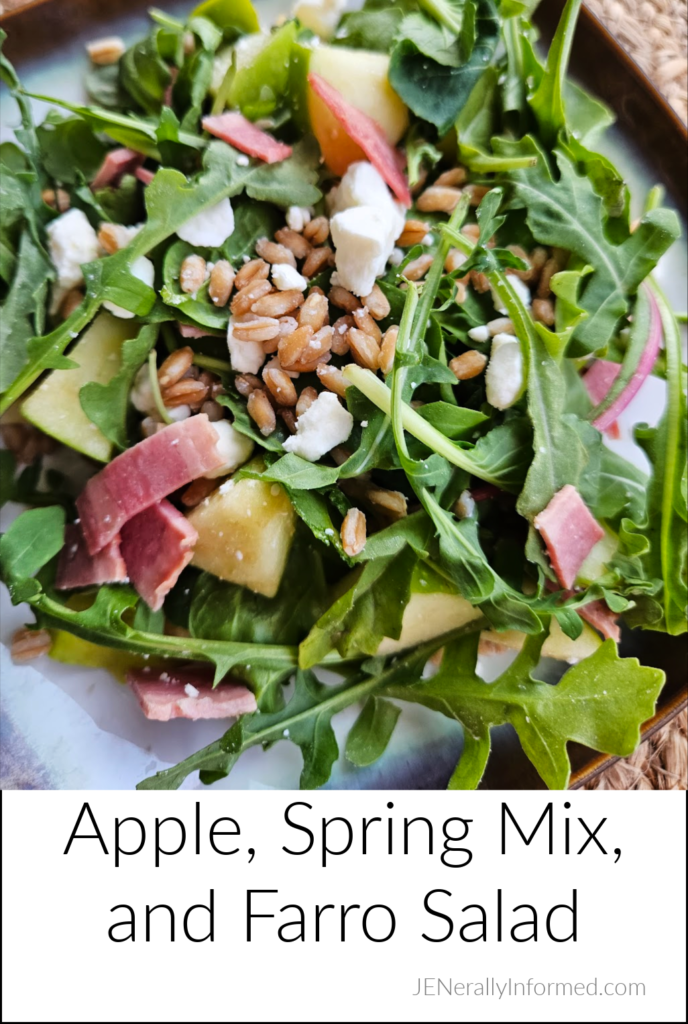 Thanks for stopping in! I would love to hear how making this salad goes for you!



Love,
Jen

Go ahead and share this post, you know you want to!