This weekend my girls and I felt like baking cookies. We of course didn't want to make just any old, boring kind of cookie. We wanted to make something fun, so we looked through what we had on-hand for ingredients in the pantry and decided to make a summer-inspired twist on the average sugar cookie recipe.
Let me introduce you to Watermelon Sugar Cookies!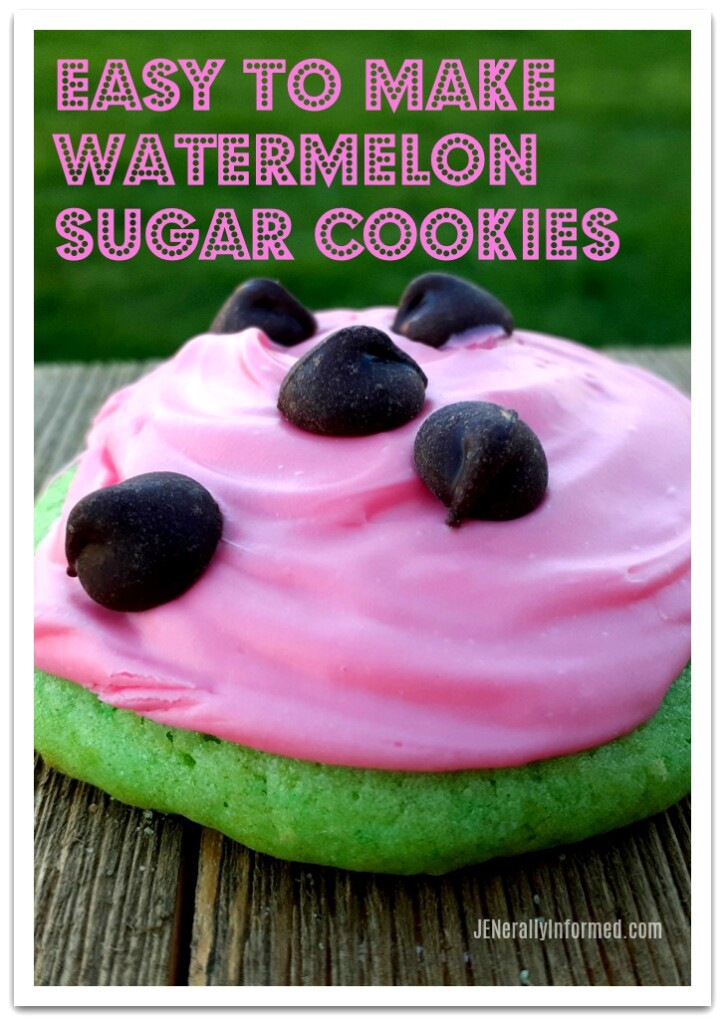 Aren't they fun?! Plus, these really are so very easy to make. You do need to have a good sugar cookie recipe, and lucky for you I am totally going to share mine with you! Just like it was shared with me.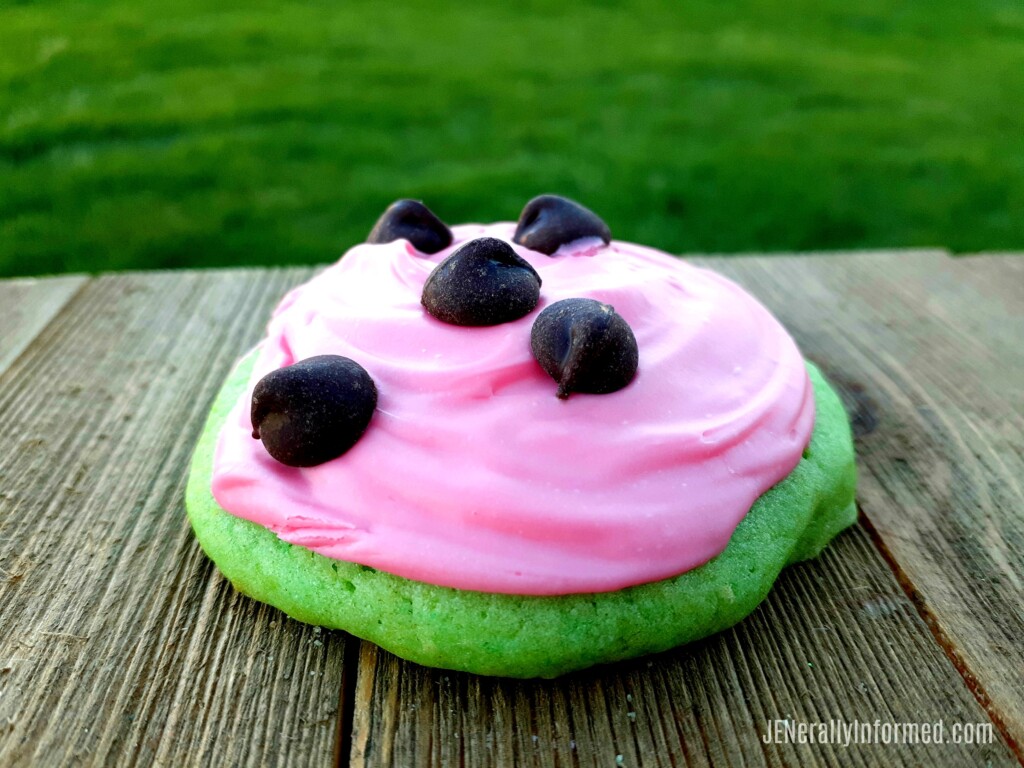 It's funny how recipes get shared. I received this sugar cookie recipe from a camp cookbook that a group of young women put together decades ago from family recipes. The cookbook was created to help these young women earn money to go to church camp, and my mother in law bought the book and gave it to me. It is my most loved cookbook. I thank Julianna and her family wherever they are, for putting this recipe in the book.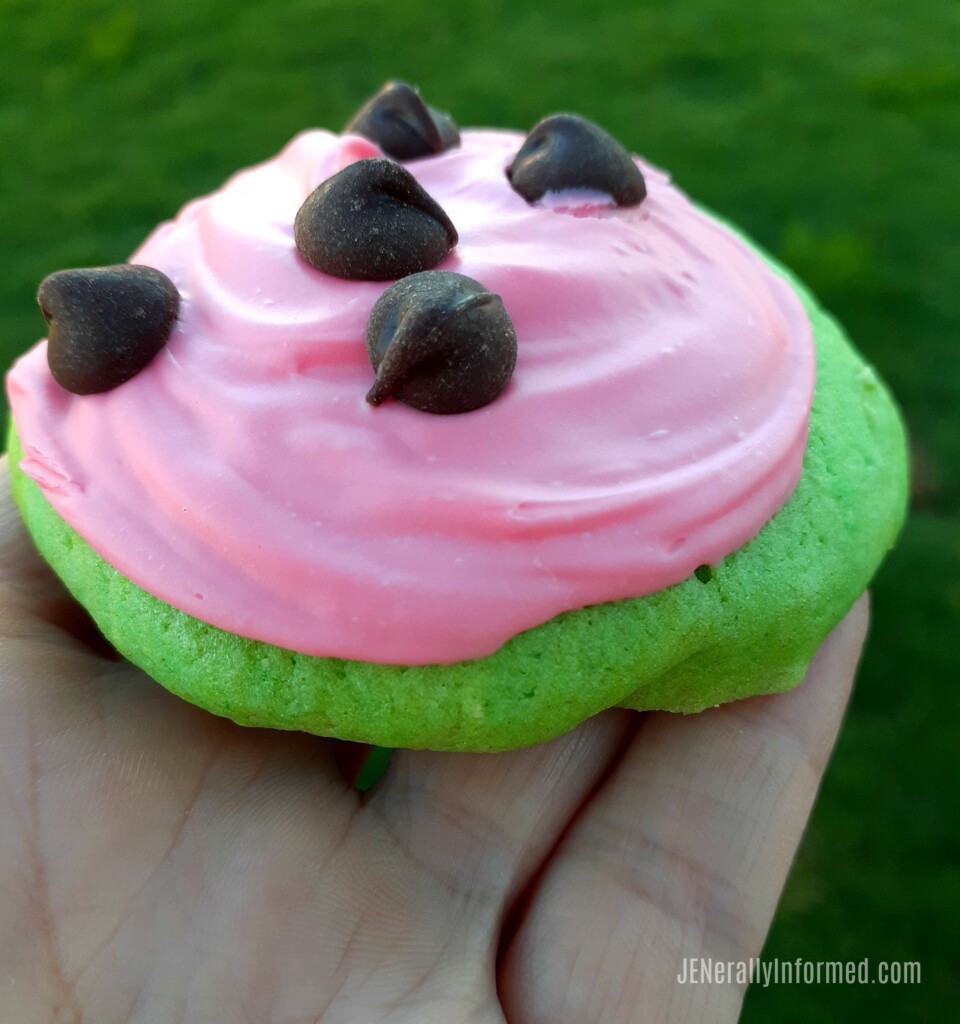 To turn sugar cookies into watermelon cookies, you first need to dye the sugar cookie batter green. You will need about 16 to 20 drops of green food coloring. Then we used my favorite buttercream frosting recipe (you can find the recipe here) to frost the cookies. I added about 10 drops of red to the frosting to get this pretty pink. Last but not least, top the frosting with your favorite kind of chocolate chips. My kids decorated these beauties and I think they did a fabulous job!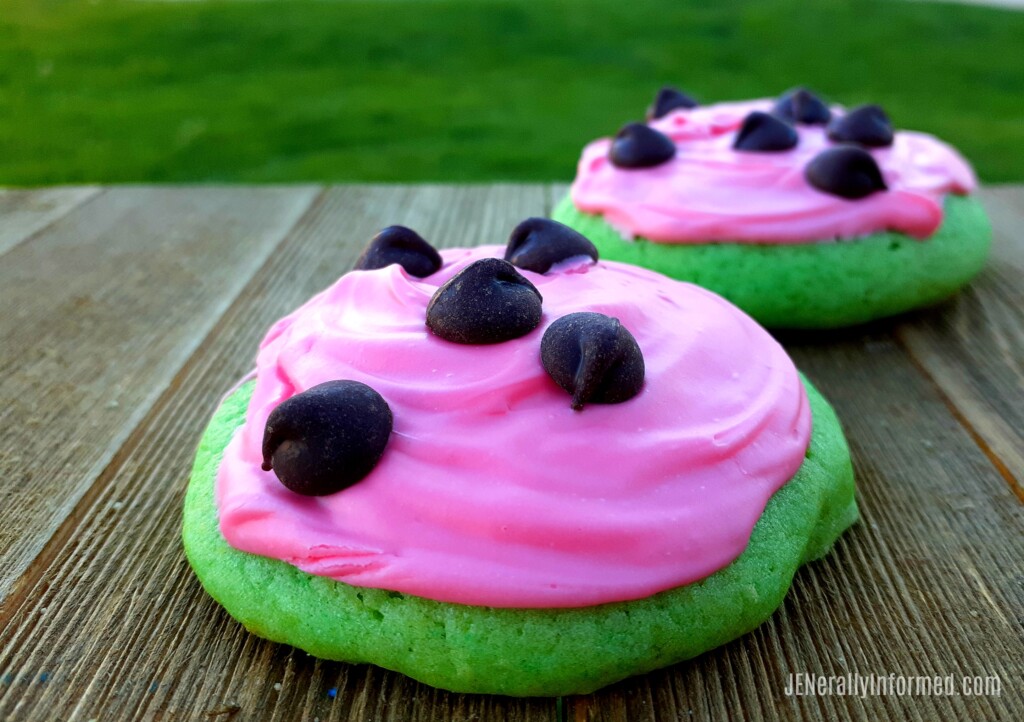 Here is a printable version:
Easy Watermelon Sugar Cookie
Ingredients
1 cup margarine
1 1/2 cups sugar
1 tsp vanilla
4 tbsp milk
3 eggs
4 cups flour
3 tsp baking powder
1/2 tsp salt
Instructions
Combine margarine, sugar, vanilla, milk, and eggs.
Cream together.
Sift flour, baking powder, and salt together.
Add dry mixture to creamed wet mixture.
Mix well and add about 20 drops of green food coloring to the dough.
Mix well again.
Once the dough is desired green color put the dough in the refrigerator for about 30 minutes.
Take tablespoon sized portions of the dough and roll into a ball between palms.
Place dough balls onto a well greased cookie sheet and bake in 350 degree preheated oven for about 10 minutes.
Let cool and top with pink/red frosting and chocolate chips.
Enjoy!
Makes about 20 cookies.
https://jenerallyinformed.com/2020/06/easy-watermelon-sugar-cookie/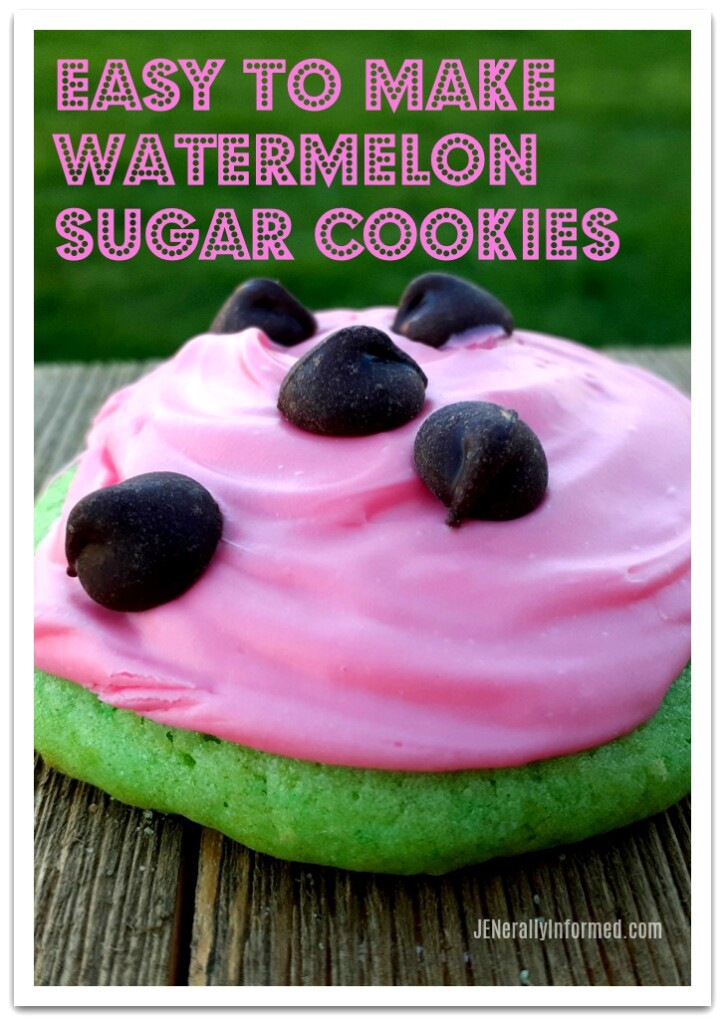 I hope you enjoyed this recipe and are having a great summer. We have to do the best we can these days, right?! Take care and see you soon :)



Love,
Jen

Go ahead and share this post, you know you want to!