This last weekend our church had a fire and ice activity where people brought homemade chili and ice cream concoctions. My husband Jen's Guy as he is known around here on the blog, was tired of all of the other "braggards" who told him they were going to bring their award winning chili. He heard their challenges and ran with it, and boy did he come up with something phenomenal!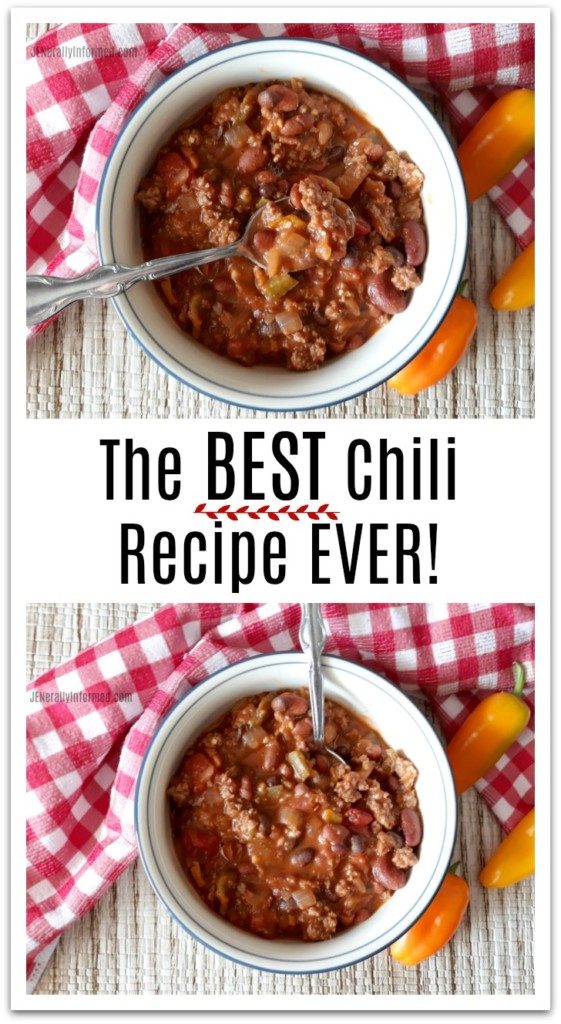 This chili was so good, that people were literally licking their bowls clean. He had also made a pot big enough to feed a small army, and it was empty.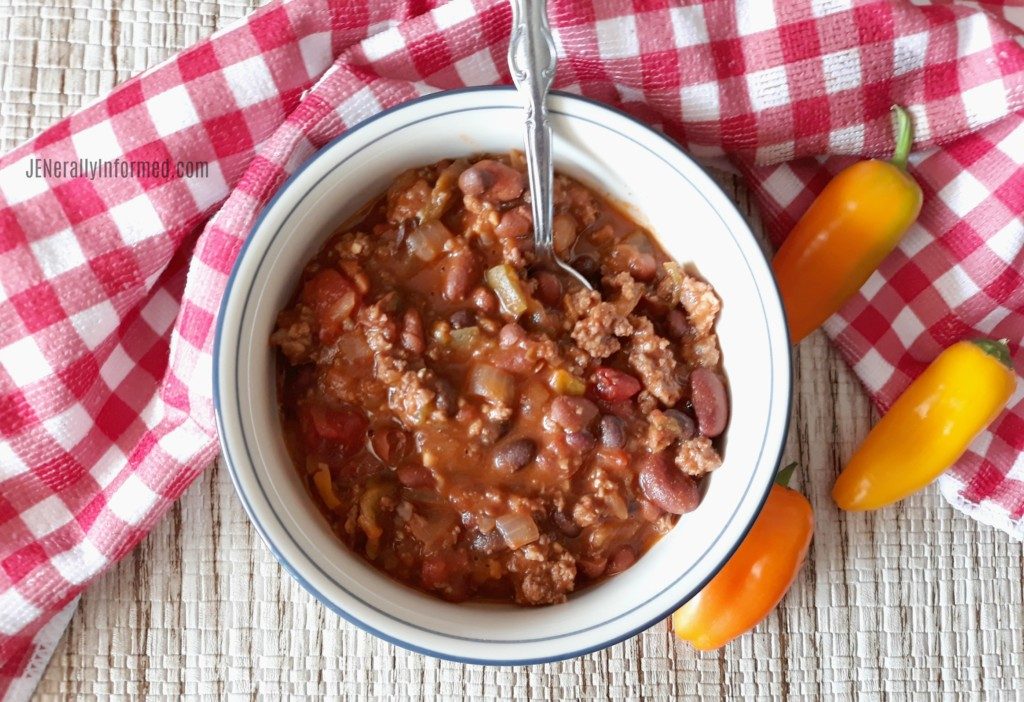 Not only did he win the chili contest hands-down, he has now achieved a recipe that I am sure is going to go like hot-cakes over on Pinterest! I was able to have one small taste of his chili, and that was it folks. It was gone. So I made him make another batch just for our family, and that did not last for very long around here either!
Last night I was washing out the dinner dishes we had sent our oldest daughter Sam to work with, and her Dad had given her the last little bit of the chili. Even the leftover dish smelt amazing! I seriously doubt there is a better chili on the face of the whole planet than this, so take that Gordon Ramsey!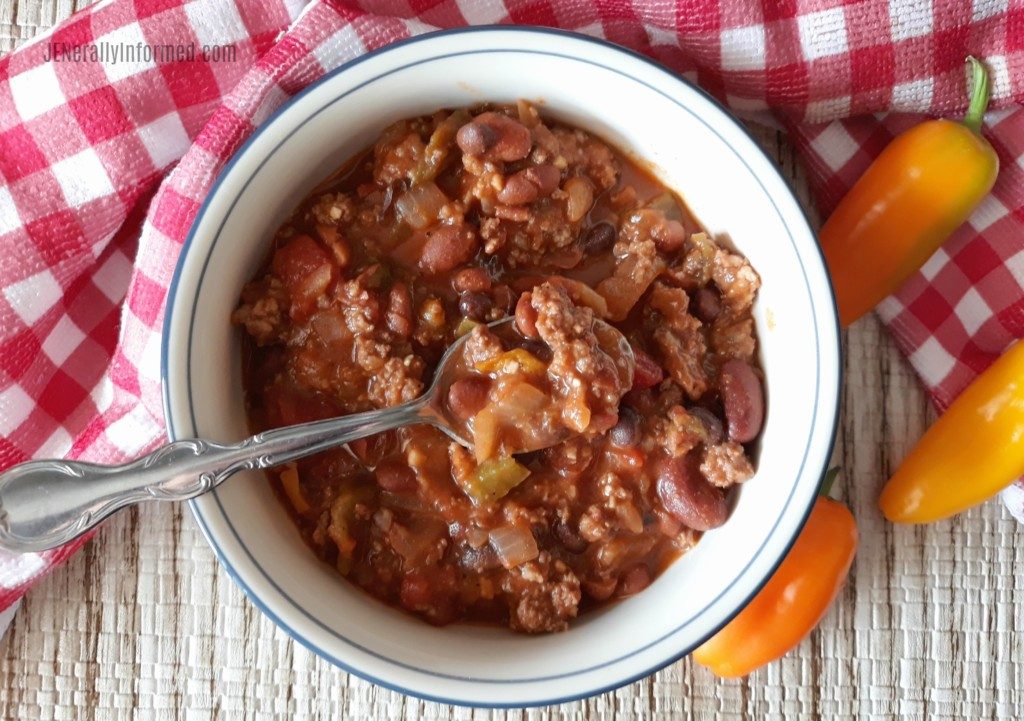 And so, right here, right now, only as part of a JENerally Informed exclusive; I have invited Jen's Guy to share this chili with all of you. Here is the work of a culinary genius!
The BEST Chili Recipe Known To Mankind from Jen's Guy
Ingredients
2 tablespoons olive oil
2 sweet onions
3 bell-peppers- different colors work best
4 cloves of garlic minced
1/4 cup chili powder
1/4 cup cumin
Season salt
salt and pepper to taste
2 cans minced green chiles or 3 fresh roasted green chiles if available
2 lbs lean hamburger
2 lbs sausage
4 cans chili beans
2 cans of El Pato hot tomato sauce
1 can of El Pato jalapeno sauce
4 cans of diced tomatoes
2 cans of kidney beans
1 can of black beans
Instructions
In a large pot saute onions, garlic and bell peppers in olive oil until the onions become translucent.
Make sure to season onions and peppers at this point with salt and pepper.
Add about 2 tablespoons of cumin and chili powder to sauteed garlic and onions from your 1/4 cups put seasonings aside.
Taste and make sure the flavor of your base is what you want.
Remove this base from heat and put aside.
In a separate pan brown sausage and hamburger together. Don't be afraid of having larger chunks of sausage interspersed with your smaller pieces of meat.Season with a generous coating of season salt and pepper as it cooks.
Once it gets brown enough to safely taste, then taste it to see if it needs more season salt or pepper.
Scoop out meat with a large slotted spoon and add to your onion and garlic base. Making sure to leave most of the fat behind.
Pour in the remaining cumin and chili powder. Stir vigorously and bring the pot up to medium heat.
Add in canned ingredients, including the green chile.
Stir vigorously.
Once the entire pot is bought up to medium heat, taste your chile for spice, taste, and heat. If you desire it to be a little spicier, add a little more chili powder. Making sure to give your chili 5 minutes to settle before tasting and deciding to add more.
For a richer flavor add more cumin using the same method.
Let simmer on low for 2 hours.
Serve and enjoy!
https://jenerallyinformed.com/2019/02/the-best-chili-recipe-known-to-mankind/
That's it! But seriously, you guys are so lucky to have this recipe now! It is REALLY the best!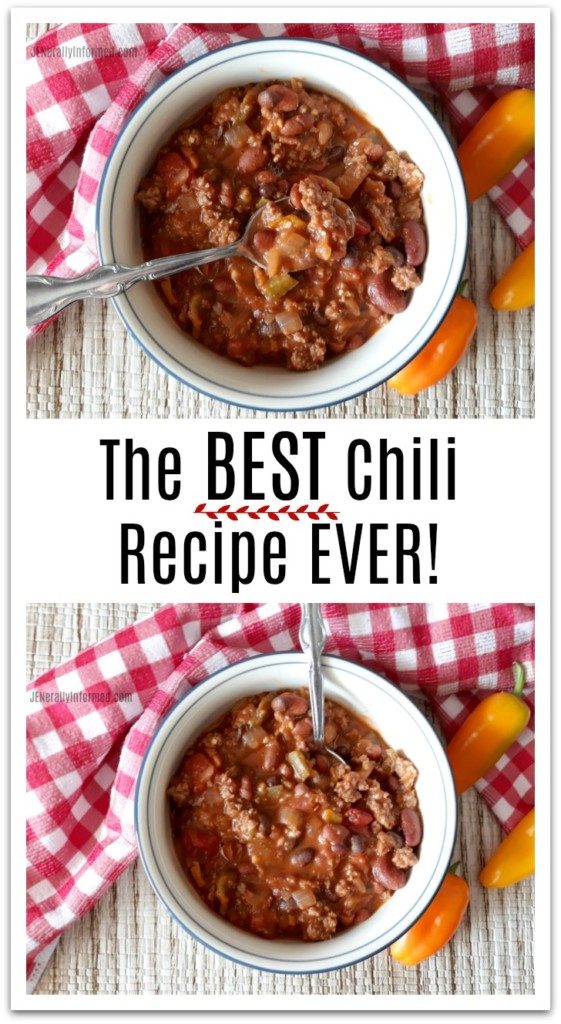 Love,
Jen

Go ahead and share this post, you know you want to!