This post contains Amazon links. By clicking and purchasing from those links I earn a small commission. Thank you!
I cannot even believe it is almost March?! It feels like just last week I was helping to fill out Valentine's cards with my Kindergartner and then I blinked, and now it is really time for all things St Patrick's Day! I'm not complaining, because I think I can claim about 10% percent Irish ancestry, so it's time to celebrate! And why not do it with these super easy "Golden" Leprechaun Rice Krispie treats?!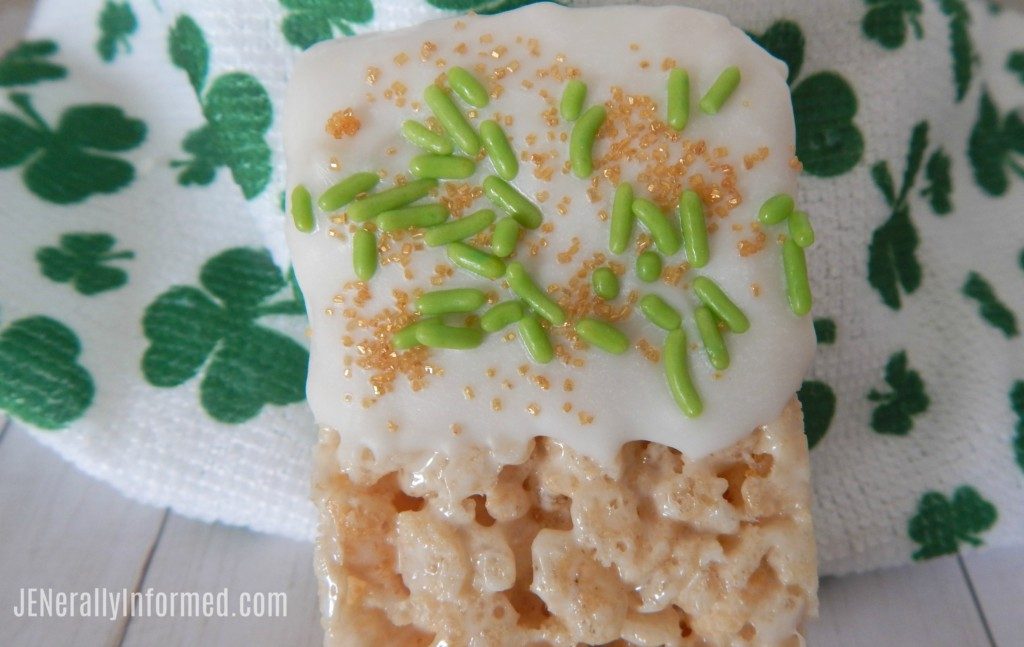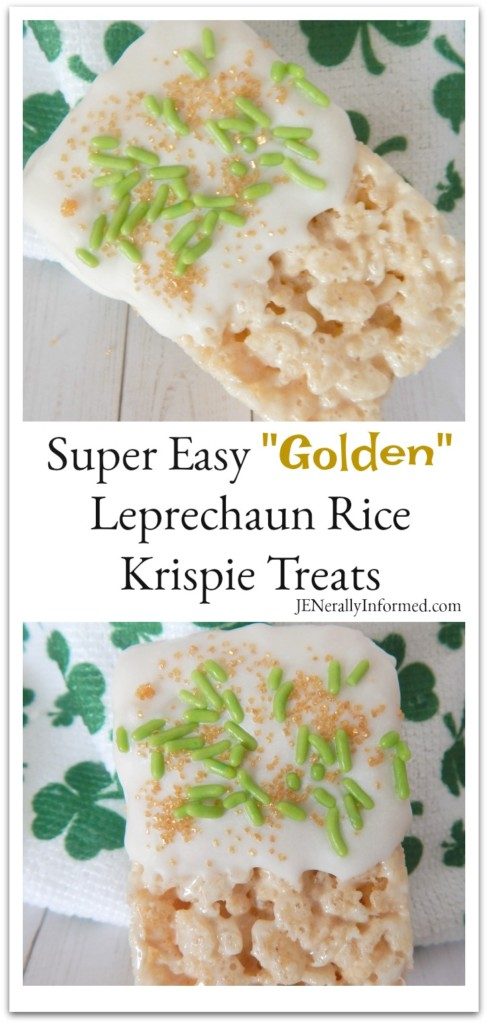 With 4 kids in the house, my time for crafting intricate holiday foods is like almost zero, so as usual, to make this fun treat I utilized one important ready-made ingredient. Store bought Rice Krispie bars! Here is the rest of what I used.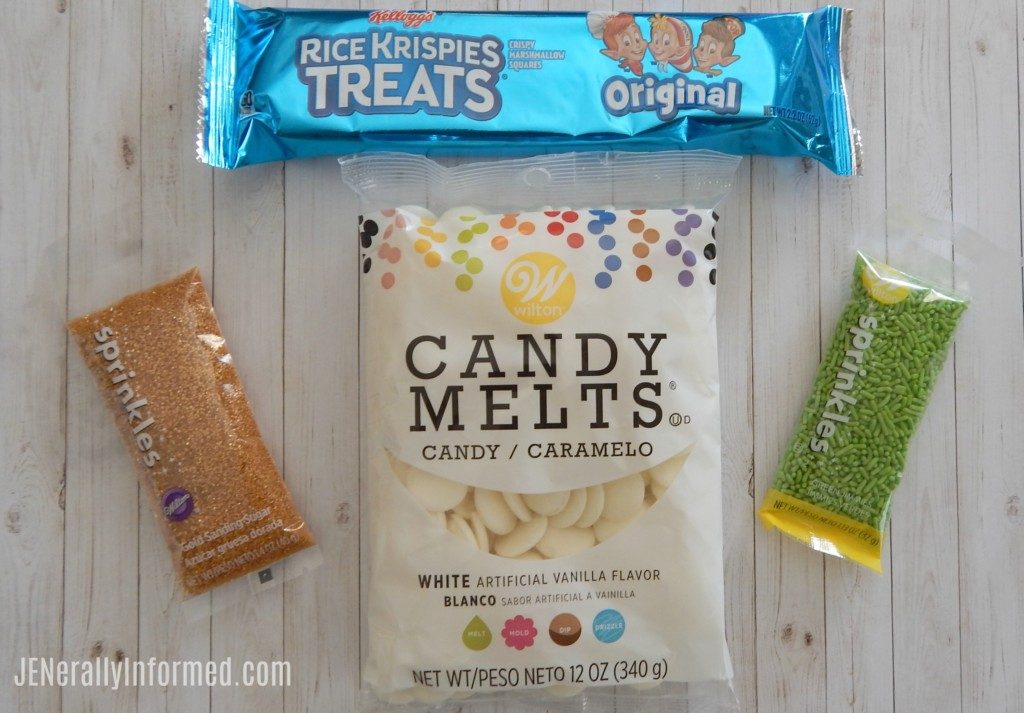 Each Rice Krispie bar will cut into 3 separate squares.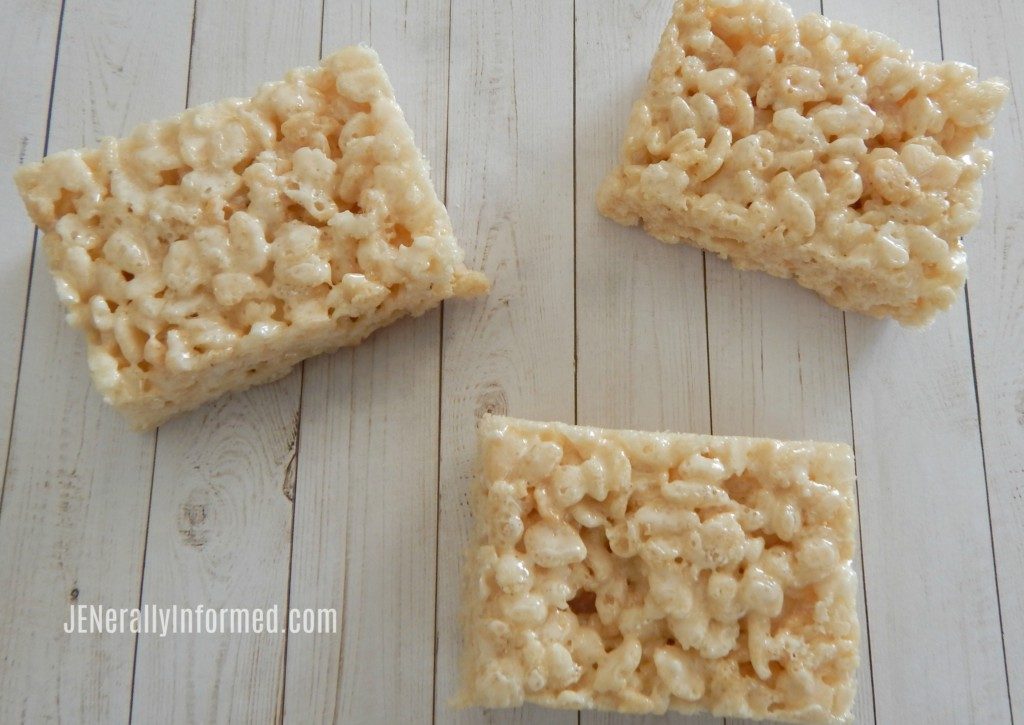 The sprinkles are the most important element for this treat.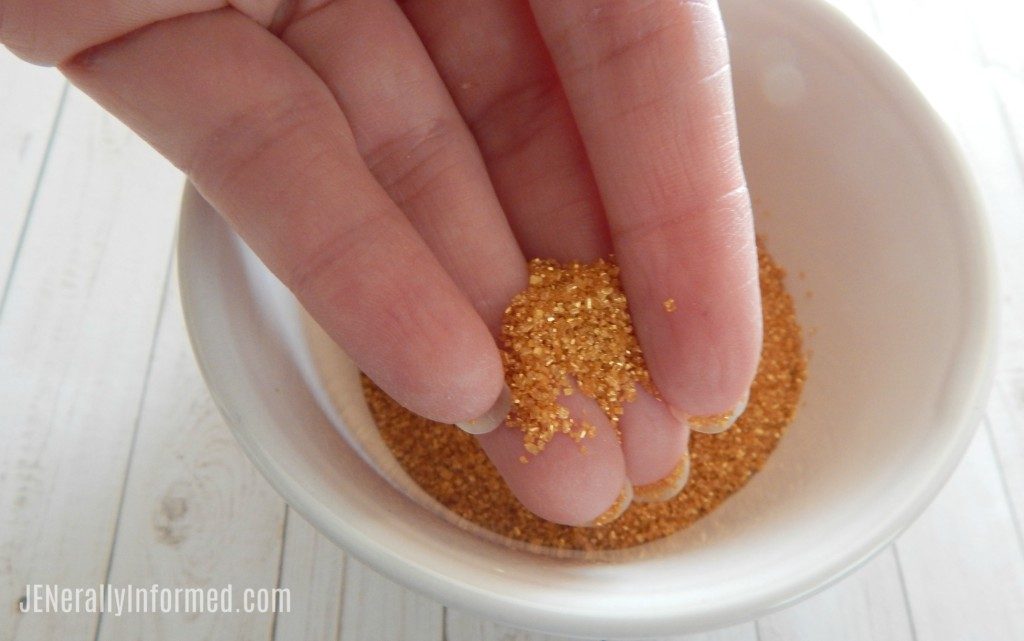 You can grab them over on Amazon. Here is a quick link for the gold sprinkles
and the green sprinkles
.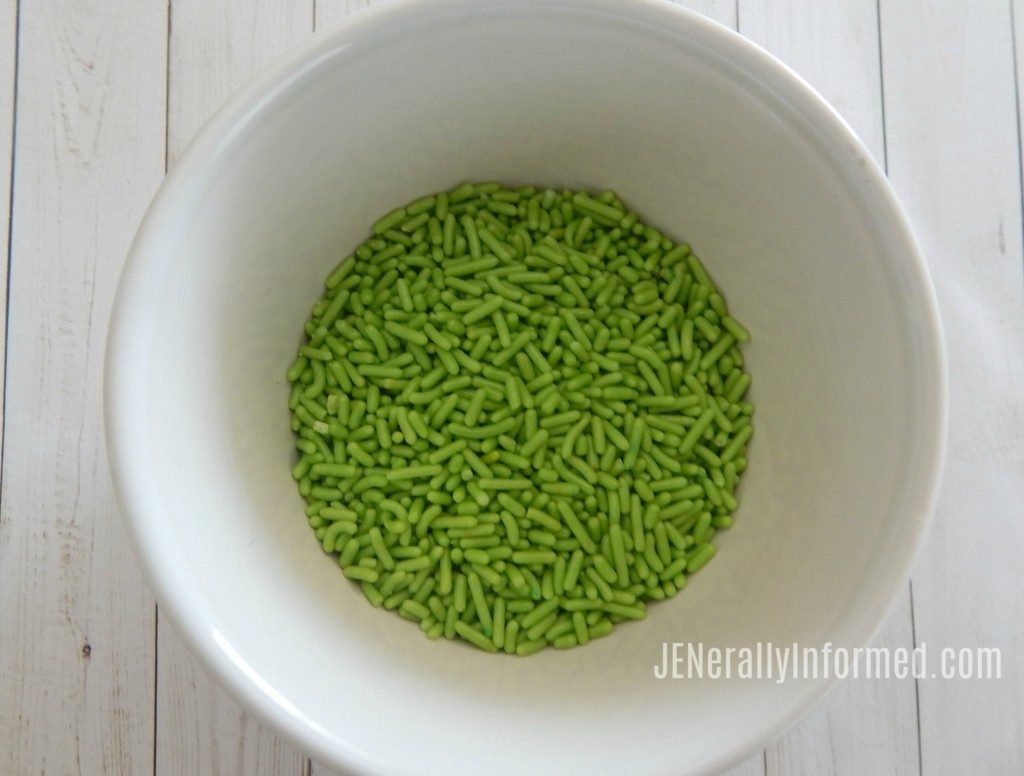 Next, measure out about 1 cup of the white chocolate candy melts. Put them in a microwave safe container and microwave for thirty seconds. It is really important that you watch the time, because you do not want burned chocolate!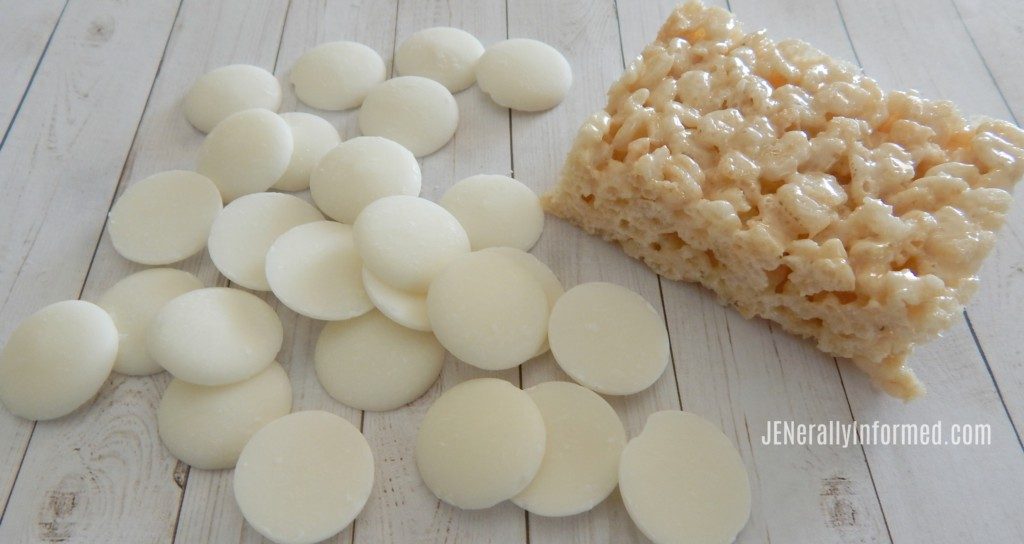 After the first 30 seconds, mix the chocolate with a spoon really well. Then microwave again for another 30 seconds. Mix well again, and now you are ready to go! To decorate the treats I use a small spoon and just kind of dribble the chocolate over one end of the rice krispie square. Then place the dipped bar on wax paper and sprinkle!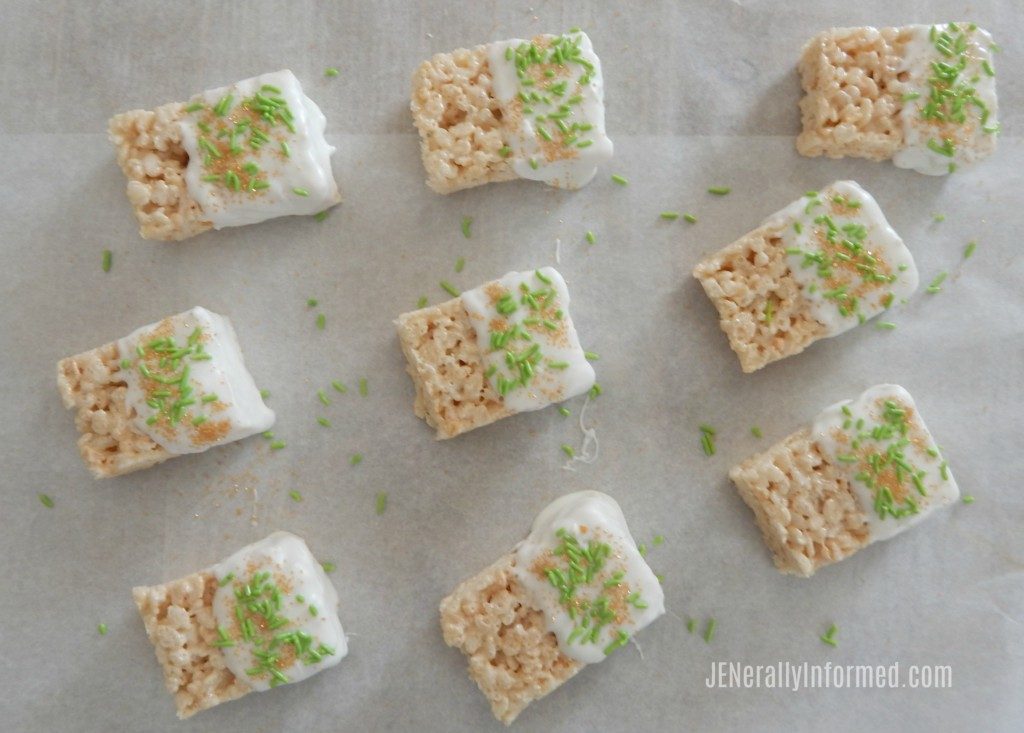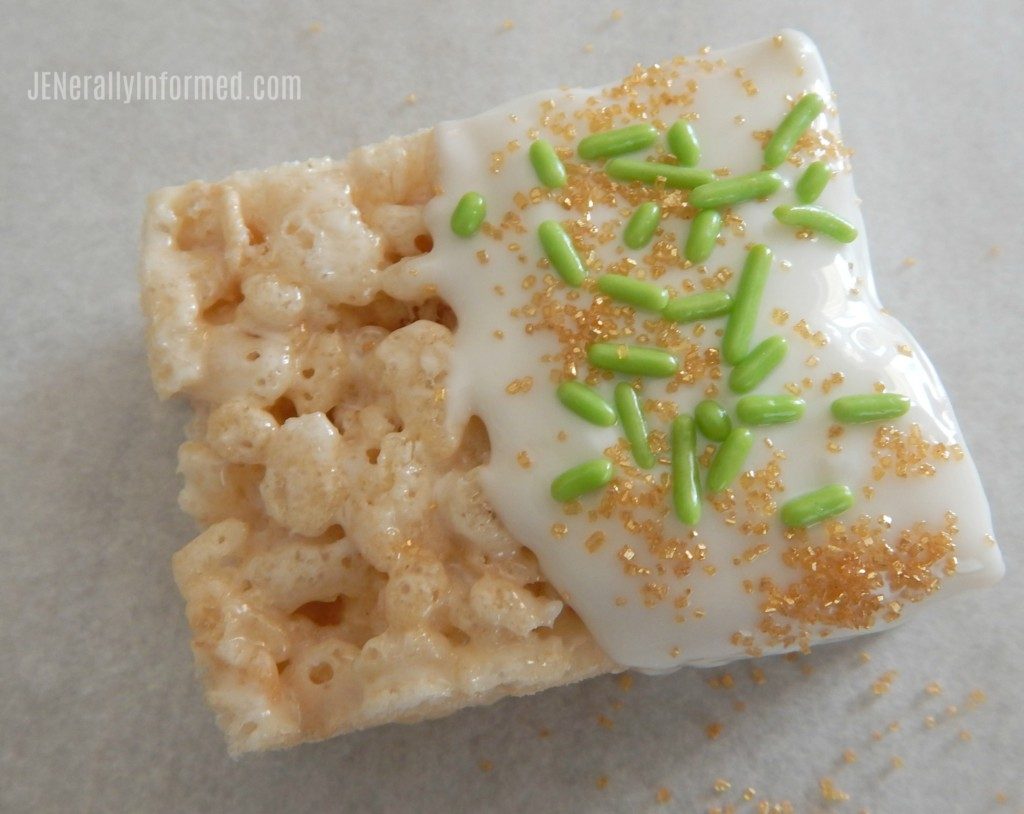 These Leprechaun treats are kid-making friendly, and so can basically be used for anything. From parties to play-dates, and everything else! To make it even easier, here is printable recipe sheet for your records.
Super Easy "Golden" Leprechaun Rice Krispie Treats
Ingredients
3 ready-made Rice Krispie bars
1 package each of gold and green sprinkles
1 cup Wilton white chocolate candy melts
Instructions
Cut the Rice Krispie bars into 3 squares and put aside.
Place the candy melts in a microwave dish and microwave for 30 seconds.
Do not over-cook the chocolate!
After the first 30 seconds mix with the chocolate with a spoon really well.
Then microwave the chocolate again for another 30 seconds.
With a spoon dribble on the white chocolate onto one end of the square.
Place the square on wax paper and immediately sprinkle each squares.
Let the chocolate cool and dry.
Enjoy!
https://jenerallyinformed.com/2019/02/super-easy-golden-leprechaun-rice-krispie-treats/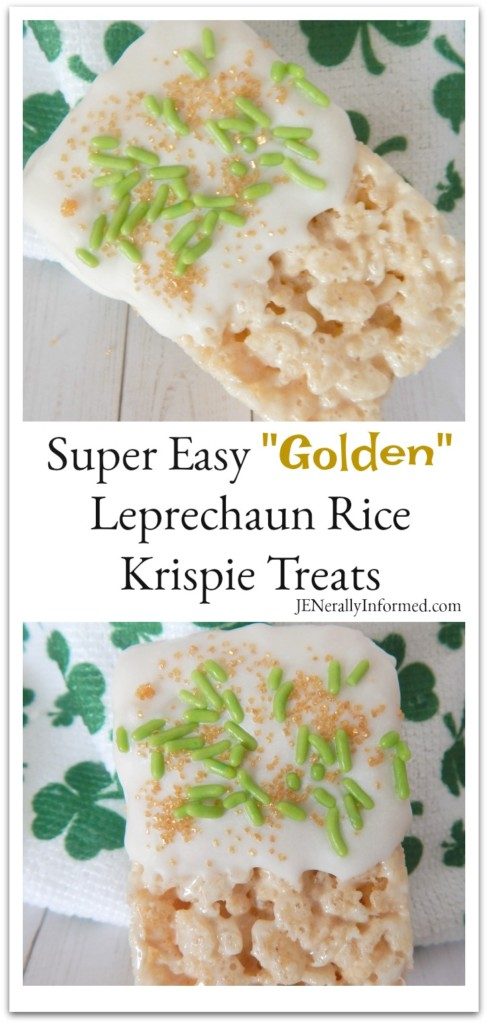 I hope you enjoyed this recipe, and if you did, you might want to check this one out as well!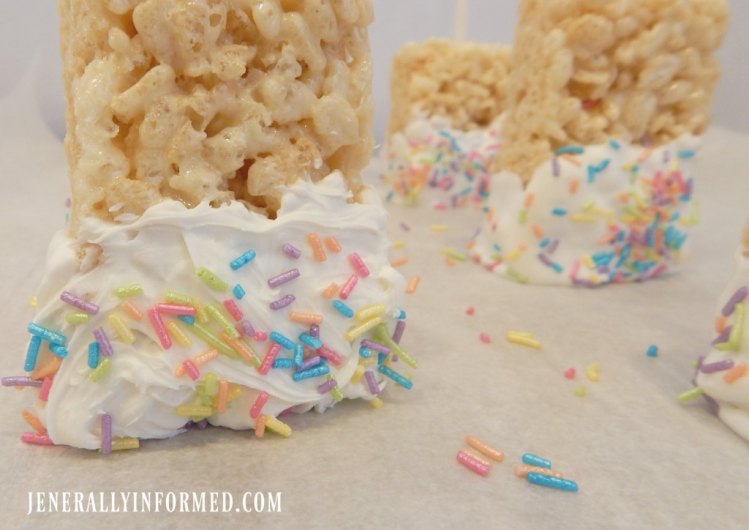 Thanks for stopping in!



Love,
Jen

Go ahead and share this post, you know you want to!