I give credit for this recipe to Netflix and more specifically to a show on Netflix that hooked my husband Jen's Guy. The show is Somebody Feed Phil, who happens to be the creator of the widely popular TV show Everybody loves Raymond. Phil travels the globe eating every where he goes. My dream job! On one of Phil's travels he was introduced to Shakshuka, and right then and there Jen's Guy decided we needed this dish in our life. I had missed the episode and was hesitant, but one taste and the entire family was hooked on this Middle Eastern delicacy. Who would've thunk?!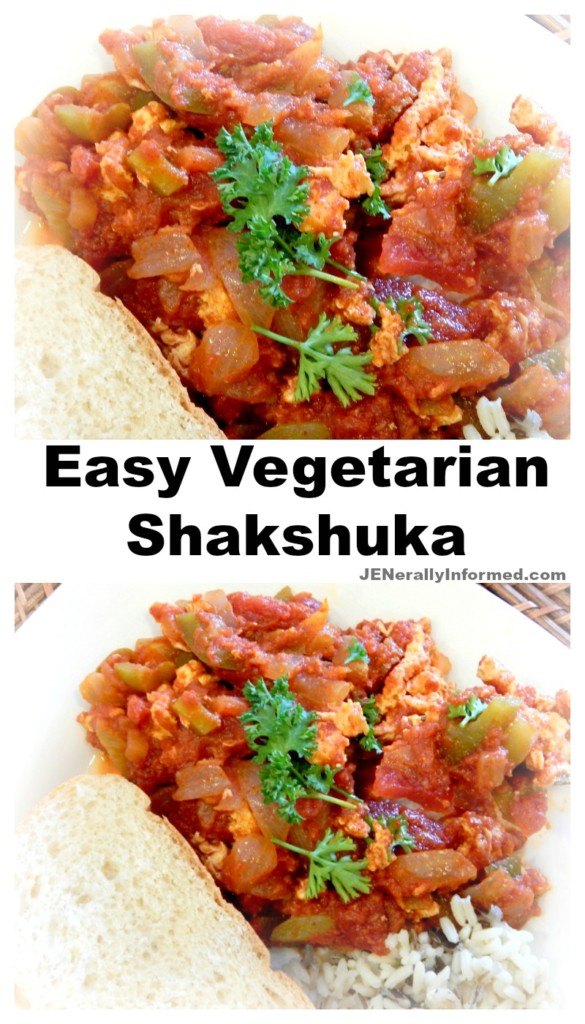 Shakshuka is a staple of Arab cuisine (Libyan, Tunisian, Algerian, Moroccan, Egyptian, Saudi, Levantine) and Israeli cuisines, traditionally served in a cast iron pan or tajine as in Morocco with bread to sop up the tomato sauce. Oh, and that bread sopping, it's soooo good!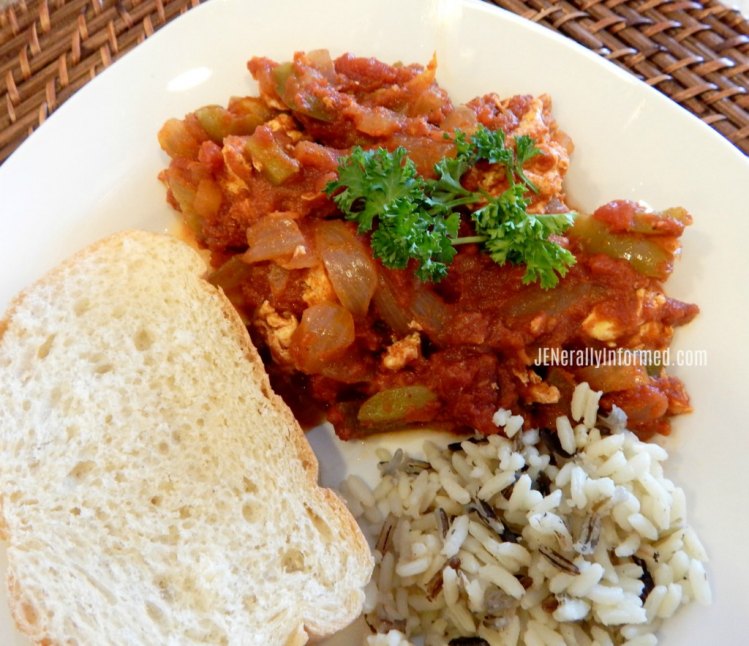 This recipe also calls for the addition of poached eggs on top. Jen's Guy thought that might kill our kids so instead he turned it into a top layer of eggs, which can then mix into the overall flavor to make it even more wicked awesome!
So are you ready to learn how to make it?
Easy Vegetarian Shakshuka
What you need:
1 medium onion diced
2 green or orange bell peppers diced
1/2 clove garlic
2 tablespoons olive oil
2 teaspoons each chili powder and paprika
3 cans diced tomatoes
1 6oz can of tomato paste
6 eggs
salt and pepper to taste
It starts with sauteing some onions, crushed garlic and bell peppers with spices.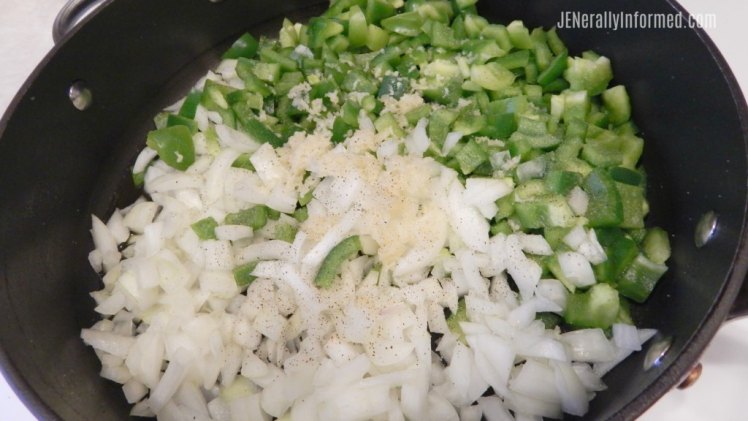 Add cans of diced tomatoes and tomato paste. The tomato mixture cooks covered on low until it is reduced to a thicker stew for about 20 minutes.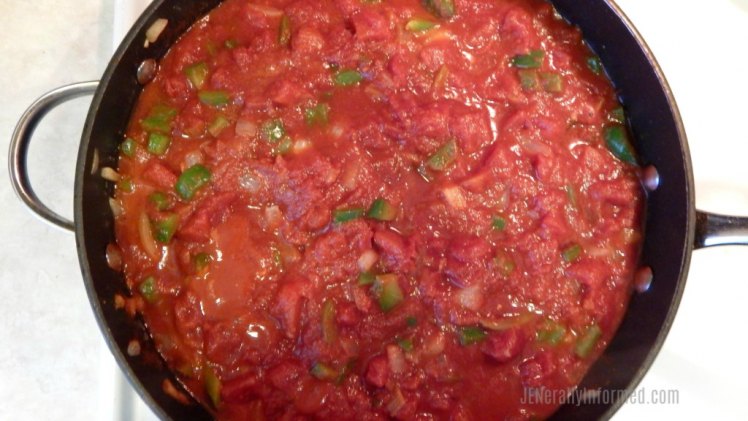 Because my kids aren't big fans of poached eggs, we instead beat about 5 or 6 eggs and put it on the op of the dish and covered and simmered again for another 10 minutes. Top with parsley and serve that goodness up!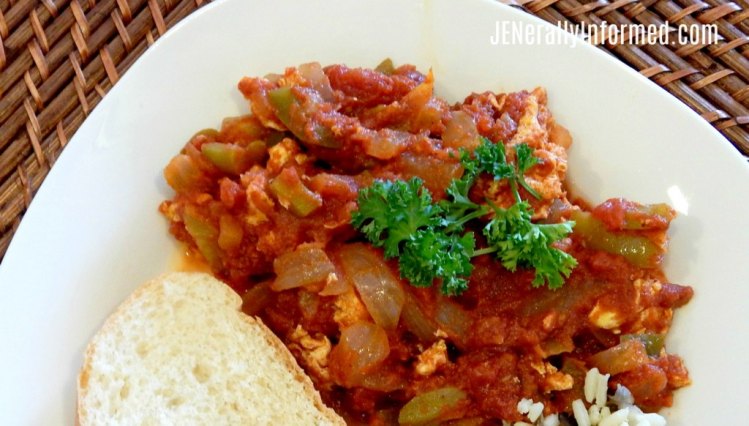 This dish is traditionally a breakfast type of dish in the Middle East, and I can appreciate that, because I would eat it all day long!
Easy Vegetarian Shakshuka
Ingredients
1 medium onion diced
2 green or orange bell peppers diced
1/2 clove garlic
2 tablespoons olive oil
2 teaspoons chili powder and paprika
3 cans diced tomatoes
1 6oz can of tomato paste
6 eggs
salt and pepper to taste
Instructions
Heat 2 tbsp olive oil in a large cast iron skillet. Add the onions, green peppers, garlic, spices, pinch of salt and pepper. Cook, stirring frequently, until the vegetables have softened, about 10 minutes.
Add the tomatoes, tomato sauce. Simmer covered until the tomato mixture begins to reduce, about 10-15 minutes. Taste and adjust the seasoning to your liking.
Beat eggs into a bowl and mix, add the egg mixture to the top of the tomatoes and simmer covered for another 10 minutes.
Uncover and add fresh parsley You can add more black pepper or crushed red pepper, if you like. Serve with warm pita, challah bread, or your choice of crusty bread.
https://jenerallyinformed.com/2018/05/easy-vegetarian-shakshouka/
Jen's Guy note- If you can handle it, adding in even MORE chili powder and paprika along with diced chilies makes the recipe more flavorful!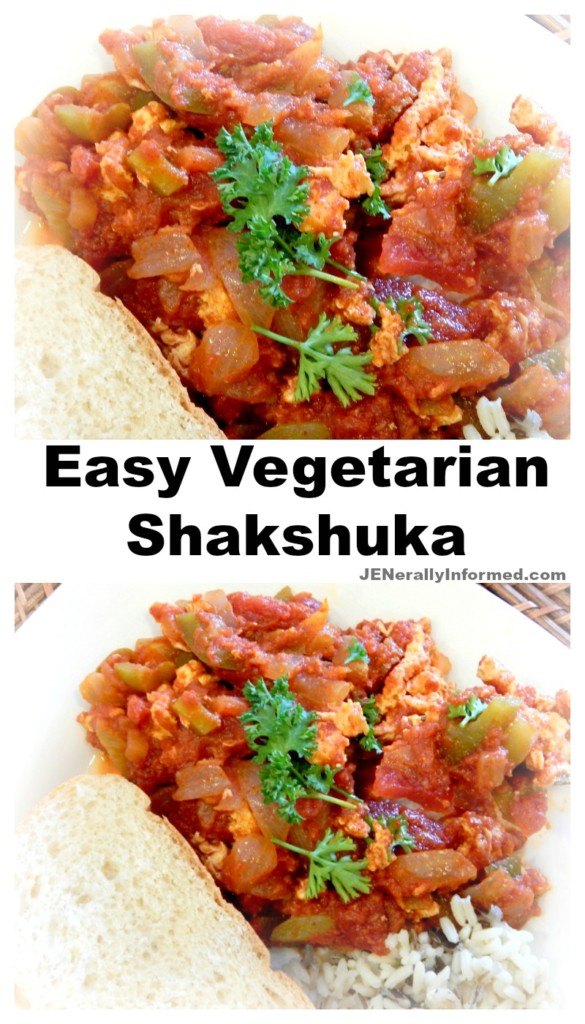 Love,
Jen

Go ahead and share this post, you know you want to!