Last Christmas I saw this adorable video that had been making the rounds on Facebook. In the video it detailed the rather painstaking process someone had undertaken to turn a sugar cookie into a snow globe. I watched the video, hooked like the other almost 1 gazillion people who had watched and shared it, but as I did I quickly thought who really has time to do something like this? So to that end, today I am sharing an easy way for any one to make and enjoy snow globe sugar cookies!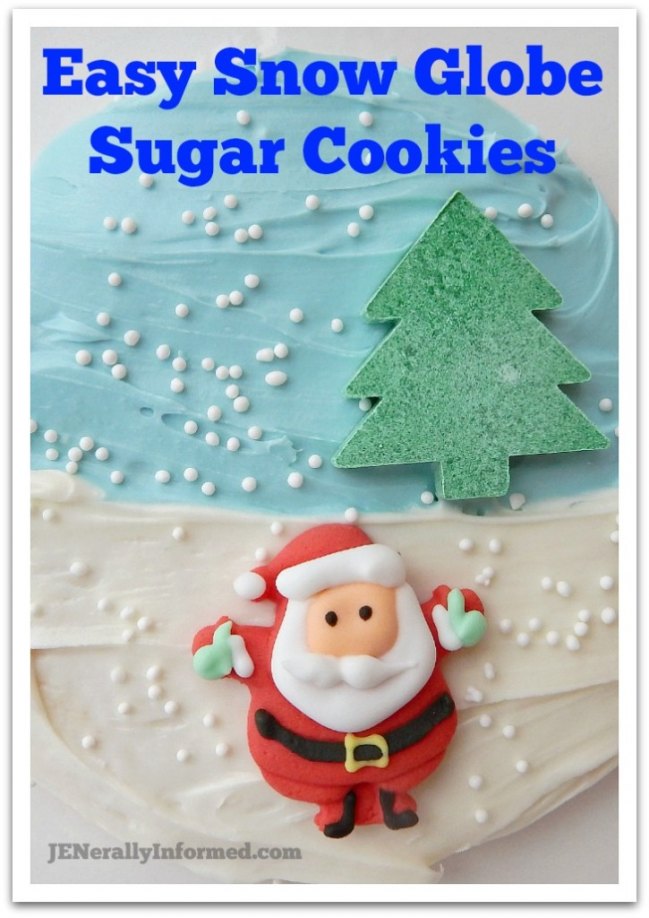 I love baking anytime of year, but there is something almost magical when you bake during the holidays. Especially when what you are baking turns out well. And unfortunately, with time pressures, kids and whatever else you may have on your plate sometimes things can get dicey in that department, but not these cookies! I promise.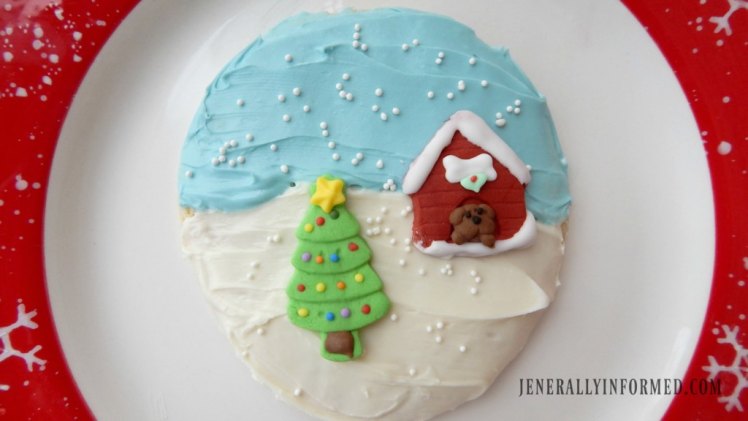 Here's everything you will need to make them!
Easy Peasey, right?! Let's get baking. First follow the instruction for the cut-out cookie on the back of the bag. I used a large circular plastic glass lid (you know one of the ones with the straws you take everywhere with you) to cut out my cookies. That way you have a large shape to decorate and work with.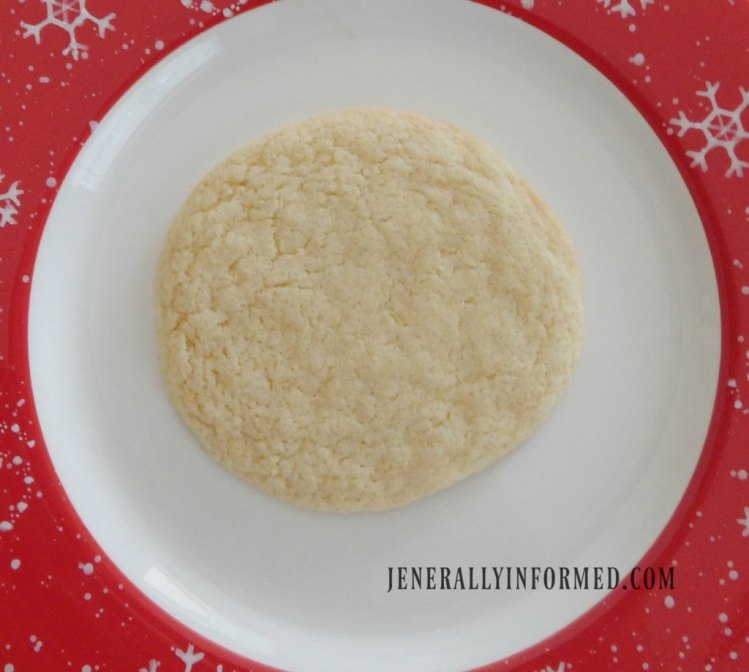 Once your cookies are done, let them cool and then start decorating! Divide your frosting into 2 containers. Keep one container white for the snow, and make the other one a light blue for the sky. You could also go darker blue if you prefer. Apply the different colored frosting to one half of the cookie.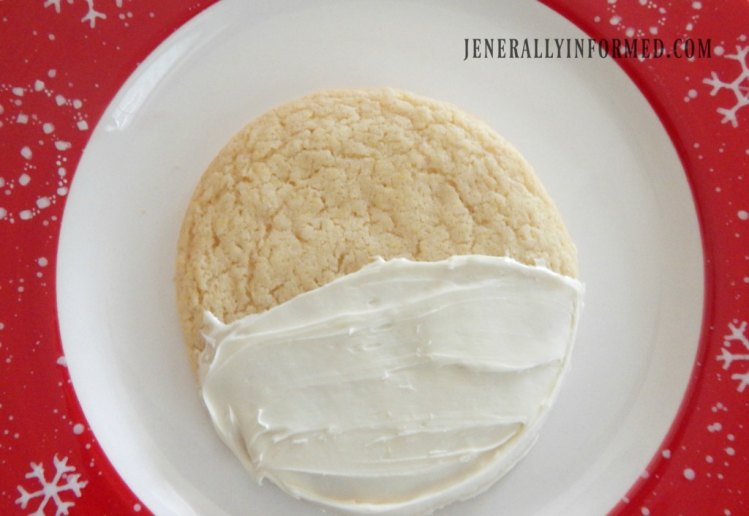 Once you have frosted both halves of the cookie, apply the edible sugar pieces. The ones I used are Wilton brand, and I picked mine up at Micheal's, but most stores carry them right now. There was supposed to be a cute dancing reindeer globe cookie, but sadly, the 4 year old dropped that one on the ground and broke it. She did say the reindeer pieces tasted fabulous! Sprinkle both halves with your white, sprinkles and you are done! Voila!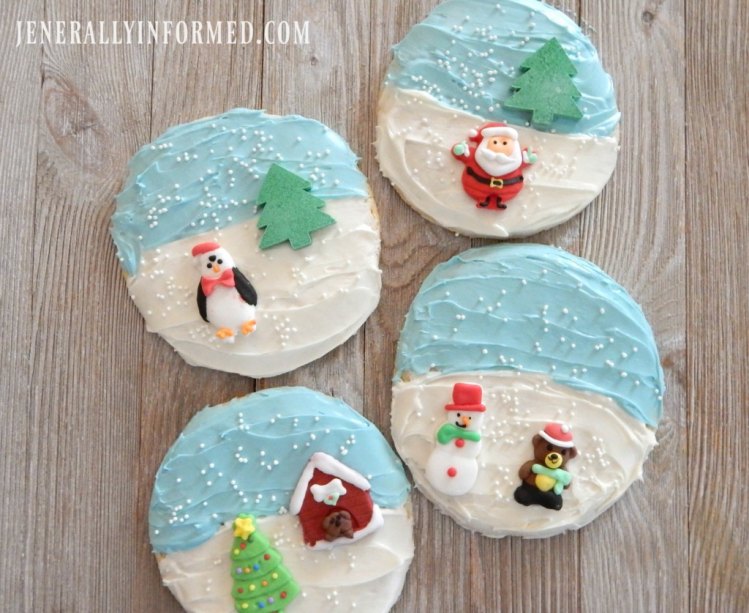 Here's an easy to follow pinnable image.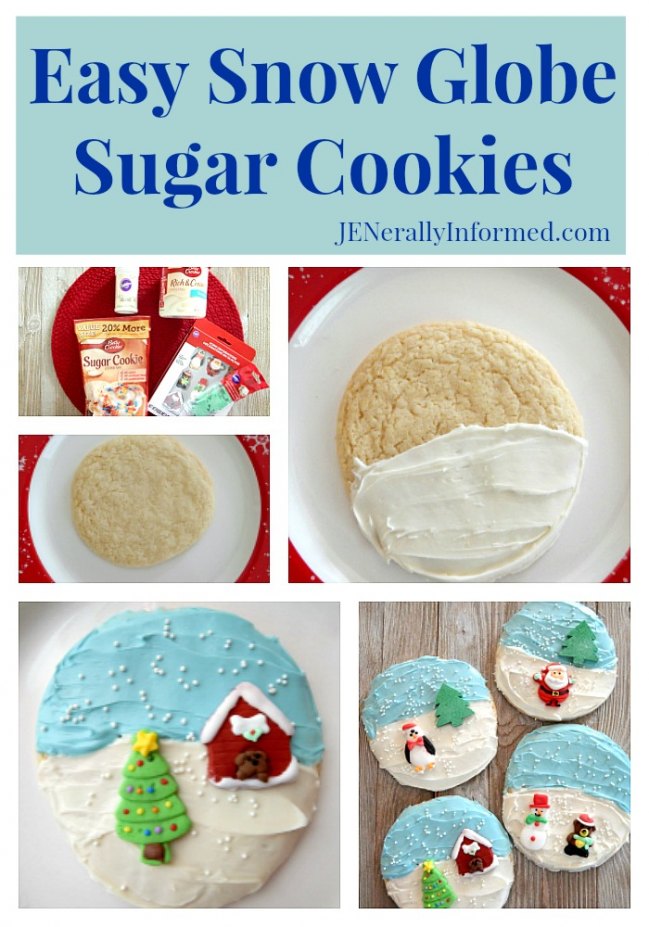 Aren't these cute, plus the best part is, besides a few sprinkles on the ground and a broken reindeer, we were catastrophe-free and done making our cookies in about 45 minutes! Successful baking, completed in under an hour is kind of a BIG deal around here!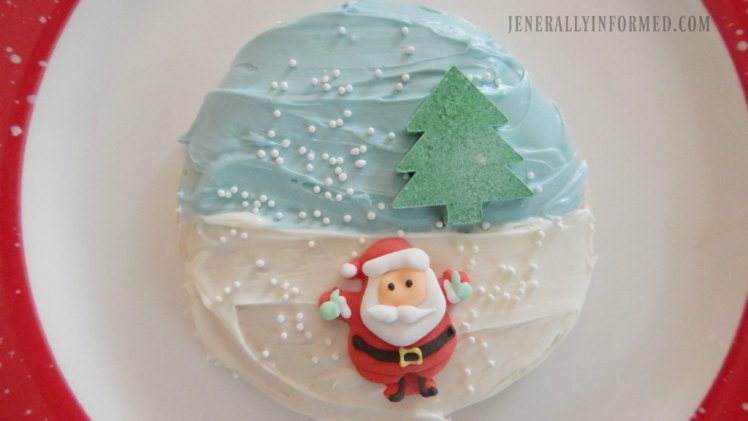 Easy Snow Globe Sugar Cookies
Ingredients
Betty Crocker Sugar Cookie Mix
1 package Cream Cheese Frosting or Buttercream Frosting.
Wilton white sprinkles
Various sugar candy figures
Blue food coloring
Instructions
Follow the instruction for the cut out cookie on the back of the sugar cookie bag.
Cut out cookies. You want a large shaped round cookie to work with. About 3 to 4 inches width wise.
Cook cookies according to package and let them cool.
Add a few drops of blue food dye to half of your frosting.
Frost half the cookie in white and half of the cookie in blue.
Add sugar shapes to the white frosted portion of the cookie.
Sprinkle the whole cookie with the white ball sprinkles.
Enjoy!
https://jenerallyinformed.com/2017/12/easy-snow-globe-sugar-cookies-free-letter-santa/
Lucky you since you stopped by today, you get a chance to nab this adorable letter for Santa. It's perfect for any age, and is easy to fill out.
Go ahead and click and print it up now or Pin for later!
Jen

Go ahead and share this post, you know you want to!