This shop has been compensated by Collective Bias, INC. and The Coca-Cola Company, all opinions are mine alone. #SummerRefreshment #Kroger #CollectiveBias
Summer just isn't summer unless there is watermelon. I love it in all of it's varieties. Cool slushes and freshly cut slices, fun drinks and popsicles. The possibilities for what you can do with a watermelon are pretty much limitless. My husband once had a friend who was the produce buyer for a large conglomerate. He taught my husband how to pick the best tasting watermelons and I have to say he really can pick them! There is a little bit of a science to doing it and somehow I have never been very good at the mechanics of the process, but luckily I don't have to worry about it because my neighborhood Kroger/Fry's grocery store has never lead me wrong. I can pretty much pick any one of the watermelons out of the bucket and be good to go.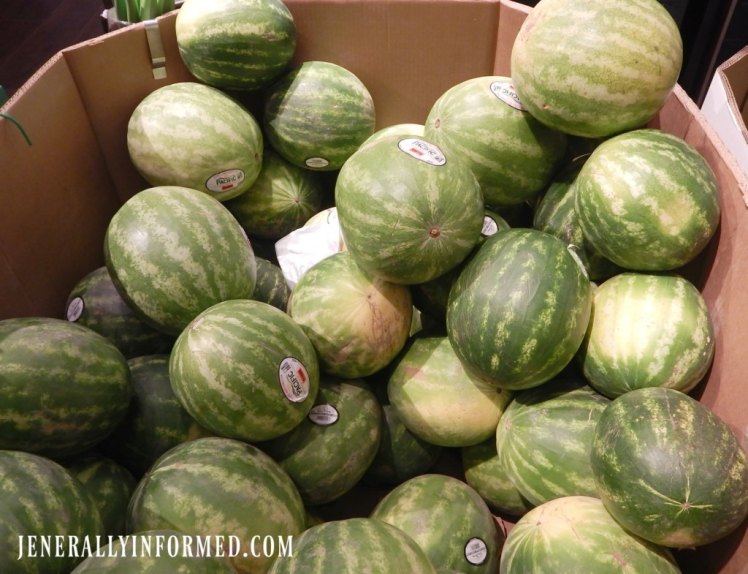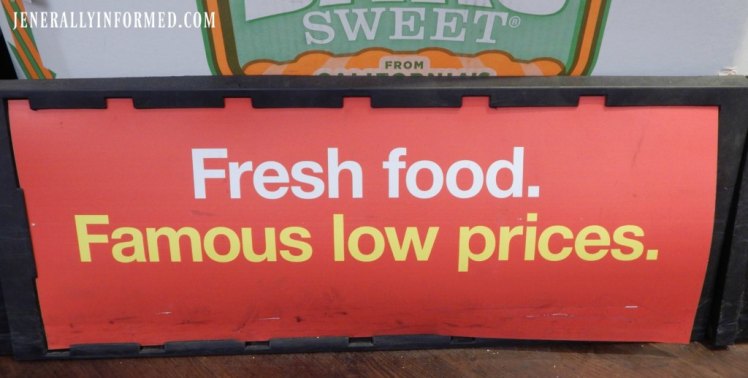 Because we like watermelon so much around here, and it such a great ingredient for fun summer time recipes, I decided to try something new this year. On my most recent visit to my local Kroger, besides my watermelon, I decided to fill my cart with 2 more family favorite items to create a little recipe that I think is going to knock your socks off. Before I share it with you though, here are the two items I picked up.
First I snagged some Minute Maid® Lemonade. Oh how we love Minute Maid Lemonade! It is made with the goodness of real lemons and is the quintessential refreshing beverage! It's great taste is one of those things that reminds me of a simpler time. I probably could write a whole summer time inspired poem about how good it is, yum!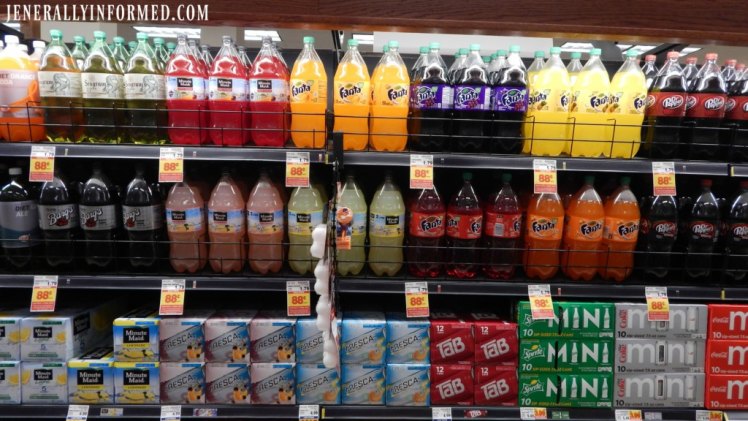 Next I picked up a delicious 2 liter of Sprite® as the final ingredient for my soon to be watermelon masterpiece.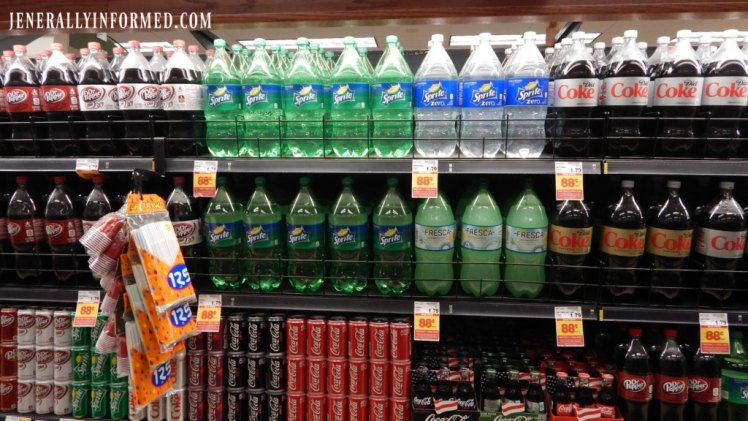 Are you ready for me to unveil my beverage creation with you? It is so much fun! Here it is……..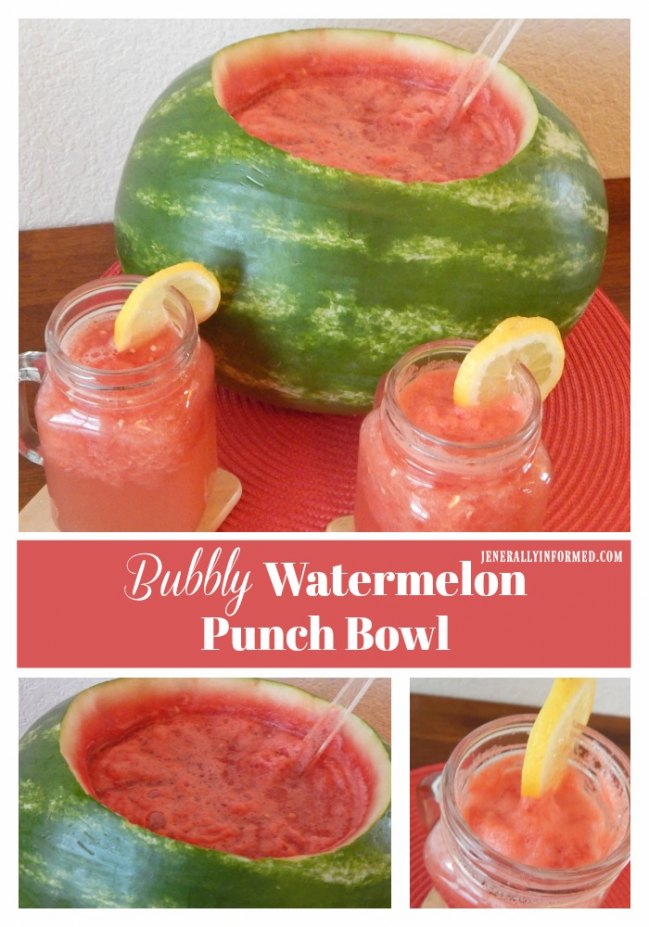 Making this was so much fun guys. I laughed my head off, because well, I got to use a power tool in the kitchen. It was awesome! Check it out.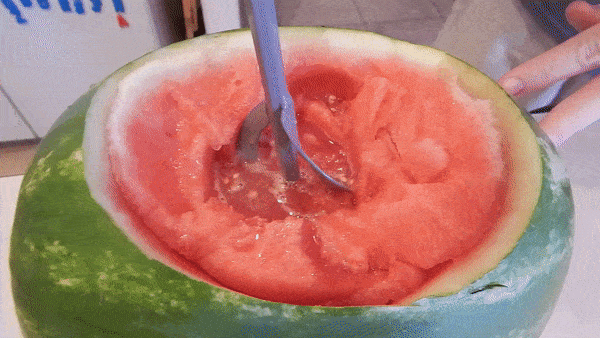 Plus, making this is about the easiest thing ever and people will think you are so cool. The first step is to draw a a long oval on the top part of the watermelon.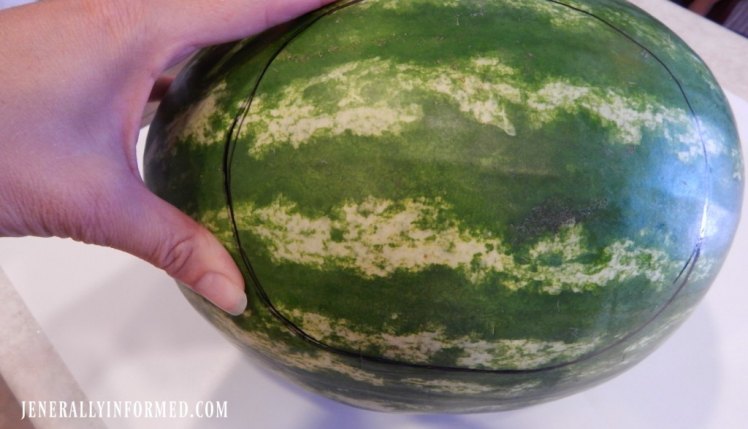 Next, cut out your oval and remove the top portion of the watermelon.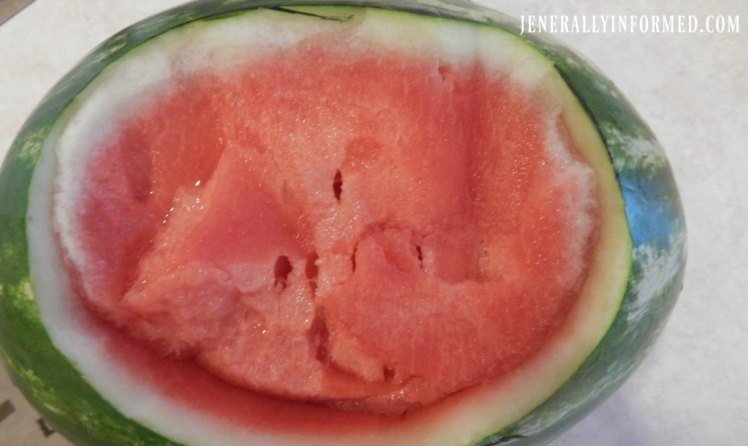 Now you are ready to mix! I used a paint mixer hand drill attachment (unused, $4 at your local hardware store, when you are finished you will have a paint mixer drill attachment, which is awesome!) I'll be honest, the entertainment value in watching the family members take turns blending the melon is is well worth the extra trouble. I guess if you are feeling a little less adventurous, you can just scoop out the watermelon and blend it in your plain ol' blender.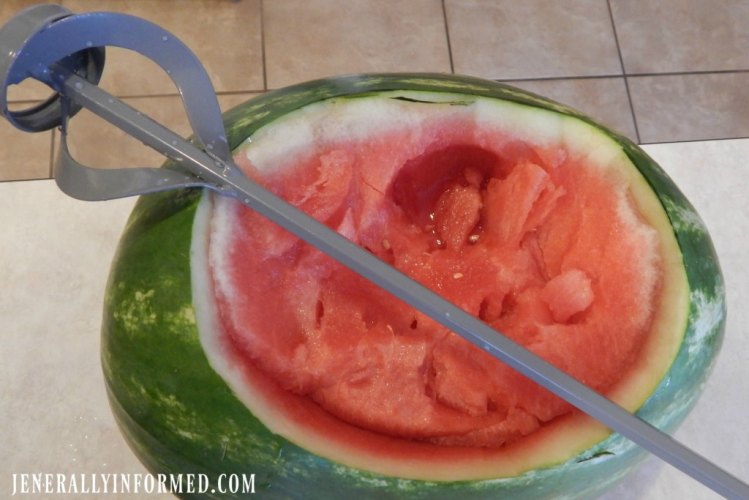 But the power drill mixing is so much more fun!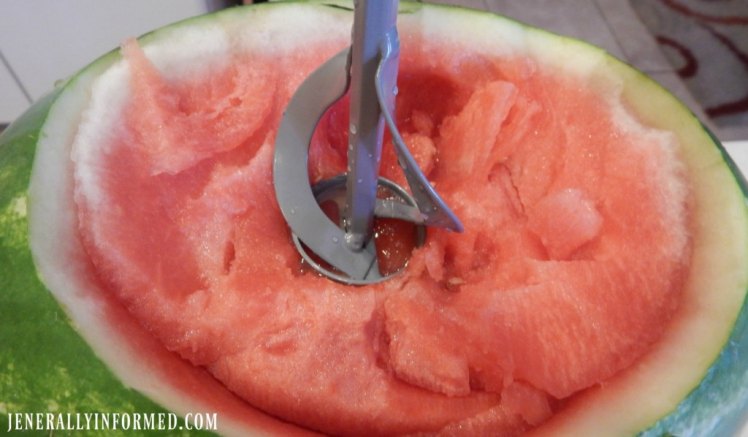 I left a few chunkier pieces in the watermelon and didn't completely puree the fruit. Here is what it should look like when you are done. I am going to go ahead and give a little nod of appreciation to my mini Vanna and the cute hubs who are the stars of this video.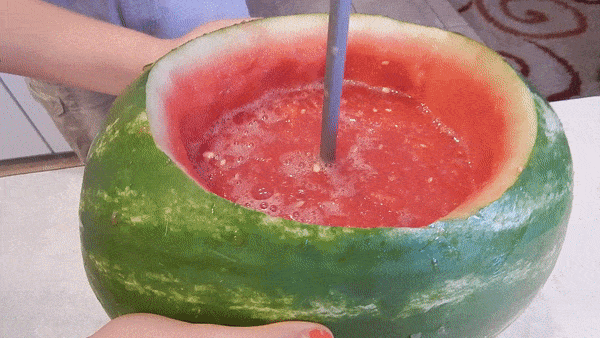 Once the blending is done, scoop out some of the watermelon juice. Don't throw it away though! It can be used in so many fantastic ways. Next, add into your newly created watermelon punch bowl equal parts watermelon juice, Sprite and Minute Maid Lemonade.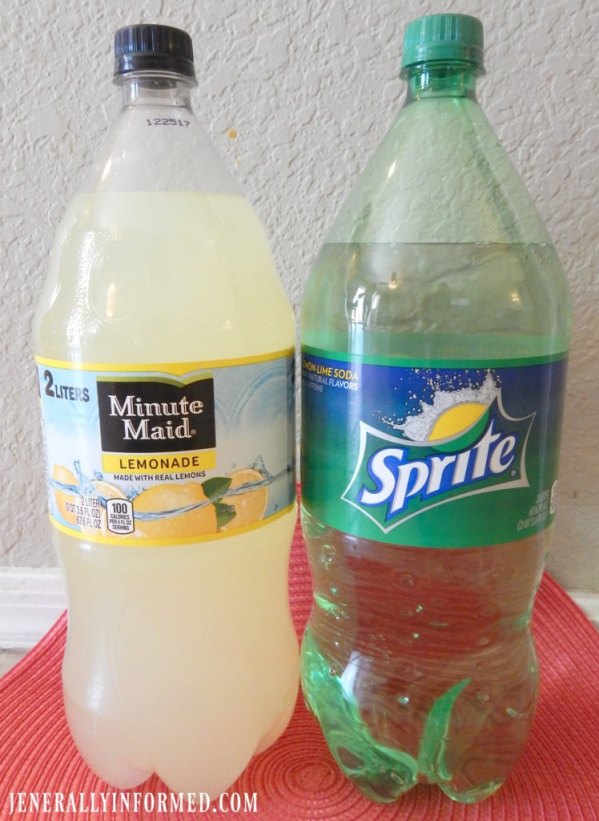 It will bubble up and look like this. So yummy!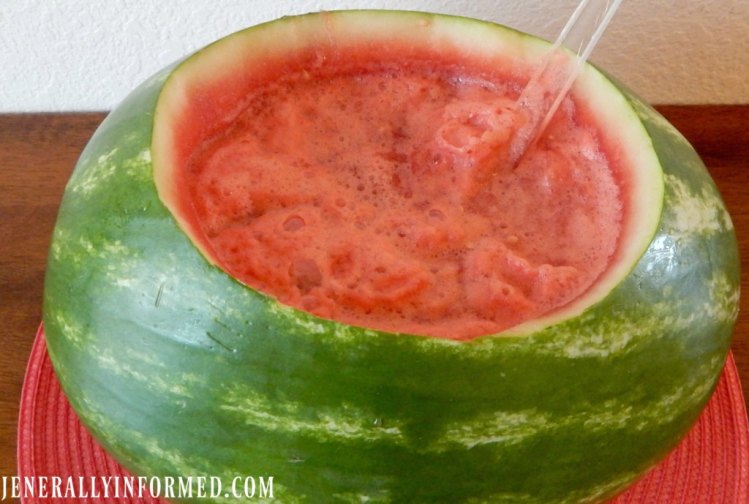 Easy, peasey, right? Here is a Pinnable image with all of the directions.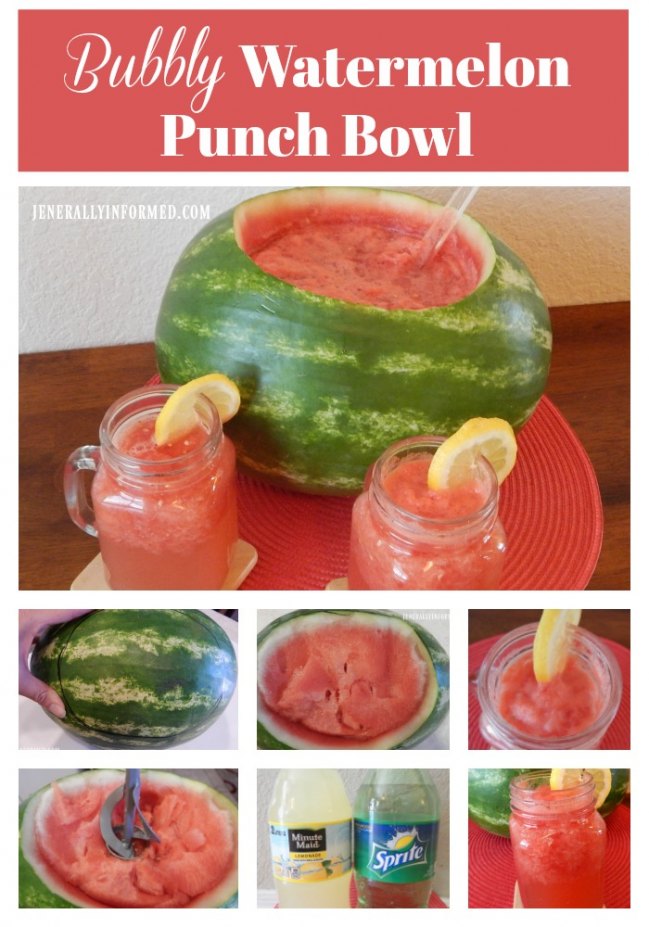 All that is left to do now is to serve up your creation and enjoy!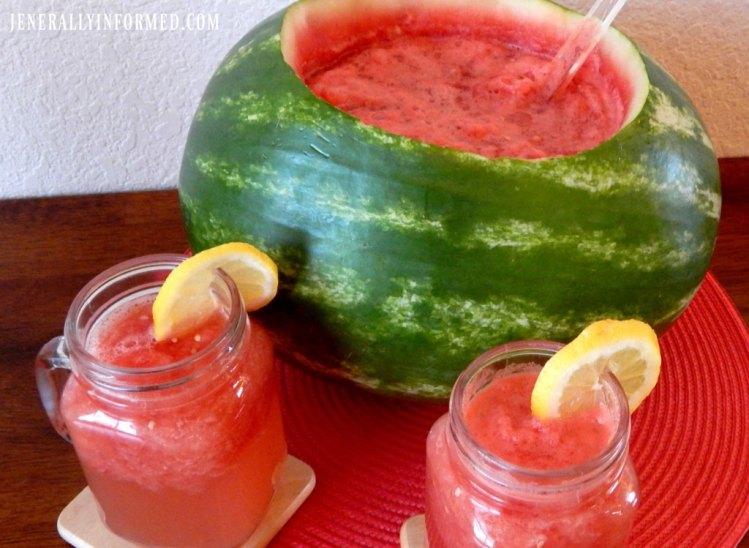 Look at all of that fizzy goodness!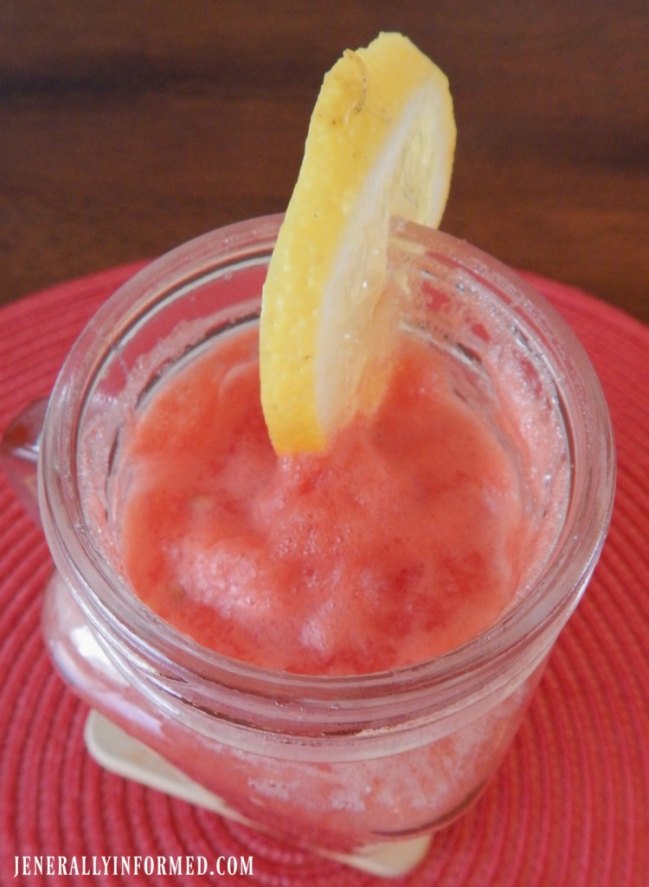 If you are ready to make your own bubbly watermelon punch bowl, don't forget when you are at your Kroger grocers to look for special 2 liter toppers or a display in the produce section with tear pad coupons for additional savings; Buy any 2 Minute Maid or Sprite 2 liters and save $1 off your watermelon purchase. Awesome-sauce right, because now you can make this fun recipe and save money!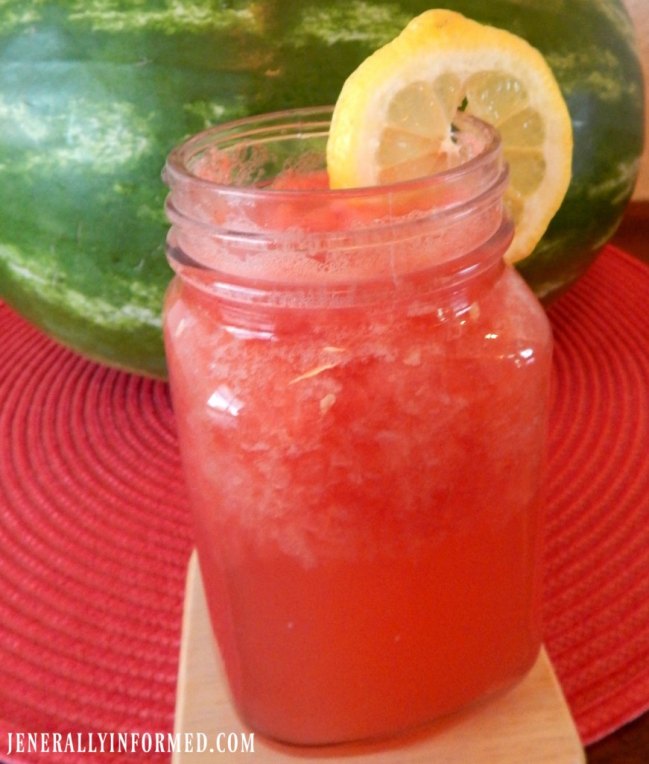 I hope this inspired you to share a slice of summer time fun!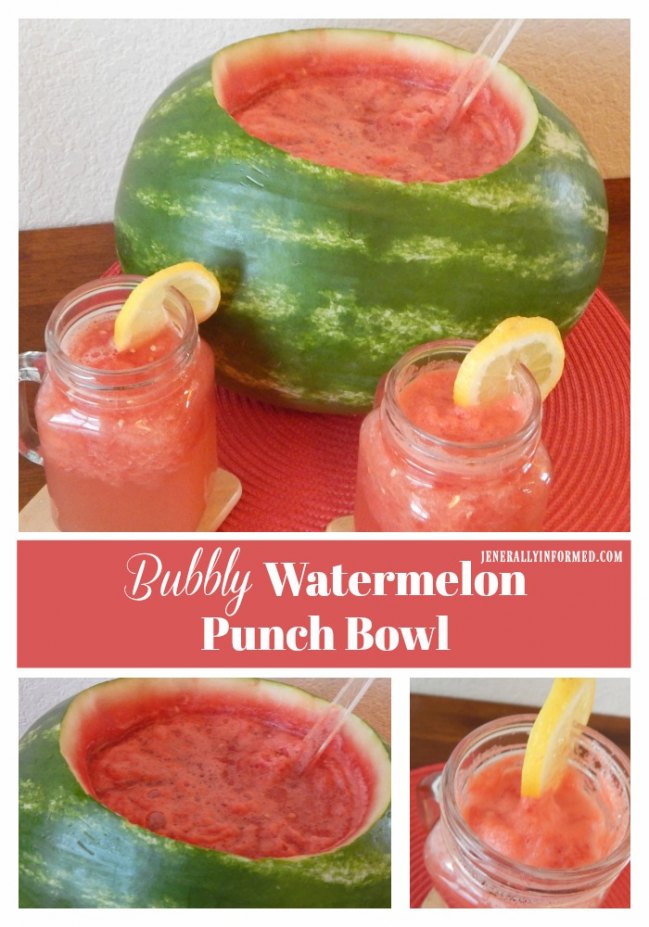 You can find more refreshing inspiration here! Happy Summering!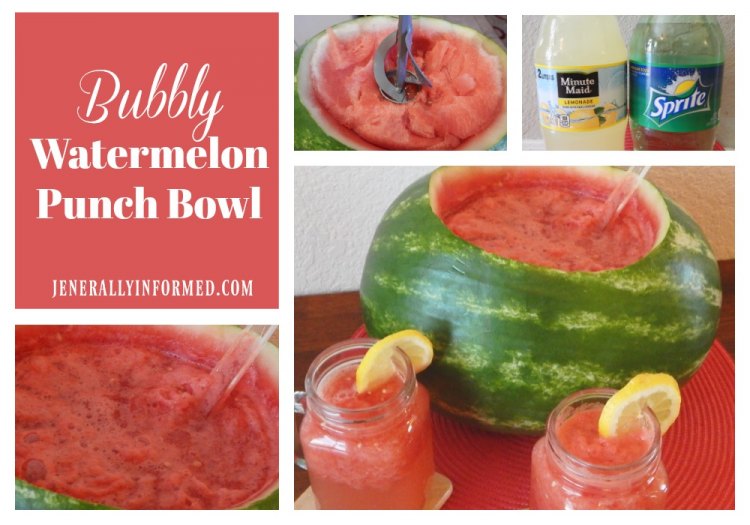 Love,
Jen

Go ahead and share this post, you know you want to!