Hello to all of my blogging friends and followers of this little space of mine. This is just a quick update, because over the years so many of you have become dear friends and family.
Our family is struggling right now. Thank heavens for the Spectacular Summer Blog Hop or this space would mostly be sitting empty. Here is what is going on.
In 2012 my daughter Samantha had a fluke episode of optic neuritis. It left her with permanent vision loss in her right eye. It was determined as a one time kind of episode, but we continued follow up care on her eyes to ensure their optimal health.
Last Sunday June 25th while at church she came and got me out of a meeting because she was having a repeat experience of what happened to her in 2012. Only this time it was in her good eye. Over the past week the eyesight has continued to grow dimmer, more blurry and it appears she is losing vision. We have been to the hospital, seen specialists and have more specialists on tap to see. I have repeatedly been told that there is no treatment or cure for optic neuritis and that it could be a pre-indicator for an autoimmune diagnosis. There have been multiple scans and she shows none of those indicators. For those of you have come to know me, you will not find it surprising to discover that I am not just taking that advice and waiting. I am still actively working to help my daughter.
Some people who suffer from optic neuritis will completely heal on their own. This wasn't the case with her last time and because of that, I am not ashamed to admit that we are all scared and concerned, but we are digging deep from our wells of faith right now.
This coming Sunday July 1st we will be holding a special fast/prayer day. If you are a Mormon/LDS you know what to do. To any of my friends of different faiths, we would be most welcoming of your prayers for peace, healing, guidance and that doors and windows of understanding are opened for us.
We were at a Dr's office this week and there was a quote on the wall from Helen Keller that touched my heart. It said, "Walking with a friend in the dark is better than walking alone in the light."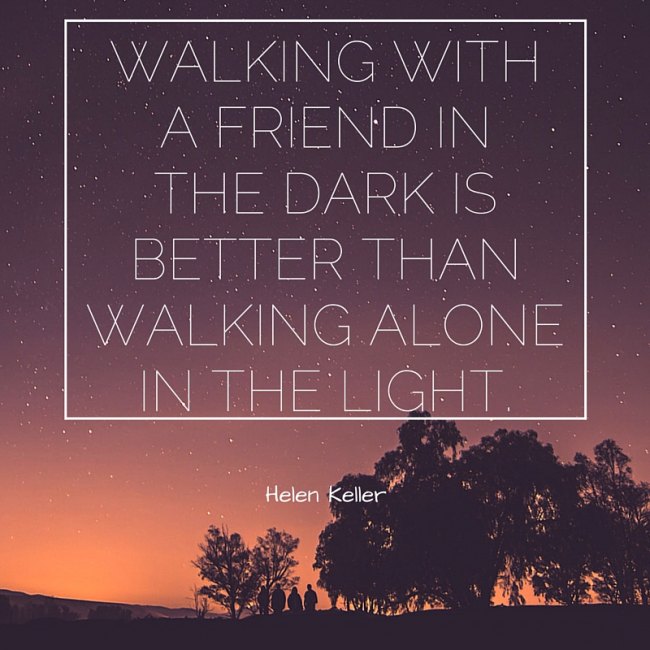 Thanks for being our friends.
Love,
Jen

Go ahead and share this post, you know you want to!