How many princess-themed birthday parties have you been to this year? With two girls between the ages of 4 and 7, I can't even begin to count how many we've attended throughout the years.
Hello there friends! It's Leslie from the blog From Play Dates to Parties. While Jen is getting some much-needed rest and recovery, she's asked me to share a bit of insight and inspiration with you.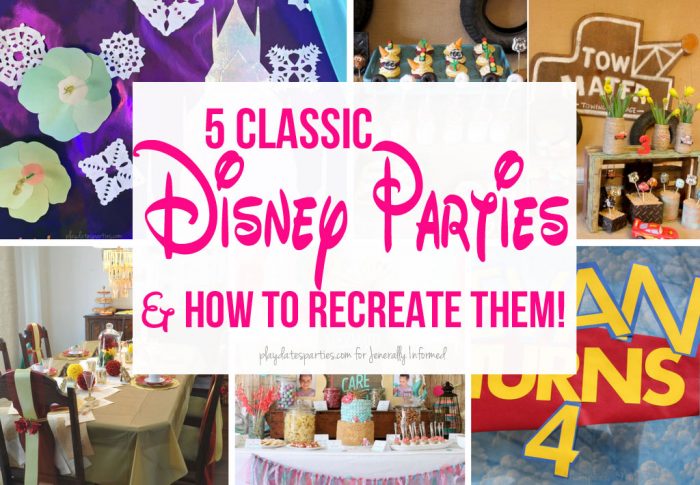 Cars is the classic little boy movie. Many of the birthday parties out there focus on the Lightning McQueen with plenty of racing elements and bright colors. But I love this vintage version of the movie made by Triple M Good Parties and featured at Kara's Party Ideas.
Key Elements to Recreate
"Rusted" Tin Cans for Decor. I love party decor crafts that use what you already have, and tin cans are used beautifully in this party as a way to hold cake pops and other party elements. Nikka painted the cans so they would look old and rusty, which fit in perfectly with the vintage vibe and reminded guests of rusty old tow truck, Tow Mater.
Old Baking Pans. Using baking pans for serving trays was a stroke of genius. Why buy special platters when you can use what you've got?
Burlap & Twine. Burlap is inexpensive and adds a great vintage feel to this party. When combined with the twine wrapped vases and toys, you've got loads of visual texture without a lot of cost or effort. Tip: You don't have to spend time wrapping your entire vase or bottle with twine. Spray paint some old water bottles with dark colors and wrap twine around the bottle a few times for a similar effect with much less effort.
Tow-Mater Sign. The truck that was made for this party is truly a show-stopper. Unfortunately, there's no tutorial available. It should be pretty simple to make with a leftover cardboard box. Or, if you're short on time, this 11 x 14 art print from sPRINNT is a great alternative…and it provides the birthday boy with some special art to keep as well!
Toy Story
The original Toy Story movie is 12 years old by now, but the party theme is truly timeless. A quick Pinterest search will yield hundreds of adorable results, and it's easy to get overwhelmed. Our family still talks about the Toy Story themed party that I designed for my nephew several years ago.
Key Elements to Recreate:
Toy Story Inspired Door Sign. I turned the Toy Story logo into a birthday themed welcome sign by layering cardstock and wrapping paper. But these days, you can easily find customized posters on Etsy for a great price. This download by Paragon DS is a perfect option for families with little extra time.
Toys Everywhere. We used the birthday boys' own toys to help decorate the house. They were a fantastic way to add a personal touch to the party at no extra cost.
Rocket Ship Pizza Tray. The rocket ship pizza tray was the hit of the party display. It's so easy to recreate because it uses simple household items like baking pans, duct tape, and leftover food containers.
Little Green Men. Little green aliens are almost as necessary to a Toy Story party as are Woody and Buzz Lightyear. But there are We made marshmallow pops for little green men, but there are dozens of inexpensive and easy ways to incorporate these little cuties into your party.
Even Parties with Classic Themes Can Be Unique
These parties are all unique, even though they parties are based on classic Disney movie themes. Even if you've been to 10 other Frozen-themed birthday parties this year, you can recreate only a few key elements of a party you love. That enables you to put your own spin on the rest of the food and decor. And in the end, the party will be all about your child, and not the theme.
What classic Disney party would you want to recreate?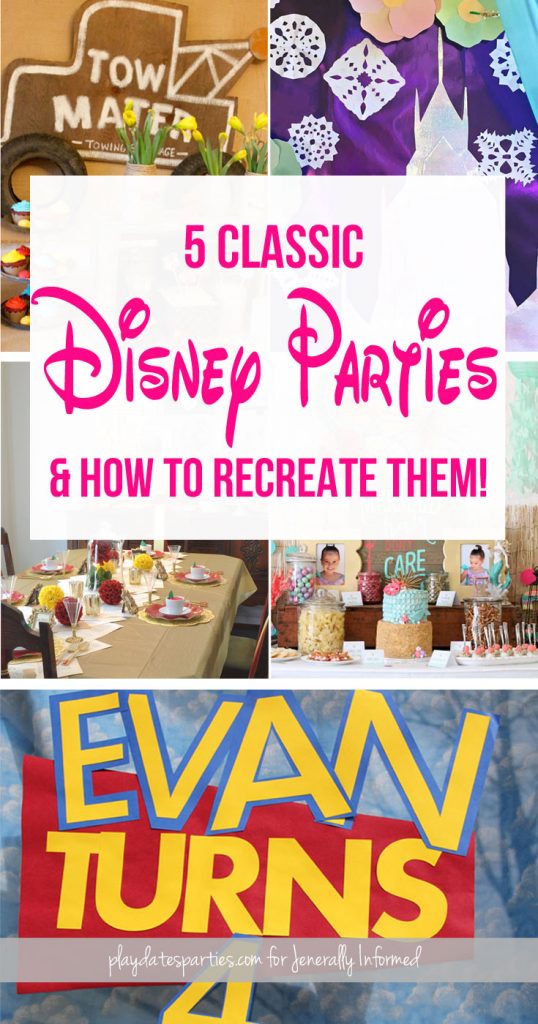 Thanks Leslie! Besides being a lifesaver you are seriously the party guru :)
Love,
Jen

Go ahead and share this post, you know you want to!