There are many horror stories about the damage that can come from poorly timed and inappropriately made cell phone texts. Especially by teenagers. I admit that all of these stories affected me and were a big motivator in the reason for why I waited quite a while to get my own teenage daughter her first cell phone. This past Christmas however my husband and I decided it was time.
I did not expect that her getting a cell phone and being able to text would bring us closer together.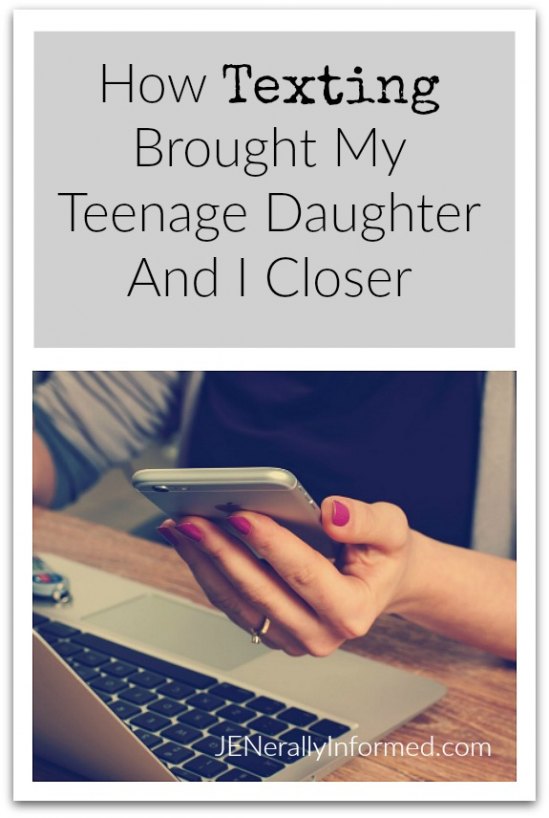 It started with a simple text.
"I am angry."
I texted back and asked her what happened.
She told me.
I told her I loved her and asked what I could do to help.
She said being able to tell me about it was enough and that we would talk later when she got home.
That is one of many such in the moment conversations that we have shared over the past few months. Conversations that unfortunately can get stifled as she is the oldest of 4 children and often has to wait her turn to be able to talk to me without any little brother and sister interruptions.
I really dreaded her getting a cellphone, thinking it would make our relationship suffer and that I would need to spend copious hours monitoring what she did on there. Don't get me wrong I still check and she is required to have me as a friend on all of her approved social media accounts. It's just that now I feel like she and I have a much easier way to more freely communicate.
Sure we still break away from the rest of our crew for just her and I time and her night owl tendencies make for some fun late night solo conversations for the two of us. It's just that now we can also have running conversation streams throughout the day about important things like our shared love and cravings for doughnuts, IN-N-OUT burgers and things she wants to share with me. Helping to foster conversations with my daughter that might not have ever happened if we weren't able to text them.
Being a mom to a teen is a different. Not bad different, just different. My teen no longer needs me to hold her hand like I do her two younger sisters, but she still needs me and sometimes saying that she needs me, in person, is hard. She is in that emotionally charged "in between" stage where she is no longer a child, but not yet an adult. And being able to reach out to me when she is scared, worried, or needs the reassurance of someone who loves her completely and unequivocally is important.
Sometimes she does that via text.
She may not always do it that way, but whenever and wherever she needs me I will be there. Even if it is just my sending back a simple heart emoji to a text she has sent me.
Stay Happy! Stay Informed!

Love,
Jen


Go ahead and share this post, you know you want to!