Summer in the desert is an interesting experience. Today our high will be around 100 degrees Fahrenheit and that is actually rather mild, because in general around this time of year we are reaching nice toasty highs of 110 plus by 11 in the morning.
Due to an intense storm south of the border, we are expecting rain tomorrow. For desert dwellers, that is truly cause to celebrate!
During these summer months, I find it to be a less than ideal situation to be roasting away in a steaming hot kitchen, and this is especially true this summer. So I have decided that it is time to increase my recipe bank for smoothies, ice creams and home made custards!
Several weeks ago a friend shared with me a recipe for Orange Creamsicle Ice Cream. This is one of my family's favorite flavors and I was intrigued by the fact that the initial recipe was dairy free, but I had to alter and adjust the recipe so it actually worked. The original recipe said to just pour the contents into a freezer safe container and freeze until hard. When I tried that, it came out looking more like ice rather than ice cream, so I turned that first batch into a smoothie that we all enjoyed. The next time I made it I adjusted a few of the ingredients and used an ice cream maker and it was seriously soooo good!
This means that now all you have to do is follow my recipe, and in about an hour you will be able to eat the most creamy and smooth (healthy for you too) ice cream ever!
* You can go completely dairy free on this recipe, or you can also add 2/3 cups of heavy whipping cream if you want to make it extra creamy. We tried both ways and they were equally good!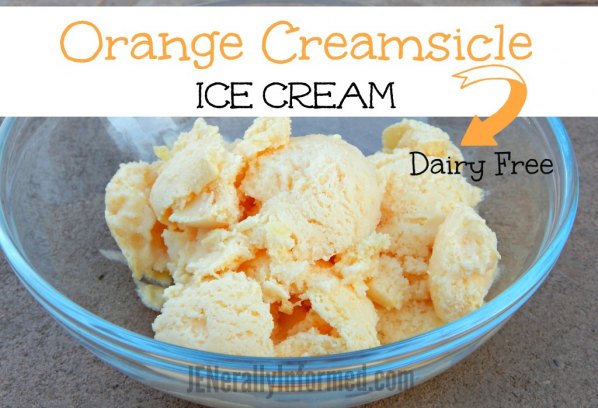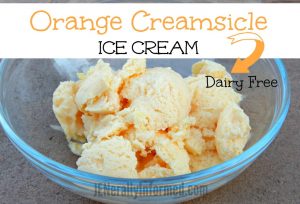 Orange Creamsicle Ice Cream
2015-06-08 13:17:55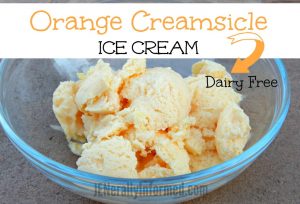 Serves 4
A deliciously smooth and healthy home made ice cream that is dairy free with whole fruit.
Nutrition Facts
Amount Per Serving
* Percent Daily Values are based on a 2,000 calorie diet. Your Daily Values may be higher or lower depending on your calorie needs.
Ingredients
1 3/4 cup – coconut milk, full fat
2 medium – Orange
5 tbsp – Sweetener
2 tsp – Vanilla extract
Instructions
1. Peel and section oranges. Lay flat on a tray and freeze until hardened.
2. In a blender, add coconut milk and half of the frozen orange sections.
3. Blend until smooth. Add the remaining oranges and continue blending.
4. Add the sweetener of your choice (honey, powdered sugar, maple syrup, sugar) and vanilla extract.
5. Blend.
6. Pour contents into an ice cream maker and churn until done.
Notes
Optional 2/3 cup of heavy whipping cream.
This recipe can easily be doubled.
Jenerally Informed https://jenerallyinformed.com/
Stay Happy! Stay Informed!
Love,
Jen


Go ahead and share this post, you know you want to!