Last week my Mommy Reality BFF Celeste of Leapfrog and Lipgloss challenged all of us Moms to share 'Dat look we give our children when we mean business.
When I first saw the challenge I was like "WHAT ?!"
And then I remembered all of the challenges I have made Celeste and others do. Like the time I made us all model our favorite Mom clothes.
Oh, here's a picture of Celeste doing it…..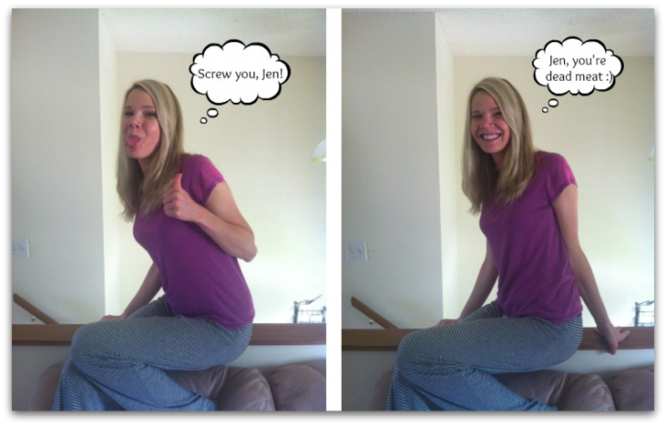 Or the time I did this to her.
Even months later I am impressed by my masterful photo editing abilities…..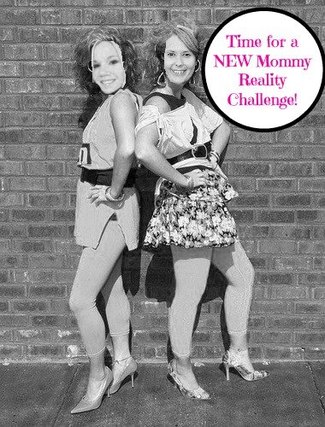 Or the time I made her share this…..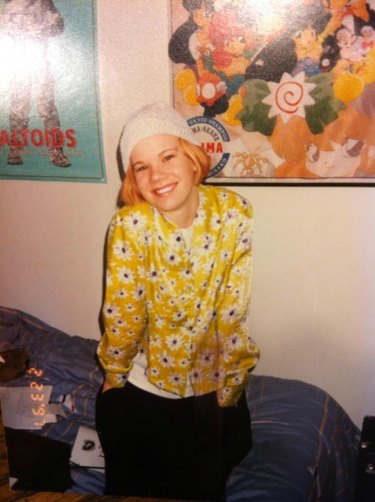 Oh yeah this is supposed to be a post about MY look….
At this point I feel morally obliged to issue a warning to my readers before proceeding any further. Trying to capture a picture of  my own 'Dat Look was a fairly terrifying experience and I am pretty used to looking at my face.
First off I began trying to take my very first set of selfies. I know this dates me.
After pretty much failing at the whole selfie experience, I Google searched "taking a good selfie". Did you know that there are over 200,000 listings? With an additional thousand or so YouTube tutorials on this very important topic. Especially appreciated, but unnecessary were the listings for taking a good bikini selfie….
THAT IS NOT HAPPENING EVER (right Celeste)….
So because I have very little aptitude for taking selfies I enlisted my family members to help take a picture of Jen the "mad mommy".
This proved to also be challenging. With more goofy than mad coming through to the camera.
So without further ado it is time to share my own version of 'Dat Look!
Please remember before proceeding that you have you have been warned.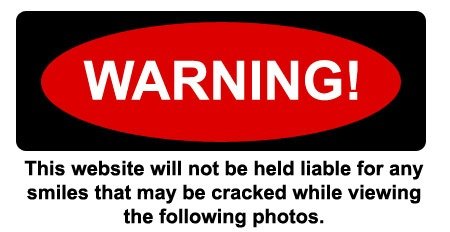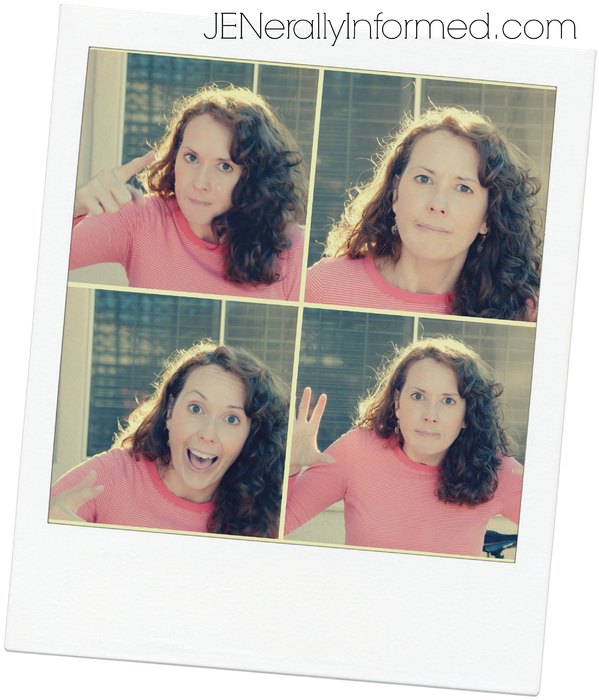 Just for fun I will include one more picture.
This is 'Dat Look that I threaten my children I will show up and make at school or in public places in order to embarrass them. It evokes far more fear in their hearts and minds than the 4 pictures from above.
Check out some of the other epic "looks" that have already been submitted for this challenge.
Now it is your turn!
Fellow Mommies and Dads, we would love to see you recreate 'DAT Look. OR, if you catch yourself in the heat of doing 'DAT Look, grab your phone and take a selfie. We haven't done quite a challenge such as this one and it'd be a blast to put together a collage of a bunch of Mommy Reality "looks".
You have 1 more week to complete this challenge!

You can share what you love in a post or on your favorite social media outlet.
Don't forget to grab our super-nifty button!
✔ *By submitting your pic, you are giving the Mommy Reality Team permission to use your photo to create a special silly meme for you if you win! :). If you win and you're a blogger, you also have the to opportunity to be our co-host!
✔ **The Mommy Reality team and our special co-host are VERY diligent in pinning, posting, and sharing the link-up participation every week, so make sure to follow us on our social media channels so you won't miss out!
We encourage you to visit a couple other Mommy Reality participants in the link-up and leave meaningful comments! The best part of this link-up is that we're a community of real moms with a sense of humor about ourselves!
 Stay Happy! Stay Informed!
Love,
Jen