One of my most popular posts on JENerally Informed to date is our family's review of the Disney Infinity game. Today I am excited to have my cute hubs, who is referred to as Jensguy around here, providing a review of the new Disney Infinity 2.0! He is a very knowledgeable techie and gamer and will fill you in on all you need to know about this new game from Disney.
Take it away Jensguy!
Of course we have discussed before how our children (and we the parents) loved Disney Infinity. For Christmas our children were gifted Disney Infinity 2.0, and after a few weeks of play testing, we can finally review it.
The biggest change is that 2.0 has used their Marvel license and added in Marvel superheros. Because, YEAH!
Most importantly this allows our 13 year old daughter to live out her fantasy of an Elsa and Black Widow Team Up.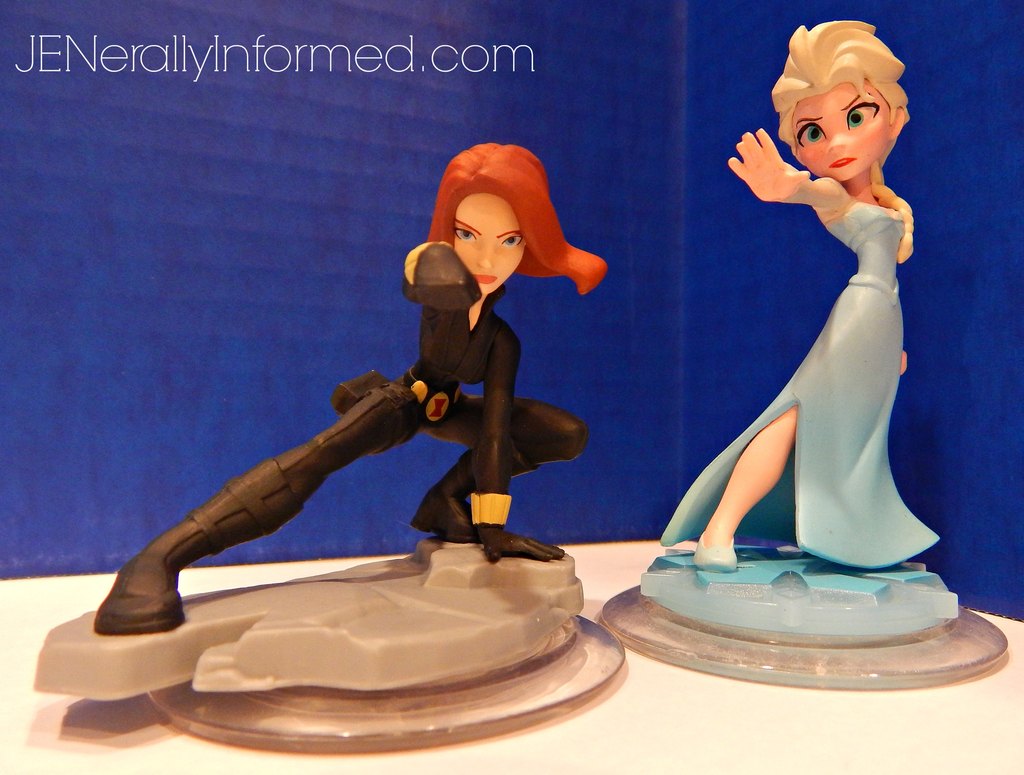 The concept of the game is that each of the in-game characters is represented by real figurines that are placed on a pedestal to activate them in the game. Some of the characters come with their own "playsets" which contain a more traditional game based around a movie. Disney Infinity 2.0 includes an Avengers playset, a Spiderman playset, and a Guardians of the Galaxy playset, with the last two being sold separately. Each playset comes with some characters and more can be purchased. The bummer is that only characters that were included in the movie can be played in the playset, so Elsa and The Lone Ranger cannot chase down Loki from the Avengers. The good news is that these playsets are a small part of the overall whole of the game.
The Toy Box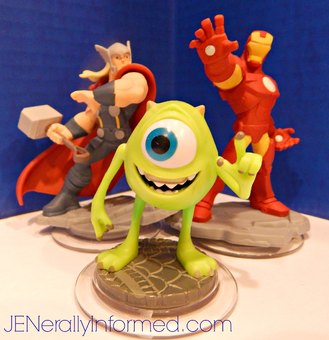 The greatest part of the game, and my children's favorite, is the "Toy Box." In the Toy Box you get to take all of the elements of the playsets you have played and mash them together to form your own world. In addition you can add elements from both contemporary and old Disney shows and movies. For instance, my children start with the skyline of New York and can add Cinderella's Castle right next to the Mystery Shack from the new cartoon series "Gravity Falls". They can then build a race track around the length of it all and race the light cycle from "Tron" against Lightning McQueen from "Cars". If you examine the stump next to the Mystery Shack you will find that it is inhabited by obnoxious trolls and at any time you have the ability to call an invasion by both the Frost Giants from "Thor" and soldiers wielding frying pans from the movie "Tangled."
And everything is better in 2.0!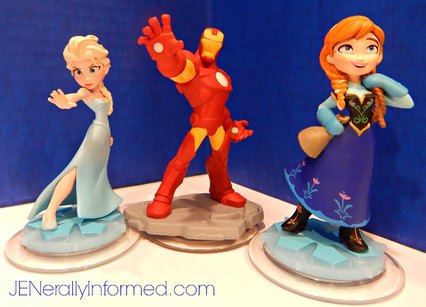 One of the good ideas the creators of 2.0 implemented is that you can use "builders" to make things for you in the game. Want to race but don't want to take the time to create a track? Have one of your on screen "builders" do it for you. Just let him or her know the basics of what you want and they will get to work right away. There are dozens of "builders" for all of your world creating needs. You might even recognize some of them such as Eve from "WALL-E" or the Sultan from "Aladdin."
The next great upgrade is Interiors. In the previous game you couldn't actually go inside the buildings, but now you can, and design the inside with furniture you unlock by playing the game. In the default Interior, you start with a nice homey mansion populated with a few odds and ends as well as Disney and Marvel characters moving about. I was amused to see that Cogsworth from "Beauty and the Beast" was the children's butler. It was also humorous to watch my children kick Loki out of the easy chair in their living room as he was acting like he owned the place. My oldest daughter was very happy to unlock Sleeping Beauty's Dress (make it pink. . .of course) and to display it in her virtual Bedroom. The commercial success of "The Sims" video game shows that there are people who can spend hour upon hour decorating a virtual house. Make those items iconic like Sleeping Beauty's Dress and you have magic.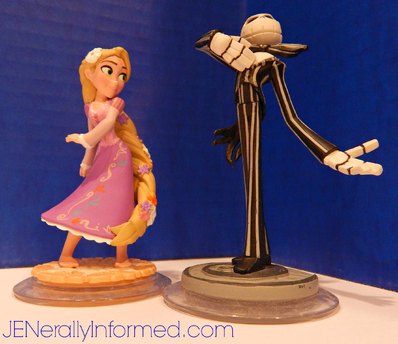 Heh, I just looked over and saw my children, as Anna from "Frozen"and Captain Jack Sparrow racing pigs across the Golden Gate Bridge. And by racing, I mean sitting on the back of a smallish pig as it squeals erratically while throwing itself forward as fast as it's little legs can carry it. That's good stuff there. . .
Now, if you owned the previous game, all of the characters you collected carry forward. And all of their items and levels are unlocked as soon as they are placed on the 2.0 pedestal. That is pretty awesome and gives extra value for the characters that you purchase going forward.
Additionally, our family NEVER pays full price for any Disney Infinity items. If you are careful, you can always find sales and discount offers. You shouldn't feel the need to buy everything as your children will probably have a favorite in mind. My seven year old has her eye on Tinkerbell, while I am torn between getting Captain America or the Incredible Hulk.
Yeah, Tinkerbell and Stitch make for a good team up too. . .
There are a thousand other things that I could talk about, but here is what you need to know if you are considering this for your children: If they are the type of game player who likes to customize every element of a character or game, this is likely a good pickup. If they often find themselves wandering off the plot of whatever game they are playing and injecting their own silliness, this will make them extremely happy. Seriously if they have tons of imagination, they will play this game a long time because there really isn't an end to it as they can write all of the rules each time they play.
A definite two thumbs up from this family!
Oh, and just in case anyone responsible for making the Marvel movies is reading this my daughters have a little suggestion……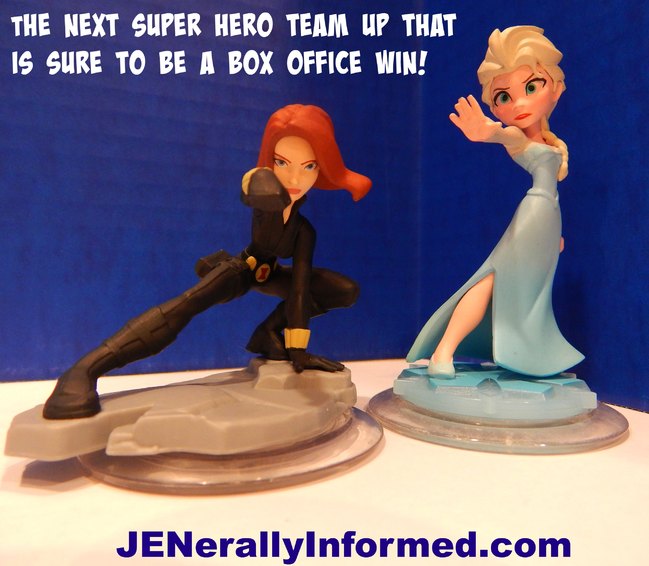 Go ahead and share this post, you know you want to!