My kids go to a public charter school where they wear uniforms. I like the uniforms and feel that they cut down on a whole world of problems for both families and children. My girls also enjoy adding cute and fun accessories within the dress code. Today I wanted to share with you these adorable DIY kid's boot socks I have started making that my daughters are now in love with.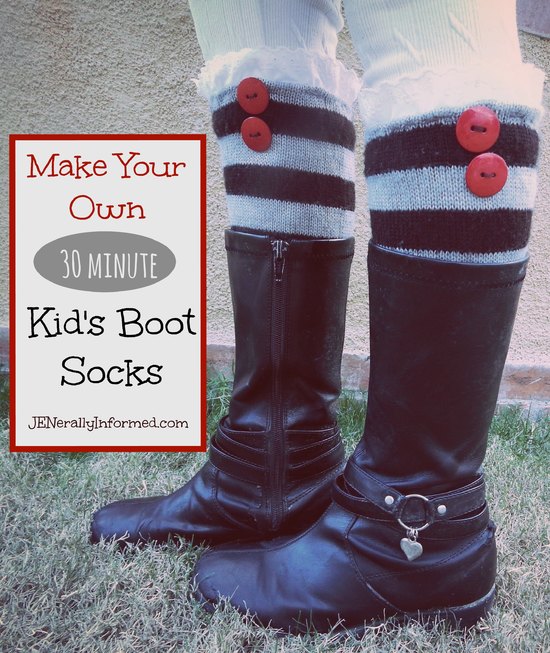 There is no end to the possibilities with these and truthfully they take only about 30 minutes with little to no sewing skills to make!
What You Will Need
An old sweater- I picked up an old sweater at Goodwill for $1.99. It was kind of a raunchy halter that I would never let my girls wear, but the sleeves were cute and that's the important part.
About 1 to 2 yards lace
A needle and some thread or a sewing machine
Buttons for embellishment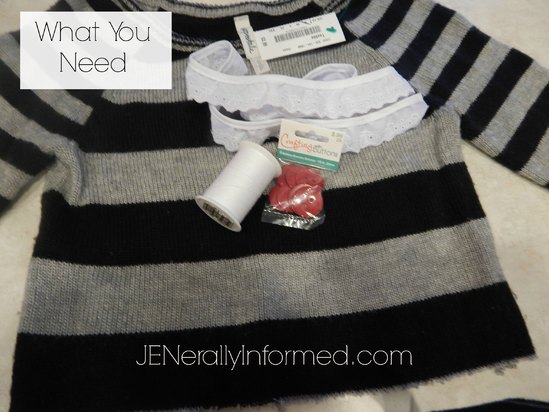 Step 1
Place the sweater flat and cut straight across the sleeve.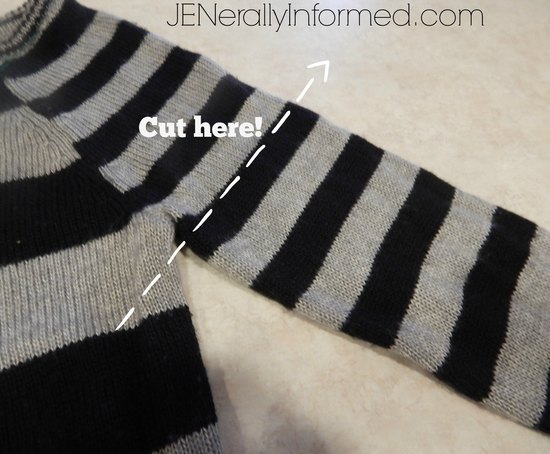 Step 2
Stretch the sleeve out. The daughter I made these for wasn't home so I stretched it out. P.S. Thank you very much to the daughter who just said my legs look like sausages in this picture…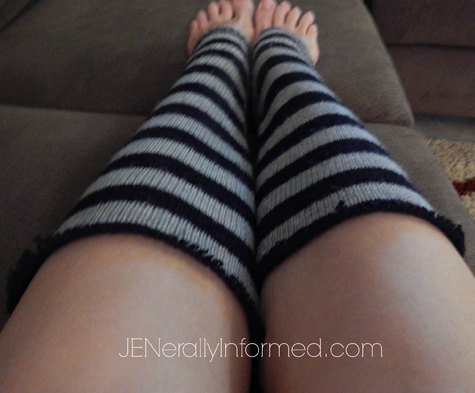 Step 3
Turn the sleeve inside out and fold down the top and widest part of the sleeve. Then tack down this top cuff. Make sure that you use even stitches and thread that matches so that it can't be seen on the outside. You can either hand sew or use your sewing machine. I hand sewed because I was enjoying a nice kid free moment watching Sherlock and didn't want to leave the couch.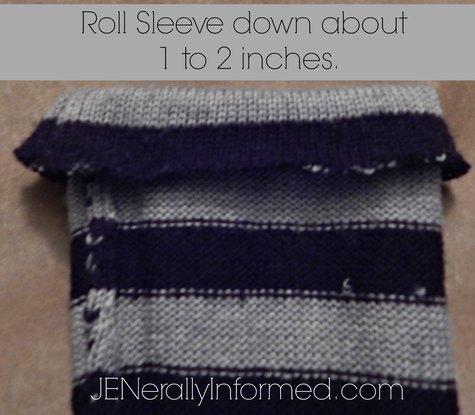 Step 4
With the sleeve still inside out, take your lace and pin/ sew it about a quarter inch from the top. Make sure to not have the seam so tight that it makes it hard to fit a foot/leg back in! My 7 year old actually did the stitching during this step and she did pretty good! Once the lace is applied, turn it back right side out.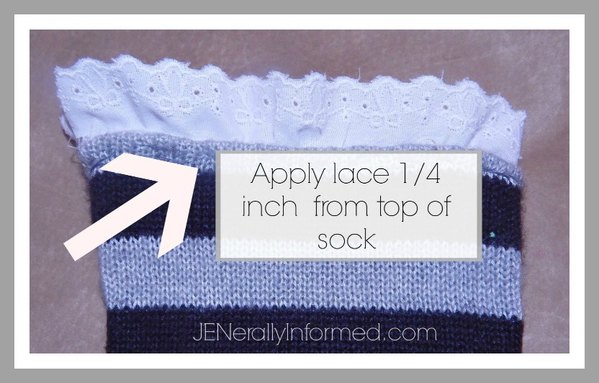 Step 5
This is the last and final step. Pick out your embellishment buttons. This can be absolutely any color you want. My daughter picked red for Valentines Day!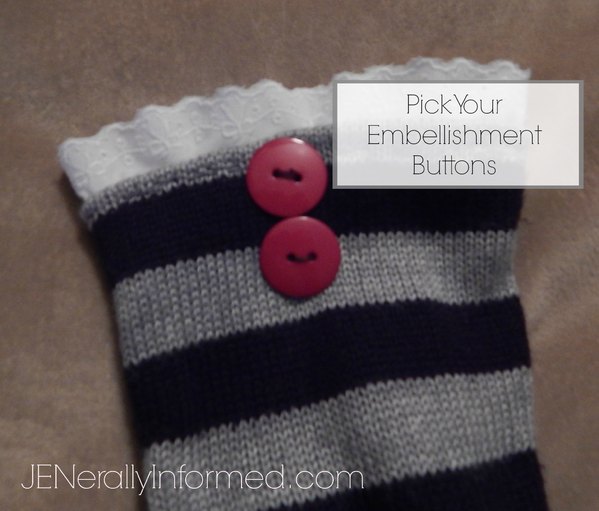 Voila now you have boot socks!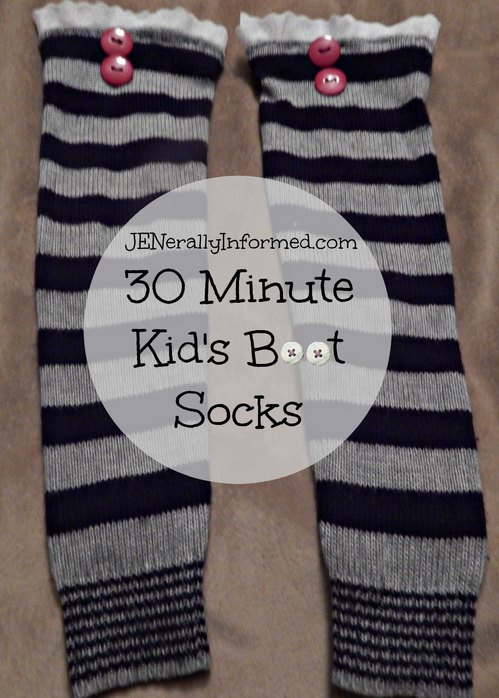 The great thing about these boot socks is that your possibilities are pretty much limitless because you can make as many different styles and colors as you want. Once my girls started wearing these to school the requests for how to make them started flooding in. With even a few kindly paced hints that these would make fabulous birthday presents for their friends!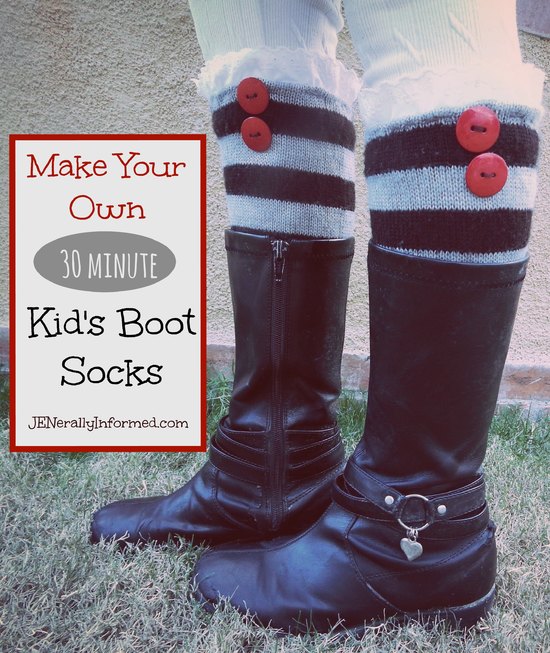 Stay Happy! Stay Informed!

Love,
Jen
Before you go make sure to sign up for my email list to receive my newest Wall Art Bundle!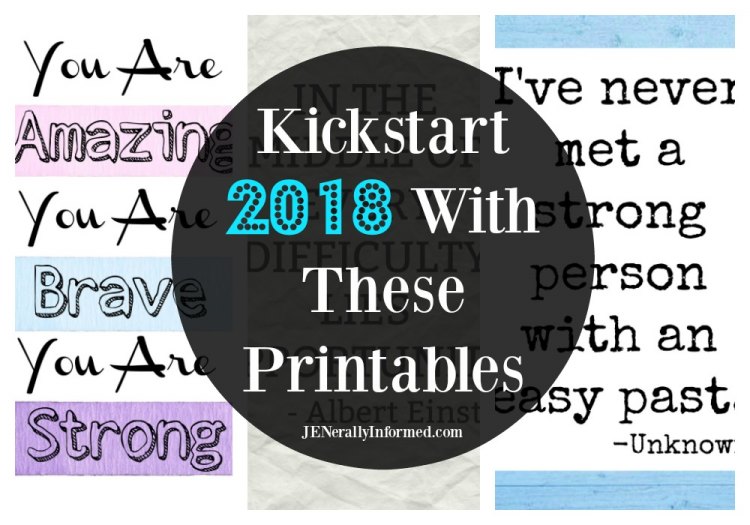 Love,
Jen

Go ahead and share this post, you know you want to!