Cashing through the snow in a one horse open sleigh, 11 fabulous bloggers are giving you an opportunity to win some holiday cash today….
The holidays are fast approaching and  a few of my blogging friends have teamed up to add a little extra jingle to your pocket book!  
Just think of us as the holiday fairies!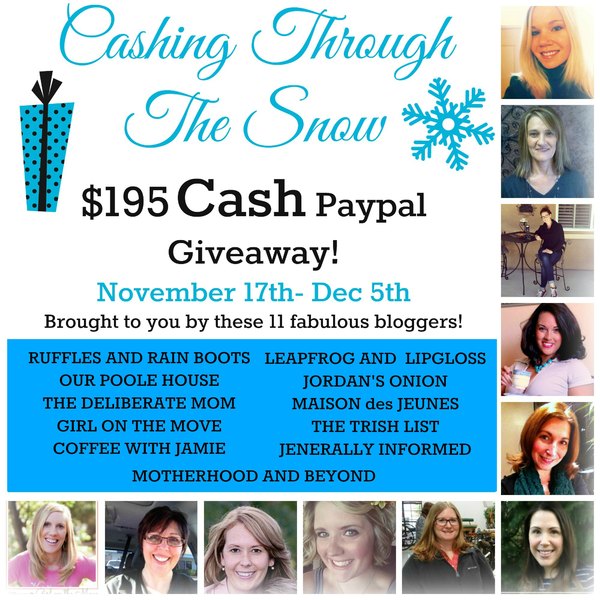 Please be sure and say thank you to the amazing bloggers who helped to put together this phenomenal cash prize for you to win!
Jen of JENerally Informed ♥ | Jennifer The Deliberate Mom ♥ | Celeste of Leapfrog and Lipgloss ♥ | Julie of Girl On The Move ♥ | Lauren of Motherhood and Beyond ♥ | Sarah of Ruffles and Rain Boots ♥ | Tammi of Maison des Jeunes ♥ | Jordan of Jordan's Onion ♥ | Trish of The Trish List ♥ | Jamie of Coffee With Jamie ♥ | Holly of Our Poole House


So cross your fingers, toes and anything you can think of and enter RIGHT NOW for your chance to win!
Stay Happy! Stay Informed!
Love,
Jen