I really like blogging, I like the community and most importantly I truly enjoy reading the stories and life experiences my blogger friends share. I wish each of them could be fully compensated for the great work they do. The bloggers I know put out top notch quality posts week after week that inspire, teach, uplift and entertain. These type of bloggers are jewels and I wish people like Kim Kardashian would make less and good bloggers like my friends would make more.
First off, we need to talk about monetizing, some people think it's a dirty word and we shouldn't seek to do it with our blogs. Especially since we are sharing our family stories and life experience. That's a load of crap. If you produce a good product you have every right to seek compensation for it.
The truth is that to run an effective blog it takes a lot of work. I mean hours and hours of daily monitoring, networking and connecting. Good bloggers build up active social media circles and work hard to maintain them. Understandably, not every blogger is willing, able or interested in doing this, but those who do this are working hard toward the hopes of monetizing their blog.
We all know that not every blogger will be able to make the big bucks off of their blog. Competition is fierce and these types of opportunities are limited. They are growing, but still limited. Now here's the part where I tell you how you are totally missing the boat.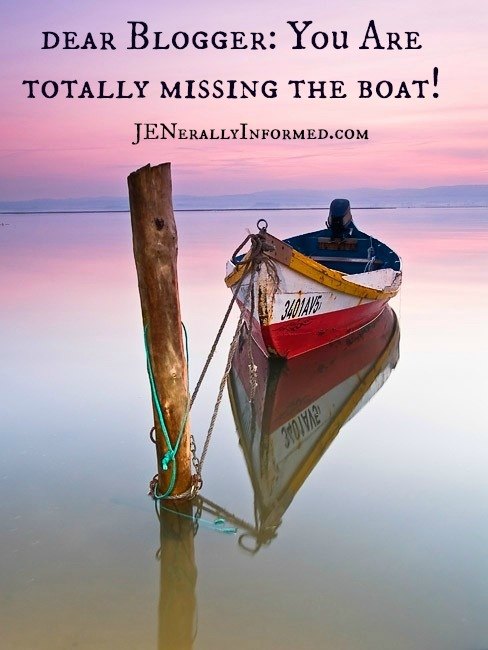 You can be making money RIGHT NOW because of your blogging skills!
Here's the skills as a good blogger you have and that you are under-utilizing:
1. You understand networking
2. You can maneuver in between Instagram, Facebook, Twitter, Pinterest, Youtube and G+ like a pro.
3. You understand the power of creating quality work and then marketing it to it's fullest in order to get the maximum audience.
4. You know hashtags!! Hashtags are still a mystery to large swaths of the public.
Now you are asking yourself how does knowing any of this help me earn money?
I'll tell you how.
In your own community right now there are Dentist and Dr's offices, authors and other businesses just opening or that want to maximize their online presence, but don't know how. You can help them do it!
I know you can because I have.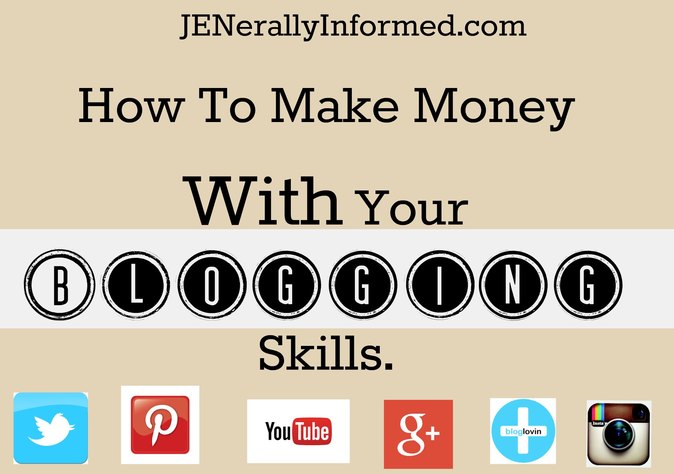 I enjoy the freedom I have as a blogger to be able to write about whatever I want and I have no plans to change this. I assume this type of mentality will limit the money I can make as a professional blogger, but I have found a way to bring a few extra dollars my way because of my blogging skills. Doing this definitely helps to pay my hosting bill and make sure JENerally Informed stays around for a while.
Since starting blogging I have taken on several clients in my own local community who do not understand the intricacies of social media. I have taught them how to use it effectively for their own needs. After my training sessions they have gotten back to me and told me that my lessons were fun, informative and changed their marketing approach. I didn't use any special secrets I just used the skills I had gained through blogging.
You know you totally can do this!
Before you start taking on clients though make sure you understand and do the following:
1. Make business cards. I'm not talking about dropping hundreds of dollars, just head on over to Vista Prints and get the starter pack of 250 cards for 10 bucks. Mine are cheesy, but they work.
2. Read this article from Jensguy and get KLOUT now and understand how it works. I train my clients on using KLOUT all of the time as it shows them in a very real way where they should spend the majority of their social media time. One of my clients after getting it found out that Instagram was huge for her and she was totally under-utilizing it.
3. We have talked about Alexa before, but download the free Alexa toolbar and start using it. I am not crazy with my numbers, but this helps me to focus on both creating and building the right kind of networks. This is information your clients will want to know.
Whamo and now you are ready to become a social media trainer!
I love all of my blogging friends and want to see each of you rewarded for your hard work. You have the skills, don't be afraid to use them.
As far as finding clients, I have found my clients at the park, at the grocery store, sitting at public play places, taking my kids to the Orthodontist and to Dentist appointments. Just keep a card on the ready in your Mom bag and don't be afraid to whip one out and pitch yourself!
Make sure to come back for part 2 next week to hear about how I pitched myself as a mom blogger contributor to a radio station and went on the air!
Stay Happy! Stay Informed!
Love,
Jen

Go ahead and share this post, you know you want to!