Have you heard about the Virtual Blog Tour? It's been making it way around the blogosphere for the last several months and I am the next stop on the tour! Woo-hoo!
Thanks to the fabulous Susan of The Most Of Every Moment for inviting me on this trip. If you haven't read her blog, you really should. Susan is a gifted and thought provoking writer who I thoroughly enjoy following.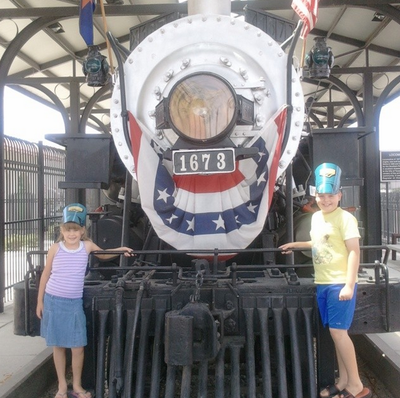 We like trains around here, A LOT, so for this leg of the journey that's how we'll be traveling.
Tour members are asked to answer 4 questions:
1. What am I working on?
Right now this, but in general, I am working on raising 4 children, managing my time and being a better person than I was the day before. As far as current goals, I would like to learn to tie a good slip knot, get my toddler to FINALLY sleep through the night and learn how to do a kick butt french braid.
Hang on a sec, time to take a break. My children are watching Honey I Shrunk The Kids on Netflix while the baby naps and well, the pet ant in the movie just died (spoiler alert) and the 6 and 10 year old are crying. Time to do damage control…….
OK, I'm back!
2. How does my work differ from others of it's genre?
This is a tough one. I have been blogging quite a while and I love it. I think in the world of blogging and especially mommy blogging you can do your own thing even if it's different and still find a home. I am not quite sure what genre I am, but I like my little blog's home. That's good enough for me.
3. Why do I write/create what I do?
I write about what interests me and hope that others will find it interesting. Sometimes it's humorous, sometimes it's not, but everything I do is honest and authentic. Life is a wonderfully hard journey and I love documenting all of it's hills, bumps and valleys. I also truly enjoy connecting with people by sharing with and learning from them. My kids call all of my blogger friends,"Mom's imaginary friends" because they can't see any of them, but you are all real and you make a difference in my life. Thank you!
4. How does your writing/creating process work?
I do everything under the "gun". There is literally no time to sit and lolly gag over anything. I don't have an editorial calendar, because I don't like calendars. I did once have a Franklin planner, but it got left on a bus in Spain….
I try to make a plan (in my head) about a week in advance on topics I want to write about and depending on time will follow through with the plan or not. Sometimes what I planned will seem forced, so I drop it and write about what feels right.
Now for who I am inviting along on the tour:
I LOVE Becka. She is incredibly talented, hilarious and an all around BAD A awesome blogger.  Becka blogs about her 3 adorable children, life, crafting, creating and she does it all in such a fun and engaging way. Becka is a country girl with ties to THE "Hatfields" who also just happens to be celebrating her Birthday today. So stop on by and wish her a Happy Day and while you are there make sure to sign up for her updates!
Deb is another wonderful friend and a terrific blogger.  She is also the winner of last week's mom-wear  Mommy Reality Challenge! Deb is originally from Devon England, but now lives on the sunny Island of Greece.  The pictures of where she lives are gorgeous. Besides writing she keeps very busy wrestling teenagers, life, dogs and does it all with finesse, humor and honesty. Make sure to check her out!
Can't wait for the next stops on the tour!
Stay Happy! Stay Informed!
Love,
Jen