The Mommy Reality Team
Carolyn of A Lavender Life *Jen of JENerally Informed * Celeste of Leapfrog and Lipgloss
(To learn more about the #mommyreality team, click here)
Well, I think I caught everyone off-guard last week by switching the theme challenge topic to "Mommy Loungewear"!  I know the rest of the Mommy Reality team was crossing their fingers and saying prayers that some brave souls would join us so we wouldn't be left standing alone modeling our Mommy Couture, but I was not worried (okay maybe just a little). Once again you came and exhibited some amazing Mom solidarity by showcasing your beautiful bathrobes and sensuous sweats (thank you, thank you, thank you!)
It really was hard to pick a challenge winner because, not only were you all so brave, you were all just so darn SEXAY, it was hard to decide!
However, after some major reflecting, meditating, and soul-searching on such an important subject, we have decided that the winner is…
Debbie from Deb's Random Writings!
Deb was SO brave in admitting to the world that she still kept a pair of crocs that she wore around the house.  We felt it would be a TRAVESTY not to declare her the winner as she pulls off the whole hot pink/croc look so well!
Deb, you are the Mommy Loungewear victor! Here is your meme:
(Thank you for playing along every week and being such a good sport this week!)
Jennifer from The Deliberate Mom is the runner-up because not only did she rock her look, but we thought it was especially considerate of her to not only demonstrate how to transition her fabulous look from spring to fall, but she ALSO outlined where we could buy it all! Thanks to her shopping list I am now waiting anxiously for my own sockies to arrive. Thanks, Jennifer!
And now, for Mommy Reality Challenge #7: The Essence of Summer!
Up until this point, we've been doing pretty specific topics with a hilarious edge, but due to the holidays, we decided be a bit laid-back and lenient and do a bit of a free-for-all. The only rule this week is to snap a pic of a summer-y moment, whether it be your kids playing in the sprinklers, an outdoor BBQ, or sticky Popsicle faces. It STILL can be humorous, still can be raw, still can be real! Free reign this week!
So snap a pic, make a post and/or share it on a social media site with the hashtag #mommyreality and link it up below! Don't forget to grab our button!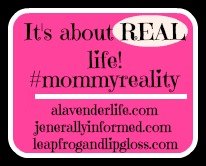 Don't forget that by submitting your pic, you are giving the Mommy Reality Team permission to use your photo to create a special silly meme for you if you win!
*The Mommy Reality team is VERY active on social media and in participating your post/photo will be pinned, posted, linked and shared on all of our social media accounts. So make sure to follow us so we van find your #mommyreality posts
Instagram (Carolyn/Jen/Celeste)
Facebook (Carolyn/Jen/Celeste)
To kick off this week's theme, here's Celeste from Leapfrog and Lipgloss's girls munching on watermelon. (Celeste: note to self… Pull back Charlotte's hair when eating watermelon!!!)
Link up your "Essence of Summer" Pics Below!
Stay Happy! Stay Informed!
Love,
Jen