Many of you know that last month I covered a story about the 1000+ children being held in a detention facility about an hour south of where I live in Southern Arizona. Because of this story an opportunity to tour the border on an assignment for BlogHer has opened up to me.
Jensguy and I will be touring some pretty remote area with firsthand accounts from those who actually live and work on the border, their realities, and what has changed, if anything, in recent months.  We will be working with a government aide who we trust and who has served in the area for a number of years.  Obviously, there are places that we would like to get into that are currently closed off to reporters, let alone bloggers, but we feel like every perspective that can be gleaned is valuable for a public just trying to understand what is currently going on.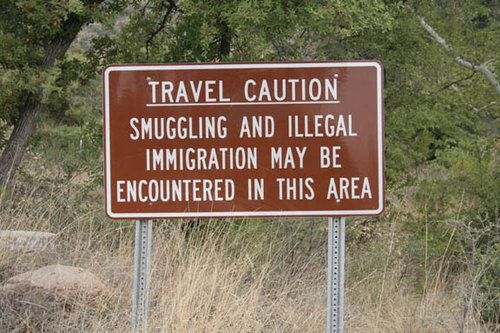 In the most recent news, cases of the swine flu have broken out at the nearby facility in Nogales, and we are hearing daily rumors that it will be discontinued as a stopover.  Nearby, up the road in Oracle Arizona, protesters picketed the road to a ranch where the federal government was planning to house more of the immigrant children.  Finally, immigrants apprehended in the Rio Grande Valley in Texas have been flown into Arizona and released at the Greyhound Bus Stations in both Phoenix and Tucson mostly without care nor a coherent plan for what should be done next.
A friend of mine once told me, "Just because you aren't interested in politics, doesn't mean politics won't be interested in you."
There is a lot going on for border states right now as we face this humanitarian crisis and I am looking forward to the opportunity I have been afforded to learn more and share with you what I learn. I will post the article specifics on Monday.
Jen