Currently in my home there are 4 children, 1 rabbit, 1 dog, 12 fish some living in a tank inside our house and the rest are in our pond outside. Add to that 2 sleep deprived parents and a whole slew of neighborhood children and animals that frequent our house and there are very few moments I can think of that are quiet and trouble free. If the children aren't making noise then it is the rabbit doing his nightly calisthenics at 2 a.m. or the baby who decides that 4 a.m. is really the best to time to wake- up. Trouble and a whole heaping mess of it lives here in my house. How did a nice girl like me end up in a mess like this?
So here are just a few captured moments of trouble from this week.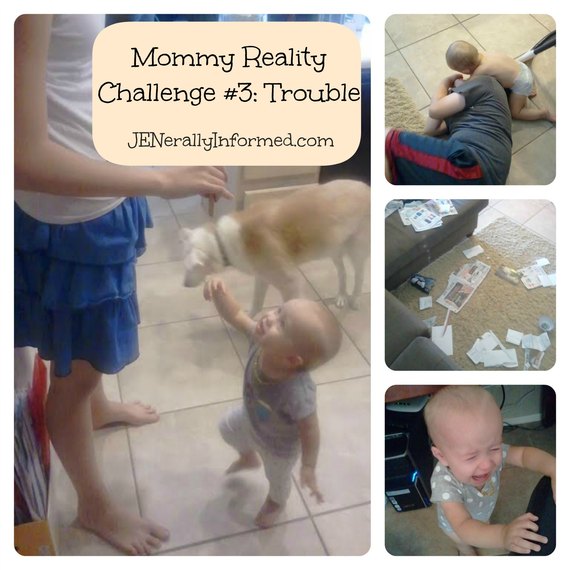 After reviewing these pictures it looks like the star child of the week award should go to my Rebekah who was not featured in any of these pictures.
I can't wait to see your moments of trouble.  I am having the best time reading all of your posts, tweets and seeing your Mommy Reality pictures. If you are new to my blog you can read about the Mommy Reality Challenge here.
Enter your Mommy Reality Moment of Trouble here!
Have a great week and try to stay out of too much trouble……
Stay Happy! Stay Informed!
Love,
Jen