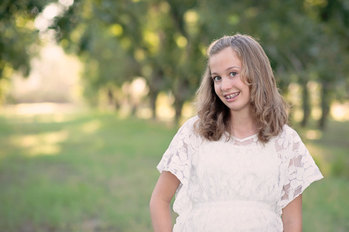 Three and a half years ago my family Dentist suggested that it was time to look into braces for my oldest daughter Samantha. He informed me she had an overbite and misaligned jaw that would need to be fixed. I quizzed him on options and asked for his recommendations. Don't get me wrong he is a good Dentist and we still go to him today, but he referred me to a traditional wire braces Orthodontist and said that this was really the only and best option for my daughter.
I went to meet the Orthodontist and his plan sounded reasonable and at the time I was not aware there were any other options for my tween.
We went ahead and opted for the traditional metal braces and over the past 2 years I have watched my daughter suffer through adjustments, pain, broken brackets and sores wishing that we could just be done with the whole process sooner rather than later.
A few weeks ago I was able to attend a Bloggy Boot Camp/Invisalign Straight Talk session with Dr Payam Attai and it was a real eye opener. As I listened to him I felt as if I had been cheated out of a wonderful option for treating my daughter due to my lack of education on the subject.
I wish I had known about Invisalign back before we started the braces process and feel that every parent should know about this as an option before they consider the wire and bracket option. That is why I am sharing this info with you today.
Here's a few key points that I really wish I had known before we started traditional wire braces.
1. Invisalign is not hugely expensive like I had been led to believe. In fact it is quite comparable to and sometimes often cheaper than traditional metal braces. I think our family would have saved a significant amount by going this route. This is huge for our family as more than likely we have 3 other children who at some point will be involved in the teeth straightening process.
2. After every tightening with her traditional metal braces my daughter is ALWAYS in pain. Her jaw and gums are sore and because of the wires she has gum bleeds and sores and cuts quite frequently on the inside of her cheeks. The Invisalign trays would not cause this same amount of pain and being clear and nearly invisible would have been a huge plus for my appearance conscious tween.
3. I have always disliked that because of her braces my daughter is unable to eat healthy food options like apples, corn on the cob and carrots because she could break her brackets. Taking away healthy foods like that from a young person's diet is just dumb, but I thought there was no other way. With Invisalign my daughter would have been able to eat all of these foods.
These 3 points alone would have made my decision, but the decision for how to treat your pre-teen/teen is entirely up to you. I just wish I had known all of the above before making a decision that would affect my daughter for years. I can tell you going forward that my other 3 children will have the option of Invisalign open to them.
If you are interested in looking into Invisalign as an option you can check here to see if there is a Invisalign specialist in your area. There is also a great infographic that gives you a step by step plan for teeth straightening.
Exciting News! You can enter the Rafflecopter giveaway below for a chance to win an entire Invisalign treatment for yourself or a tween/teen in your life. Sweet, I know right?
Disclaimer: This is a sponsored post, but everything I share on JENerally Informed is authentic with all thoughts and opinions being my own and I would not share this info with you if I didn't think it would be helpful.
Stay Happy! Stay Informed!
Love,
Jen