I have a new addiction, Instagram! I love seeing your babies and children, your delicious food, amazing blog posts and all about your life. All of these things make me happy, but I need more. Like now.
Luckily the ladies from Three Sisters and us, Complete Bliss, and My Silly Little Gang gave me the great opportunity to co-host their hop today, so make sure you link up your blog AND Instagram account and then I can see all of your Instagram goodness.
Oh and did I mention that someone will be walking away with a $20 Target gift card just for linking up? Just trying to bring the awesome one small step at a time.
Lets celebrate making it through another week by
linking your blog and/ or your instagram below.
You may link up any post.
Remember, visiting other blogs and/ or Instagram links is what makes a successful blog hop.
This hop runs from every week. Starting Friday morning to Wednesday morning.
Be kind and grab a TGIF BLOG HOP button below.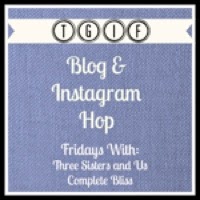 RULES
1. PLEASE
Follow
your
host
and
cohost
blog's via
GFC
or
BLOGLOVIN
2.
Please Follow the hosts and cohosts on Instagram if you link up your account below.
3. Please

leave
a comment stating that you are following and where so we can follow you back and get to know you! Sometimes it can be hard to know which is a new follower and we don't want you to think we're rude.
4.
Tweet the hop below to help us grow. It's greatly appreciated.
5. Be social.
Meet new friends.
*You do not need an Instagram account to link up.
Every first Friday of the month we will be hosting a lovely GIVEAWAY!
Would you like to be the next weekly TGIF co-host and receive a spotlight?

This hop is free.
Meet Your Hostess:

I am excited to have My Silly Little Gang on our TGIF hop team
Meet TGIF's Weekly Cohost!
I am so excited to have
Jen
from Jenerally Informed Cohosting with us this week! Not only is she Cohosting with us she is also apart of the GIVEAWAY with the hop! Be sure to check out her blog. Below is a little about Jen and her blog.
Jen of JENerally Informed is a mom to 4, children's book author and PR consultant. The blog is a way for her to connect, learn and laugh with others and stay JENerally Informed
Welcome to the first Friday In April. That means it's time for a GIVEAWAY!!
Every first Friday in each month we host a giveaway on the TGIF blog hop. You must be 18 years of age to enter and a US citizen. Thank you.
$20 Gift Card to Target!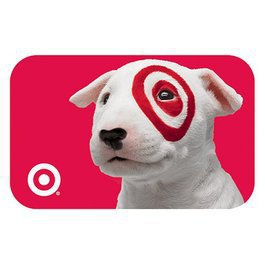 Tweet about this HOP by clicking "tweet" below!!

Stay Happy. Stay Informed.
Love,
Jen