This is nine-year-old Kamryn Renfro: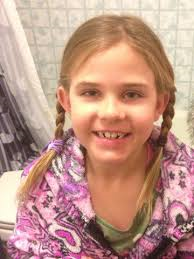 When her best friend, elven-year-old Delaney Clements had a relapse of Neuroblastoma, a rare form of childhood cancer requiring chemotherapy, Kamryn shaved her head as a sign of solidarity with Delaney.

Here is the snuffle-inducing quote from Delaney:
"I was really excited I would have somebody to support me and I wouldn't be alone with people always laughing at me. I would at least have somebody to go through it all."
So, naturally when this young hero goes back to school, she is held up as an example of compassion and understanding?  Nope, as you have probably already heard, she was suspended for violating the dress code.
Now much can, and has already been said about this issue, but I am going to focus on just ONE aspect that I want to discuss.  I submit that anyone that was involved in the original decision to ban this girl from school be forced to seek employment elsewhere.  I don't say this to be retaliatory or mean spirited, but to underline the obvious fact that these people are too stupid to be entrusted with the care and education of young children.
How the conversation should have went:
"This little girl (I would guarantee that the original bureaucrat didn't know Kamryn's name) shaved her head.  That is against the rules.  She says it is to comfort her friend who has cancer, and that's commendable, but we have rules.  We need to hold her out of class."

"How about "NO", you unfeeling troglodyte.  Seriously. . ."

"But what about the rules!  If we don't enforce the rules here, we will have anarchy!"

"Delaney also has no hair.  Do you want to hold her out of class?  Whatever exception we are using to allow her to have a shaved head also applies to Kamryn."

"Yeah, I guess that makes sense!"
Fortunately, because of well placed internet outrage, the decision has been reversed by the Board of Directors (the vote was not unanimous <eyeroll>, sigh.)  I would still make sure anyone involved in the original suspension (and that board member) are not forgotten and allowed to be this stupid in the future.  This type of story is becoming waaayyyy to common.  Our children deserve better.
Stay Happy! Stay Informed!
Jen